---
(Down - Up - Top)
AU 7 - Autumn Leaves : Melody line
So much for the chord progression of Autumn Leaves. But what about the melody ?
There is much rhythmic repetition going on in the A section which is interesting and very effective.
But the most prominent aspect of the melody can be defined with one single word : guide tones !
Guide tones are either long sustained notes in the melody or short notes acting as clothes pegs on a washing line. They are in most cases also chord tones and tend to move gradually up or down, providing direction and meaning as the melody unfolds.

Here is the guide tone line for Autumn Leaves.


Audio 17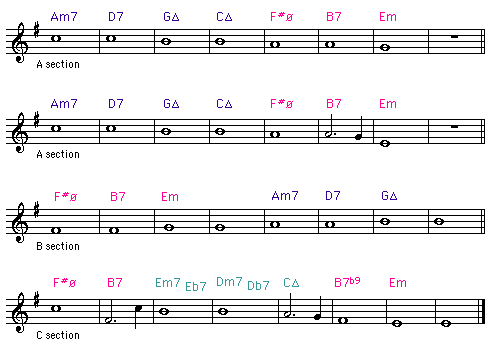 This provides the wonderful wavelike motion of the melody, always remaining within the two set boundary pitches : C and the E below it.
First descending in the A section, and after its repeat ascending in the B section, then finally descending to the tonic note E in the C section.



Guide tone lines are a common feature of songs which are constructed of scale-tone chord progressions. They are also used by competent improvisers as skeleton lines in their improvisations. So try that out too on some songs you work on. You need not sustain each and every guide tone. Just running through it at some places in a scale, broken chord or small step can be very effective.
Recapping the things discussed in this article :
Scale-tone chords and Scale-tone chord progressions


II-V-I progressions in both major and minor keys


Essential chord tones and Tritone substitution


Guide tone lines in melodies and for improvisation
Finally a general observation.
This article exemplifies how a top artist goes about his business. He (or she) combines great creative imagination with a large amount of skill and knowledge of his chosen medium. This applies to any artist in any medium, and Joseph Kosma (like so many other great composers both in Jazz and Classical music) is an excellent example of this in the field of music.
If you have enjoyed this article and wish to learn more I suggest you consider my Jazclass Improvisation package. It contains everything you need to help you become a well informed and competent improviser.


---
(Down - Up - Top)

AU 8 - Downloads





( Up - Top - Jazclass Links)
---

Copyright © 2007 Michael Furstner (Jazclass)