Michael's Quality WAV Music CD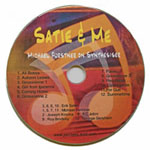 The online MP3 downloads are 10 times reduced and compressed versions of the original digital WAV recordings. Typically 1 minute music on MP3 is about 1 MB in size, while in the original WAV format 1 minute music is 10 MB. Sound quality is accordingly significantly better.
I have therefore prepared a 63 minutes CD with quality recordings in WAV format. The CD is available for AUD$ 15 (about US$13 or €9). This price includes Airmail postage worldwide.
To order your copy simply select Item 14 on the Jazclass Order Form.
---

© 2009 Michael Furstner