Transposing Instruments

Using the Concert key Sheet music - Transposition Table

---
Saxophones, trumpets and clarinets are transposing instruments.
Their notes do not match the pitches of the same notes on Concert key instruments like the piano, guitar, flute or violin.
The note C played for example on a trumpet, a clarinet, a tenor sax or a soprano sax sounds like a Bb on the piano. These instruments are therefore called Bb instruments.

The note C played on a alto sax or a baritone sax on the other hand sounds like an Eb on the piano. These instruments are therefore called Eb instruments.

To match the same pitches of a piano these instruments have to play in a different key.
The music for all songs in this course are written in three different keys so that all three types of instruments can play together.
---
(Down - Top)

Using the Concert key Sheet music

If you play the trumpet or sax just by yourself you can also use the Concert keys notation for a song (C for Triad Blues) by using the play-a-long track that matches the pitch of your instrument.
For example :

---
(Up - Top)

Transposition Table

Here is a Transposition Table with which you can transpose notes, chords and key signatures quickly from one instrument to another.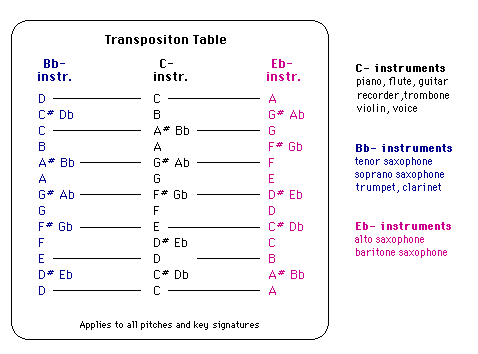 ---

Copyright © 2011 Michael Furstner (Jazclass). All rights reserved.