---
(Down - Up - Top)
IF 5.2 - Song : Two Up
Two Up is a basic 12 bar blues progression which illustrates the use of anticipated syncopations on 2+ and 4+. The melody shows the traditional vocal blues pattern of :
call in the first 4 bar phrase

repeated call in the second 4 bar phrase

response (or 'resolution') in the final 4 bar phrase
Melody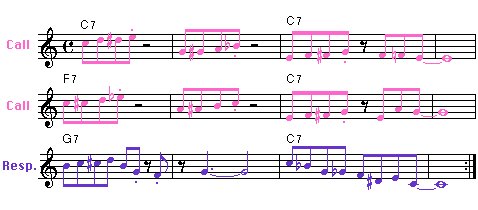 At a smaller scale a call - call - response pattern also exists in each of the first two 4 bar phrases. This is a very useful recipe for constructing a musical phrase in a composition or an improvisation.
Melody

"And look, there is more !" as the man in the TV shopping advertisements says.
The four note rhythm segment on the first two beats in the bar is used 8 times in this short 12 bar melody. This illustrates a very important principle beginning improvisation students especially should remember :
Repetition is GOOD !!
Melody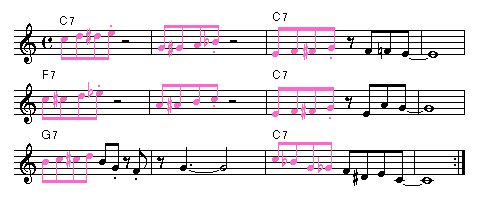 Repetition in music achieves three important objectives.
it instantly creates a musical story

it builds tension

it sets the scene for an eventual musical resolution, surprise or release of tension
The name Two Up refers to the 2+ syncopation which is featured in this song.
Two Up is also a traditional gambling game in Australia. It is played in every Casino in the country.
Two coins are placed on a flat stick and then whipped into the air. Bets are placed on how the two coins land on the ground : 2 heads up, 2 tails up or head and tail.
In the song you can hear the coins tumble through the air until they finally land onto the ground.

In the old days when gambling was illegal, punters in the old gold rush towns would travel 10 miles into the bush to play Two Up out in the open. Some of these 'Two Up schools' still exist in legendary mining towns like Kalgoorlie in Western Australia.