---
(Down - Up - Top)

IF 6.5 - Random Chord Progression

Playing exercises around the Circle of Fifths is very useful, but can become predictable. It is therefore a good idea to practice scales, chords and various exercises using different sequences.

For this lesson I have prepared a random track covering all twelve major keys in an unpredictable order.

This is quite fun and easy to do.
I simply cut out twelve small pieces of paper and wrote on each piece one of the twelve keys. I then shuffled all pieces thoroughly, spread them out on the table and selected one at a time at random. I placed all pieces in a row in the order I had selected them and presto : you have a random chord progression. I wrote the sequence in that exact order, but starting with the key of C.
I will make a few more tracks like this, but suggest you make some yourself too and record a track using a program like Band in a Box or Cakewalk.


Shown below is the order of the random sequence.
C instruments follow the top line starting in the key of C

Bb instruments follow the middle line starting in the key of D

Eb instruments follow the bottom line starting in the key of A
Audio IF 6.5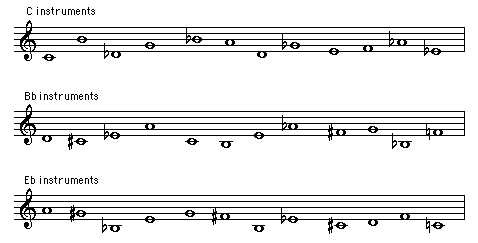 The play-a-long track covers 4 bars in each key playing the major 7th chord in all keys.
You can use it for Exercises 1 - 4, but also for practising the major scale in all keys.
---
(Up - Top)

IF 6.6 - Practice Material



(Up - Top)

---

Copyright © 2000 - 2008 Michael Furstner (Jazclass). All rights reserved.