---
(Down - Up - Top - Links)

Gnos 1.5 - The C Section

The C section consists of 6 bars, and (like the A section earlier) is repeated once.
This section is the highlight of the piece, featuring the F minor triad throughout the 6 bars.


Audio 6


Here Satie goes one step further with his tonal experiment. The C section melody features a lovely, humorous scale line, which contains both the B natural (#4 shown in red below) and the E natural (major 7th shown in purple).

Audio 7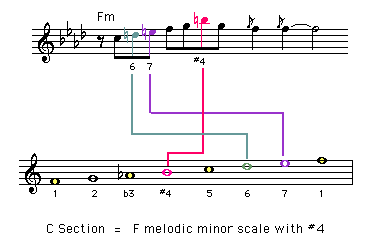 These, together with the D natural (6 in green) and F minor triad chord tones, spell out the F melodic minor scale with a raised 4th (#4). Using this scale for improvisation over the C section is an absolute must !

The piece concludes with a single repeat of the B section.

About the melodic minor scale
In traditional Classical music the melodic minor scale was only used in its ascending form, while descending using the natural minor scale (considered to sound more smoothly).
In C :


C D Eb F G A B C - C Bb Ab G F Eb D C



Erik Satie decisively departs from this centuries old Classical rule and uses the melodic minor scale both ascending and descending.



C D Eb F G A B C - C B A G F Eb D C


This modern approach to the melodic minor scale was later adopted by Jazz musicians when they started to use this scale for improvisation (probably some 50 years later).