I felt that this brave little fellow with his major handicap deserved a song.
So here it is : Stumpy's Blues.
---
(Down - Up - Top - Jazclass Links)
SB 2. The II - V - I Blues
The IIm7 - V7 or IIm7 - V7 - Imaj7 progression is by far the most common chords segment in Jazz standards and Popular music. It occurs in almost every song I know.
IIm7, V7 and Imaj7 refer to the scale-tone 7th chords of the major scale in any key.
They are the chords that can be formed on the 1st note (tonic), 2nd note and 5th note of a major scale selecting tones from that major scale only as chord tones for each chord. Here are the three chords for the C major scale.
Audio 1

The three chords are placed in Circle of Fifths order.
Like this.
Audio 2

The IIm7 - V7 segment has many uses in the Blues too.
The most commonly used feature is the so called II - V - I Blues, where the last 4 bar phrase uses a IIm7 V7 chord segment.
Audio 3
| | | | | |
| --- | --- | --- | --- | --- |
| | I7 | | IV7 | | I7 | | I7 | | |
| | IV7 | | IV7 | | I7 | | I7 | | |
| | IIm7 | | V7 | | I7 | | (V7) | || |
(The (V7) chord in the last bar is a turnaround not used for the final chorus.
---
(Down - Up - Top - Jazclass Links)
SB 3. Improvisation
Stumpy's Blues is a typical II - V - I Blues in C.
Melody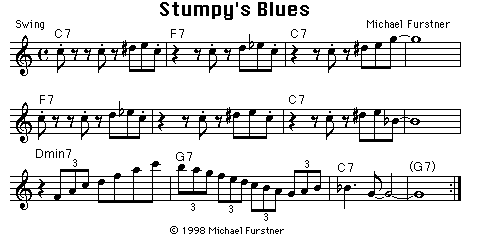 You can use the C minor pentatonic or the C Blues scale for improvisation over this blues.
However to bring out the typical IIm7 - V7 character of this blues I suggest you use the Dorian mode for the IIm7 chord and the Mixolydian mode over the V7 chord. This gives a nice refreshing twist to the usual blues sound.
For the Blues in C use :
Audio 4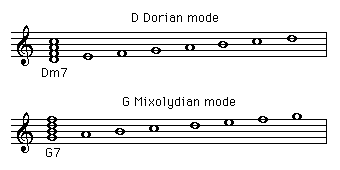 Over the rest of the blues you can use the C minor pentatonic, the C Blues scale, or the C Mixolydian mode over C7 and F Mixolydian mode over F7.
Bb- and Eb-instruments use the following modes.
| Instrument | IIm7 : II Dorian mode | V7 : V Mixolydian mode |
| --- | --- | --- |
| Bb instr. | Em7 ---> E F# G# A B C# D E | A7 ---> A B C# D E F# G A |
| Eb instr. | Bm7 ---> B C# D E F# G# A B | E7 ---> E F# G# A B C# D E |
Remember :


C instruments are : keyboard, guitar, flute, recorder, trombone, violin

Bb instruments are : clarinet, trumpet, tenor sax, soprano sax

Eb instruments are : alto sax and baritone sax