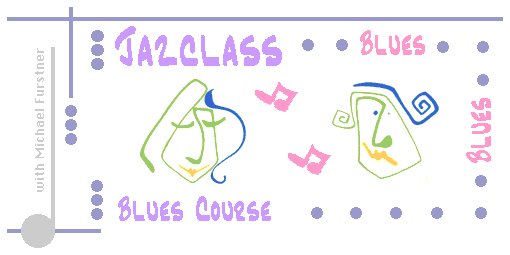 After 16 years of distributing Email course lessons, Jazclass email courses have finally come to an end. The last course in this format, the BLUES COURSE, has now been converted into a HTML formatted course featuring stanard music notation throughout.
It is a great course feautiring : 12 lessons + 15 chords and scales exercises + 23 songs.
I am sure you will thoroughly enjoy this course. It is also a good way to get into basic improvisation before tackling the Improvisation Course!
Below are the details.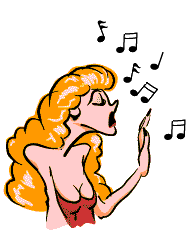 Blues Basics is suitable for players of all instruments.
Some knowledge of the keyboard is useful but not necessary.

The course focuses on the melodic and improvisation aspects of the twelve bar blues.
It explains the various popular chord progressions and scales for the blues, and how to use these in improvisation.

Emphasis is on the Blues in the keys of G, C and F.
Appropriate Play-along midi files are provided for all instruments.

Each lesson includes at least one new blues song.

Numerous Midi files are also included as Audio demos of various aspects.

Swapping 2s and 4s : a great feature of the Blues Course.

You may ask me questions about anything you do not understand.
---
(Down - Up - Top - Jazclass Links)
Lesson Topics

The lesson topics for the NEW Blues Course are :



Lesson 1 - Basic Blues Format

Lesson 2 - Swing Quavers

Lesson 3 - Syncopation

Lesson 4 - 7th Chords Blues


Lesson 5 - 9th Chords Blues


Lesson 6 - Minor Pent. Blues

Lesson 7 - Blues Scale Blues

Lesson 8 - Mixolydian Blues

Lesson 9 - Embellished Blues (Including the Blues waltz)

Lesson 10 - II-V-I Blues

Lesson 11 - Lydian Blues

Lesson 12 - Minor Blues
The Blues Basics - Primer is a modified version of the Blues Course - Lesson 1.

The Blues Course also includes complimentary copies of the Rhythm Class, In Focus and an extended Learn to read Music course.

(Up - Top - Jazclass Links)

---

Copyright © 2011 Michael Furstner.