Across the river and connected by a lovely stone bridge is the more sedate and much larger Kues. This is where my Hotel Sankt Maximillian is located. I am in Room 12 with view onto a lovely courtyard which is shaded by three huge square red umbrellas. I like it here, as it is very quiet and only 50 meters from the Mosel left bank with many benches from which I can watch the ships go by as well as a dozen or more proud white swans which float stately up and down. From here one has also a great view of Bernkastel (with of course a medieval castle above it) on the other side, while staying away from the hustle and bustle there.
>
---
Most Recent - Next - Previous - Top - Page 1 - Photos - Index - Topics - Jazclass Links
Sunday May 4, 2008 (diary, travel)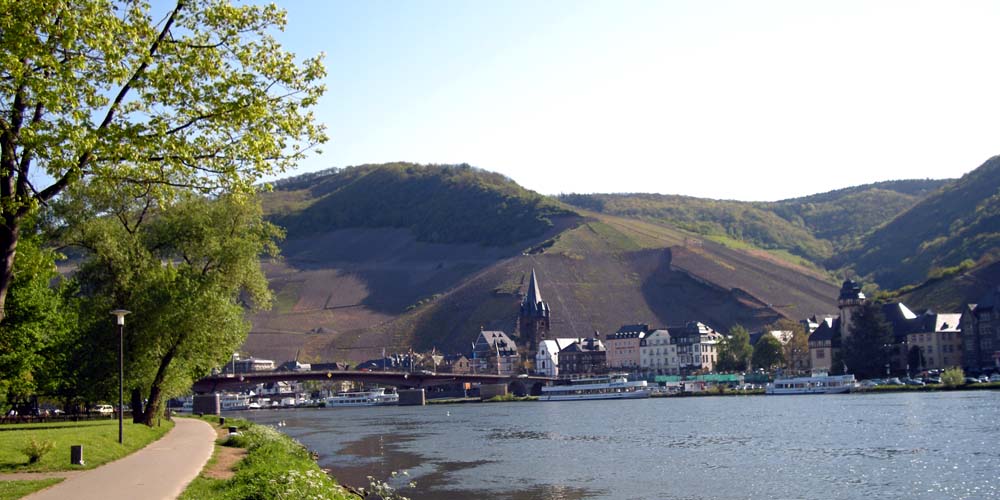 In the morning the sun shines again from a bright blue sky. I sit on the river front when the Kues church bell starts calling customers for morning Mass. Just a single bell with a beautiful pure tone. It is cast expertly so that only the 5th partial (overtone) is generated from it, floating as clear as a flute tone an octave plus minor 3rd eerily above its fundamental. It is beautifully expressive.
Most church calls I have heard so far in Altenahr, Boppard, and also later here in Bernkastel and in Kues use two bells simultaneously, pitched in all cases a minor 3rd apart. Is this done for some religious purpose or an attempt to simulate a 5th and 6th overtone in order to create their shared fundamental undertone ? This latter acoustic effect can work very well provided the two pitches are just right, but I have not been able to hear the undertone at all so far.
The Mosel river is perhaps putting a dent in my thesis about river flow speeds in Australia and in Europe. The Mosel here at Bernkastel flows rather gently, perhaps comparable to the similar sized Murray river (during normal conditions) near Mannum for example. Something to check out further, but I am not giving up on the idea as yet.
The three rivers I have watched these last few weeks have on the susceptible observer quite distinct and different emotional effects. The difference is somewhat comparable to driving on a freeway (Rhine), on a two lane country road (Mosel), or on a dirt track wide enough for a car (Ahr). The narrow walking tracks through the bush (mountain creeks) I will of course encounter in the Black Forest next week.
On the Rhine "freeway" I have watched the traffic of the sleek barges with great fascination. Here on the Mosel the pace is much more pedestrian and I look with pleasure at the swans, cruise boats and the occasional barge, as well as the town and vineyards not far away on the other side. On the Ahr bank I have emotionally been totally emerged in nature with nothing or no one else there (except perhaps one).
It is Wivica's birthday today and I give her a ring on the handy (mobile phone). The weather is warm and sunny there too, but the snow is still present on the highest mountain tops.
For lunch I walk across the bridge into Bernkastel and check out another Imbiss. I try the one in a narrow street attached to a butcher shop, so can't be bad. On the wall is a sticker which I read out aloud : "Wurstesser sind bessere Liebhaber." The owner (in his 60s) shakes his head at me : "Es war einmal . . . . " he says. I acknowledge the feeling, after which we have a pleasant chat. The Currywurst is not bad either, but Peter (Hotel owner) later advises me to try the Imbiss on the river front. I shall do that tomorrow.
Don't tell me the Germans have no sense of humour. They have, and they can laugh at themselves too. Certainly according to this souvenir sticker I saw hanging on a shop display :
Sometimes one loses . . . .
and sometimes the others win . . . .
It is Israel Tag today. There are Israeli food and wine stalls and also music in the market square. They are celebrating 60 years of official (American and Russian) recognition of their own country today in 60 different towns and cities right across Germany. Deep wounds are healing it appears, which is good.
In the evening I have another Pangasius for dinner. What is the English name for this fish I wonder.
Please note : The thumb nail illustrations have as yet no target full size pictures. I will upload them coming weekend.

>
---
Most Recent - Next - Previous - Top - Page 1 - Photos - Index - Topics - Jazclass Links

Monday May 5, 2008 (diary, travel)
It is once again sunny this morning with now and then a cool gust of wind. I walk upstream along the river to the small Kues Boat Harbour. A swan is sitting on her nest with eggs right alongside the walking track, unperturbed by passers by and the odd on watcher. Back at the hotel I write and upload my Blog, then pick up my emails and orders.
With over 20,000 students every week I have numerous fans and receive mail from all around the world. Some require help, which I gladly provide, others send messages of gratitude for the insight and skills I pass on to amateurs, teachers and professionals alike. My hundred odd free lessons online are also greatly appreciated, restoring for some (as they tell me) their "faith in the human race".

Also, after a week of silence, her voice again ("She"). With words now in a more relaxed rhythm she relates thoughts and ordinary activities of her day. The first tentative brush strokes, commencing an outline of who she really is. Immediately the tranquil pond of my emotions is stirred by waves oscillating all day until late into the night.

For lunch I try out the Imbiss on the river bank. It is indeed good. Two ducks remain unperturbed underneath my table while I consume my Currywurst.
In the afternoon I work on a dozen photos I made of so called Ofen Tafeln which hang on the walls of the narrow corridor and staircase on the first floor of the Hotel. They are cast iron relief plates which decorated the doors of 17th and 18th Century wood stoves. The Hotel's collection mainly depicts activities related to wine making. All are gorgeous. Peter Nelius assures me that these are all true originals. I see quite of few of these around town, in other Restaurants, even on outside walls in central Bernkastel.

Restaurant Sankt Maximillian has a "Ruhetag" today so I have a Grillteller at Hofmann's Weinstube just around the corner, run by Ute Arenz, a friend of Sabine. The Grillteller is a German mixed grill with a nice sauce, garlic butter, great pommes frites and salatteller with subtle dressing. Later back in my room I watch Ronnie O'Sullivan win the World Snooker Championships final in Sheffield. A convincing win.



Comments - Most Recent - Next Page - Previous - Top - Page 1 - Photos - Index - Topics - Jazclass Links

---

Copyright © 2008 Michael Furstner