Biographical Log of Michael Furstner - Page 44
2008 : Jan | Feb | Mar | Apr | May | Jun | Jul | Aug | Sep | Oct | Nov | Dec | Page : Previous | Next |
---
Most Recent - Next - Previous - Page 1 - Photos - Index - Topics - Jazclass Links
Friday September 26, 2008 (diary, TV, politics)
Freda phoned in sick yesterday, so I did not go to bridge last night. Instead I watched the Q and A (Questions and Answers) program on ABC TV. The new leader of the Federal Liberal Party, Malcolm Turnbull was the invited guest, who answered questions from the live audience and from sent in messages online or by sms.
He gave a very positive, relaxed, competent and intelligent performance in my view. Malcolm also (like I did yesterday) expressed his disappointment at the extremely poor standard of Parliamentary debate at present.
Frankly I believe that the present Labour Government is scared to get into a serious debate, for fear of having their ignorance exposed. A very poor attitude, especially in view of the present turbulent and rather scary economic period we are experiencing.
When I drove North up the Stuart Highway earlier this year (in April) there was a road sign, just South of Mataranka I believe it was. Roughly spray painted over it was written Kevin Dud. There you are, those bushies in the outback may be more perceptive than most of us in this country.
I am working hard again on updating my Index and only interrupt my work to have a quick bite for lunch at the Panda House, a popular Asian stall in the Food Court of the Palmerston Shopping Center.
I have made separate pages for Books, Family, Friends, Hotels and Restaurants. I also included a page with direct links to the various Photo Series I made this year. I hope you find these of interest and perhaps useful.
Ayaa Smid (tall girl, 2nd from left on above photo), one of the girls working at Bar Zushi is leaving tomorrow. She is expecting her first baby and will, with her (half Dutch) husband move to Cairns to be with her mother for the birth in about 3 months time. Good luck Ayaa. I look forward to hear about the baby.


---
Most Recent - Next - Previous - Top - Page 1 - Photos - Index - Topics - Jazclass Links
Saturday September 27, 2008 (diary)
Last night the first group of mango geese have landed on out farm and patiently stepping around underneath the trees, but by this morning they have all left again. It is once again a glorious morning I wake up to. Is this paradise or not ?
I go online to pick up my emails, then subscribe to the monthly magazine Quadrant. It publishes politics, literature, poetry, current affairs, etc. from a Conservative, Liberal perspective.
I work again on the Blog Index until AFL Grand Final time on TV, when I watch Hawthorn against Geelong. A tough match, but the underdogs, Hawthorn, through shear tenacity win out in the end. A well deserved victory, watched by over 100,000 spectators at the Melbourne Cricket Ground (MCG).


---
Most Recent - Next - Previous - Top - Page 1 - Photos - Index - Topics - Jazclass Links
Sunday September 28, 2008 (diary)
Even the Galas are getting into the act now. Last night I caught a bunch of them on top of one of the TV antennas assessing the progress of the ripening mangos.
This morning I watch the ABC's Sunday morning program on Politics, Business and Sports, then I am off into town for some sushi lunch. In the afternoon I finally bring my finance and accounting details up to date, right up to today. I feel good about that now.
Thinking back about my travel through Europe this year I suddenly realise that I have used the car only to go from one place to the next. But once arrived at a place I have walked almost everywhere, leaving the car parked for the duration of my stay there. Some of the hotels charged extra for their car park, others don't have any so you have to park at a public spot somewhere which invariably made me feel wary. Fuel and toll fees (in France) also add to the cost.
Therefore if I do decide to go next year again I will probably not hire a car but get a Rail Pass instead. You can just sit and relax while you are traveling and once at your destination you don't have to bother about parking.


---
Most Recent - Next - Previous - Top - Page 1 - Photos - Index - Topics - Jazclass Links
Monday September 29, 2008 (diary, my father, abstract painting)
When I was writing about abstract art just a a few days ago my mind was transported back to the Groothandelsgebouw (Wholesale business building) in Amsterdam. Het Groothandelsgebouw was one of the very first (if not the first) modern high rise buildings built in the Center of Amsterdam. It stands right next to the Centraal Station (Central Railway station).
Soon after its completion (around 1960) my father took me for lunch to the restaurant on the top floor one day when I was a student in Leiden. The views from up there are really fantastic. Right below is the Railway station with all the railway lines coming out of it. Farther away are the dockyard, cranes, ships and the magnificent Amsterdam harbour. I can't remember what the food was like but I absolutely enjoyed just sitting there, watching.
Around the time that Antien and I married one of Antien's girlfriends married Vincent Hamel ( a member of a well know art family in Holland at that time). We became quite friendly with them and in 1963 they visited us in Assen shortly before I finished my National service there.
Vincent had brought a portfolio of some of his abstract gouashes, all 60 by 90 cm (2 by 3 ft) in size. Browsing through them there was one we especially liked. It had large splashes of bright red, blue, green and yellow, with, curiously, some thin uneven horizontal black lines running right through the middle of it all.
In preparation for our departure to Australia we were just in the process of getting rid of some of our furniture and appliances, so a deal was quickly made : We got the painting while Vincent and his wife returned home with our fridge. Both sides were well pleased with the transaction.
Vincent told us that shortly before visiting us he had been invited for lunch at the restaurant on top of the Groothandelsgebouw. He had a great lunch and quite a bit of wine to drink. Returning home in a happy mood he immediately started to paint, with the gouache we just had purchased as a result. Although he had not been aware of this while actually painting, the horizontal black lines running through the painting were undoubtedly an unconscious feedback from his view up there. So, as I stated on September 24, this abstract of his does relate back to reality.
We took the painting with us to Australia and everywhere we went. Antien still has it hanging on her wall. I like it very much.
My father often took business relations for lunch to the Groothandelsgebouw. I met one of them in 1982 when running Martinshof after my father's sudden death. It was the Managing Director of the Company who made the luxury etuis for our rings and jewelry. I forgot his name but will call him "Etui MD".
Some jewelers (certainly in Holland) consider themselves a station above the rest of the world, and they often let this know through a rather pompous and pedantic attitude, especially towards their suppliers. My father was frequently at the end of it, so was the Etui MD and just about every other wholesaler I had contact with in those days.
When I visited the Etui MD in his office one day to discuss a new order of etuis he greeted me (although I had never met him before) with unusually great enthusiasm and friendlyness.
"Your father" he said "was a truly wonderful and great man."
"One day he invited me for lunch on top of the Groothandelsgebouw in Amsterdam. He even sent his car with chauffeur to pick me up and drop me back home afterwards. Nobody has ever done this for me during my entire life in business!"
That is how my father was to everybody he dealt with. I found that out every step of the way while running the business. He was (and still is for those who remember him) an absolute legend. And I am very proud of him.


---
Most Recent - Next - Previous - Top - Page 1 - Photos - Index - Topics - Jazclass Links
Tuesday September 30, 2008 (diary, my father)
Mairead and I quite enjoyed our bridge last night, as we had some unusual and rather interesting hands coming our way. The customary bottle of wine went down well too of course. After returning home I played my keyboard for a while. With my new earphones on I can do that now again at any time during the day or night without disturbing anyone around me.
This morning once again a glorious clear blue sky, nice and warm with slight whiffs of a breese to keep it very pleasant. The nights too in my cabin are comfortable with the aircon off and only the overhead fan going at half speed.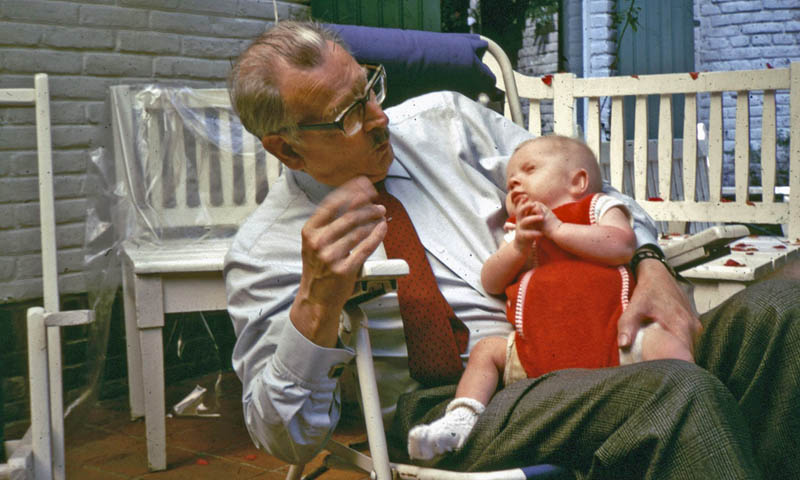 My father was a real innovator in his trade, with great simple ideas which put him way ahead in many regards to anyone else in the business.
He did employ sales representatives, but loved to visit the customers himself and kept this up until his 60s.
As soon as they came onto the market in Europe he purchased a portable reel to reel tape recorder (a Grundig I remember), which he placed in his car and took with him wherever he went.
After visiting a customer he would sit in his car, switch on the recorder and report everything they had talked about, including personal stuff. At the end of the week he or his secretary would type it all out on individual Index cards, one for each customer. All index cards went into a box also in the car so that the next time visiting a customer he could say : "Hello Mr. Petersen, how are you and how is your dear wife, has she recovered from her flu yet ?", or something of that nature. This approach in the 1950s was way ahead of its time and hugely effective with all his customers who very soon started to regard him as a friend of the family, rather than the business man he was.
(These day this approach is the standard practice of every professional sales person in cars or real estate. However it has long since lost the genuine sincerity from my father's days, as it is now used as a quick softening up scheme before the "kill", rather than for the purpose of building a long term genuine and honest business relationship.)
With the rapidly increasing traffic it became ever more difficult to park his car in front of the shop he was visiting, so to overcome that my father started to employ a private chauffeur. At first he used University students on a part time basis.
Antien too, after she and I started going out together, did several chauffeur stints for my Dad. She enjoyed it enormously and so did my Dad, as he became the envy of all the customers he visited. Having such an attractive young chauffeur at his side. Wow!, that was something, they (rightly) felt.
Eventually my Dad started to employ a chauffeur full time. First it was Konijn, a mechanic from the garage he had his car serviced. Later it became Willem, a former truck driver who had had enough of driving all days, all nights, all hours. Whenever I and my family came for holidays to Holland, Willem (always dressed in a spotless grey uniform and impressive hat) would be there waiting for us with the car at Schiphol Airport and we became quite friendly with him. He was always the first and the last friend in Holland to greet or farewell us on these trips.
Once again, as soon as they were introduced in Europe my Dad got hold of the very first pager. It was for today's standards very clumsy, as large as a shoe box with a metal handle along its longest most elongated side. On top of it were 3 or 4 coloured plastic light buttons. Each button represented a previously agreed message, like :
"Pick me up now please" or
"Pick me up in one hour" or
"Go home, we are finished for the day"
After dropping my Dad off somewhere Willem would carry this box with him wherever he went, in the car, during lunch or dinner, even in the Cinema. My father, by simply making a phone call to a specified number and adding one extra digit, a 1 or a 2 or a 3, would activate one of the lights on the box and Willem would act accordingly.
Now with our tiny pagers, mobile phones and wireless laptops, Black Berries etc. this all seems very old fashioned and cumbersome, but back then it was the very latest technology and my father used it to great effect.


Comments - Most Recent - Next Page - Previous - Top - Page 1 - Photos - Index - Topics - Jazclass Links

---

Copyright © 2008 Michael Furstner