Biographical Log of Michael Furstner - Page 67
2008 || 2009 : Jan | Feb | Mar | Apr | May | Jun | Jul | Aug | Sep | Oct | Nov | Dec | Page : Previous | Next |
---
Most Recent - Next - Previous - Page 1 - Photos - Index - Topics - MP3s - Jazclass Links
Sunday February 1, 2009 (diary)
Yesterday there were lots of Bluebottle jellyfish on the beach and two patrolled areas on Mooloolaba beach were closed. There were many Bluebottles washed up on the beach sand especially in front of the Surf Club. Fortunately another temporary swimming spot was opened farther South which was Bluebottle free, and I had a pleasant swim there.
Today I take my camera to take a photo of one for my Blog. The "Stingers" warning signs are still shown but all patrolled areas are open today. I walk all along the beach but don't spot a single Bluebottle washed up (I copied this photo from the Internet).
Bluebottles are very small, their gas filled bladders less than 5 cm (2 inch), but they have a thin blue string attached which can be half a meter long (20 inches) and produce a nasty sting when wrapped around an arm, leg or body.
The waves are great today for body surfing and I spend quite a while in the water before my usual lunch. It is Sunday afternoon at the Mooloolaba Surf Club with life music which I usually don't like very much, but the duo playing today is quite OK.
It is also Babette and Doug's "free day" on their diet schedule, so we have some bitterballen and Henkell Sekt in the evening, while watching the latest episode of Mad Men on TV.


---
Most Recent - Next - Previous - Top - Page 1 - Photos - Index - Topics - MP3s - Jazclass Links
Monday & Tuesday February 2 & 3, 2009 (diary)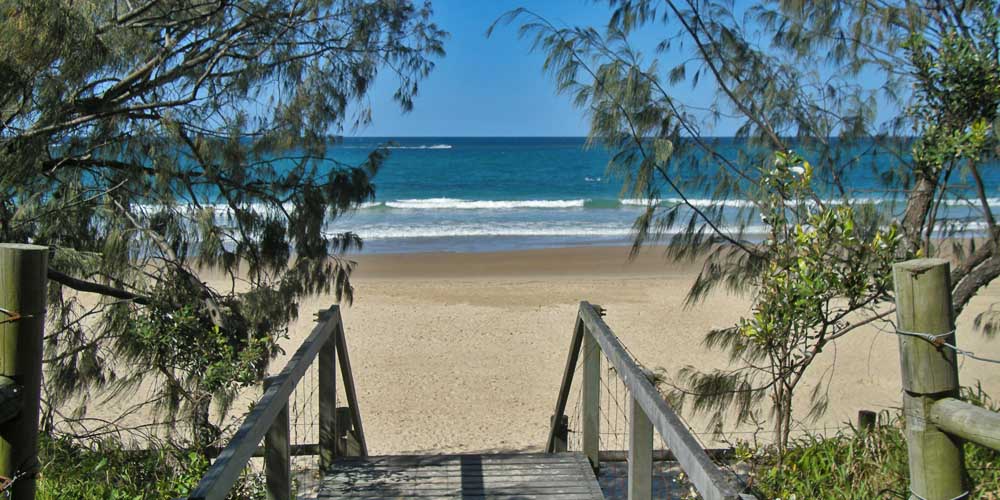 Two rather routine days. It has started raining again in the mornings and some showers too later in the day. But somehow when I get to the beach it is dry and sunny. The beach is very quiet now with few people in the water. The Bluebottles too have totally disappeared, blown offshore by the wind.
On Monday I give Sandy (one of Babette's writing friends) a lift to Beerwah, a small town 30km to the South. Her car broke down there over the weekend and has now been repaired.
Tuesday morning bridge again at Diddilliba, which is quite pleasant. One of the girls, Joanne, tripped here over the door sill a few weeks ago and broke a bone in her foot. She is back again today on crutches, but all smiling.


---
Most Recent - Next - Previous - Top - Page 1 - Photos - Index - Topics - MP3s - Jazclass Links
Wednesday February 4, 2009 (diary)
Wednesday I drive around getting another blood sample taken at a pathology lab and going to Centrelink. Centrelink is the Government Department which looks after pensions, unemployment payments, etc. Once a year (around my birthday) I have to present myself at a Centrelink office as proof that I am still alive. This is then passed on to the Dutch Pension fund, so that I continue to receive my pension from them.
These days with the Global Financial Crisis, Centerlink offices are jam packed with long waiting cues, as more and more people find themselves unemployed and on "dole money" (unemployment payments). I go in twice, but the cues are just too long to bother about. So I have my swim (great waves for body surfing again) and lunch first. At 4PM the Centerlink cue has reduced considerably and within half an hour I am done.
Just before the Evening News, Malcolm Turnbull, the Liberal Opposition Leader in Parliament, addresses the Nation on TV explaining that his party will oppose the 42 billion dollar rescue package the Government is trying to rush through Parliament. I am very pleased to hear this. The Labour Parties (at both Federal and State levels) are notorious big and bad spenders and poor economic managers and the package they propose can do with some serious scrutinising.
The Liberals are proposing tax cuts instead of one off cash handouts, and more modest spending more focused on infra structure and less on school buildings. It won't happen, but I feel it is most important for the Liberals to make this stand (dissociating themselves from the Labour Policies), when in a year or two the country may well find itself in a huge financial hole and with very little to show for it.


---
Most Recent - Next - Previous - Top - Page 1 - Photos - Index - Topics - MP3s - Jazclass Links
Thursday February 5, 2009 (diary)
On my way to the beach I have to go past the accountant (John McMaster in Buderim) to sign my income tax statement, after which I decide to have an early lunch at the Hikaru Homestyle Japanese food stall in the Sunshine Plaza. They are gradually extending their menu and I try out their tempura ramen soup this time, not bad. It is a bright and sunny day again, blue sky and sparkling clear water when I get into the surf. Quite a few high dumpers but some good waves too. Later at the Surf Club I only have a few teas (tea and coffee are free at the Club) and a light beer.
In terms of reading I am on a sort of nostalgia tour, rereading books I loved in the 1970s and 80s. They are the Rumpole of the Bailey Series by John Mortimer and the very clever spy thrillers by Len Deighton.
I still have several of the Rumpole paperbacks myself, but I am buying the three books of the Deighton trilogy Game, Set and Match from Corelli Books, a Second Hand book shop in Mooloolaba (8/3 River Esplanade, Mooloolaba : Tel.07 5478 4413). I buy one book at a time, read it, then sell it back to them and buy the next one.
Mortimer and Deighton are outstanding writers and I find it an absolute delight to read their books. Both do painstakingly detailed research on their subjects and are in my opinion a million times better than 90% of the rubbish that you find on most bookshop shelves these days.
Len Deighton's detailed knowledge of Berlin, German people, their food, their customs before, during and after WW2 is mind boggling, and sometimes very funny and revealing. For example after JFK's famous Berlin speech in front of the Wall in the early 1960s, where he stated "Ich bin ein Berliner" ("I am a Berliner") the local papers and cartoonists had a field day the next day, because a "Berliner" (in Berlin) is a doughnut !


Comments - Most Recent - Next Page - Previous - Top - Page 1 - Photos - Index - Topics - Jazclass Links

---

Copyright © 2009 Michael Furstner