Biographical Log of Michael Furstner - Page 79
2008 || 2009 : Jan | Feb | Mar | Apr | May | Jun | Jul | Aug | Sep | Oct | Nov | Dec | Page : Previous | Next |
---
Most Recent - Next - Previous - Page 1 - Photos - Index - Topics - MP3s - Jazclass Links
Wednesday April 1, 2009 (diary)
The weather is absolutely wonderful here now. Even since my arrival last Saturday I feel it has cooled down a bit and there is little humidity. It is great to sit in the morning on my shady veranda writing on my laptop with a light refreshing breeze keeping me comfortable.
Yesterday I picked up a program listing the upcoming events in Darwin this month. It is all middle of the road stuff, Darwin is as yet too small to provide good audiences for more contemporary art (except exhibitions of paintings). But the Rhythms of Ireland group is coming to Australia, first stop Darwin on April 15 and I will go to that.
For lunch I go once again to the Portside Char Grill on Stokes Hill Wharf. I love sitting here outside looking over the Darwin Harbour, reading my book with a glass of wine.
After lunch I drive into the city and purchase my ticket for the Irish Dance group at the Darwin Entertainment Centre. They are almost sold out.
I can't help myself and drop in at the good Men's shop in Parap Village. I find a great Calvin Klein T-shirt but am not quite sure whether the size is large enough, so I let it go for the moment.
Then onto the Nightcliff Swimming Pool. I forget to take my ear plugs, so just float around in the water without getting my ears wet. I bump into a Canadian woman, Mary, also leisurely floating around and we have quite a long conversation. She and her Australian husband have just arrived in Darwin, suffered during the past wet, but now really start to enjoy the life up here.
I arrive back home before 6 PM and have a quiet evening. The Australian Socceroos are playing a qualifying match for the 2010 World Cup against Asbekhistan, which they win 2-0. Unfortunately the match is only shown on Pay TV and I miss it.


---
Most Recent - Next - Previous - Top - Page 1 - Photos - Index - Topics - MP3s - Jazclass Links
Thursday & Friday April 2 & 3, 2009 (diary)
Thursday it is another beautiful day in paradise. Andrew is working on an electric gate. Because of the dog Roxy he had to fence the entire property, but this means that every time you want to go out you have to open, then close the gate behind you. (It reminds me of my geology exploration days in Western Australia when this was a frequent occurrence every day. "Leave the gate as you find it." was always the procedure.) But soon this will be a thing of the past.
Kim and Andrew are patiently waiting for their new venture, the Darwin Airport Gateway Motel, to be completed. Meanwhile Andrew keeps himself occupied by working on the garden, planting new trees and bushes, installing sprinkler systems and grading driveways with the bobcat he bought together with his neighbour.
In the evening I have a pleasant night of bridge in Palmerston with Freda, my Thursday night bridge partner.
Friday I drive (30 km) into town for a sushi lunch in Casuarina, then back to the Men's shop in Parap where I decide to buy that Calvin Klein T-shirt after all. After that a relaxing spell in the Nightclif Pool before heading home.
Betty Mills, one of the local bridge personalities, asked me to play with her tonight as her regular partner can't make it. I am happy to oblige. So it is off to the Darwin Bridge Club for the evening again.
Late back home I finish reading Brideshead Revisited. It is a well written interesting novel, a portrayal of the life of the (discriminated against) Roman Catholic upper classes in predominantly Protestant England between the two World wars. It is sad how religion (and especially Roman Catholicism) could so perversely distort the prospects and course of an individual's life. Does this still happen through many religions around the world ? Of course it does.
On the news I hear a London priest referring to Kevin Rudd's election as "another Obama moment", which greatly annoys me (together with about half the Australian population), while "Bible belt Kevin" preaches from the pulpit that the financial world was "following the wrong God". How long are we going to suffer such a "Dudd" for Prime Minister ? Anyway, who cares ? I've got myself another beaut T-shirt. That's what matters !!




---
Most Recent - Next - Previous - Top - Page 1 - Photos - Index - Topics - MP3s - Jazclass Links
Saturday April 4, 2009 (diary)
I wake up, rather late (9 AM), to a glorious morning again. Brian and Margaret who live in the large shed on our Mango Farm, returned yesterday with their caravan from Alice Springs. They are glad to be "home" again and bustle around in the morning, Margaret doing the washing and Brian helping Andrew with the electric gate.
I sit outside on my veranda working on my laptop. I find the website for the Darwin Theatre Company (DTC) and send them an email offering my assistance as a volunteer. We will see what comes from that.
For lunch I promised myself another seafood grill at the Stokes Hill Wharf. I arrive wearing my hand made black Australian Akobra hat (made from pressed rabbit fur). The ladies at the Portside Char Grill like the hat and tell me I must have been a very handsome young man. I happily leave them with that illusion. I make a start on reading Evelyn Waugh's trilogy of novels The Sword of Hour, then leave and proceed to the Nightcliff Swimming Pool.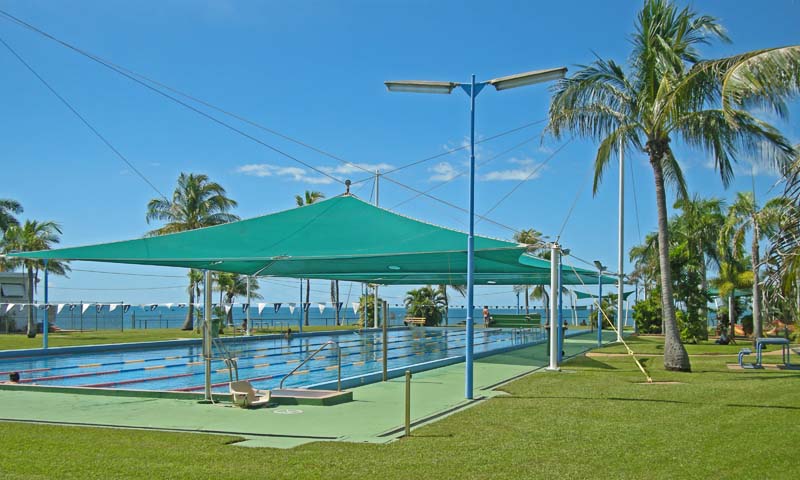 The pool is once again great and I quickly swim my six now "compulsory" laps. In the distance I see Mary, my new Canadian acquittance approaching carrying her glossy bright blue banana chair under the arm. Once in the water she spots me and starts wildly waving with her arms. We swim towards each other and start another long conversation about music and French films. I had given her a CD of my music (Satie & Me), she absolutely loves it and plays it all the time in her car. Mary's favourite is number 5 on the CD, one of my own compositions Coming Home.
I have heard the same comment from others, and it is true that this song has come out rather special. Listening to it I do realise that it exactly reflects who I am, what I feel, what I know and how I see myself in this unique adventure which is life. Within my creative capability I have said it all in just this single song.
Well, you may ask, what about this cool as a cucumber stuff and don't get your emotions involved when playing I talked about a couple of weeks ago ?
Frankly (as it suddenly occurs to me right now) this is the very secret of it all. By blocking the emotions from entering your body and mind while playing, you are directing the full force of it into your music. By letting the emotions "leak" into yourself instead, the music will be deprived of it, losing its very essence.
Mary loves floating in the water in the sun and I oblige her, but after some time I feel my bald head getting sunburned and say goodbye. We'll meet again here I am sure. On my way home I buy a bottle of gin and some tonic, whenever I am living up here on the Mango Farm I seem to develop a craving for G&Ts. I also buy some more Thompson seedless grapes. I am a very lazy fruit eater and avoid cutting, biting or spitting out as much as possible. So I mainly eat bananas (easy to peel) and the seedless grapes are just the shot, delicious.




---
Most Recent - Next - Previous - Top - Page 1 - Photos - Index - Topics - MP3s - Jazclass Links
Sunday April 5, 2009 (diary, bridge)
I promised Mairead (one of my two regular bridge partners) to play a one day ("Swiss Pairs") tournament with her today. But it only starts at 10.45 AM so I have time to watch the 'Insiders' political segment on ABC TV. Prime Minister Kevin Rudd bullied a stewardess on a plane trip a few days ago. The poor woman was most upset and burst out into tears. The government initially denied the incident, but the facts leaked out anyway so Rudd was forced to make a rather flippant apology to the stewardess. Underneath the robot like surface of the man his true character is starting to shine through.
Andrew and Brian are still working on the electric gate as I drive out and Andrew tells me the code to open it when I return this evening.
I am never at my best at bridge in the morning and neither is Mairead. But we are lucky to have few contracts come our way the first two sessions and can be content by mostly defending. This we seem to be doing well for after the first round we are already in the top 4 pairs (out of 14).
As the day gets on we gradually start to wake up and become more alert. After 24 boards there is a brief lunch break which the two of us take from a Turkish stall in the food hall of the nearby Casuarina Shopping Center. After lunch we open a bottle of wine and from then on everything is fine. We finish joint second overall which is quite good. I am especially pleased for Mairead. She has not been playing for all that long and today had to play most of our contracts. She did this very well and kept her cool throughout. As a result she received heartfelt congratulations and gained considerable respect from some of Darwin's top bridge players.
When I arrive back home the electric fence is in operation and works like a charm.


Comments - Most Recent - Next Page - Previous - Top - Page 1 - Photos - Index - Topics - Jazclass Links

---

Copyright © 2009 Michael Furstner