Biographical Log of Michael Furstner - Page 90
2008 || 2009 : Jan | Feb | Mar | Apr | May | Jun | Jul | Aug | Sep | Oct | Nov | Dec | Page : Previous | Next |
---
Most Recent - Next - Previous - Page 1 - Photos - Index - Topics - MP3s - Jazclass Links
Tuesday May 26, 2009 (diary)
Today is pastel painting class day again. I decide to do a still life this time, and the sophisticated beer with condiments I had on the terrace of the to Felini dedicated Bar Lugano in Rome in 2007 will do fine.
After battling with this subject for a full three hours I believe I have some idea how Vincent van Gogh must have felt when painting, especially during his last years.
I have a constant battle with my restless nature not to slash out but to be careful and patient. When you have the skills of a van Gogh you can let yourself go, but with my lack of this vital ingredient I can't. I must curb my emotions. I succeed almost to the end when at last I let go a little and almost ruin what is a very modest effort anyway.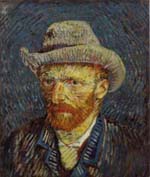 Nevertheless I feel much more affinity to painting than I did some years ago. Perhaps it is because I now am somewhat older and in a much more reflective mood (I tell you : being in your 70s has a lot of good aspects to it).
Also painting forces me to actually look at things and observe various details, something a dyed in the wool introvert like me never does. It is quite a new experience, believe me !
I will therefore continue with this. The Casuarina Senior College also conducts classes in Acrylic Painting and a course aptly called "So You Think You Can't Draw !" Someone is clearly talking to me there, so I might enroll in that one for next Term.


---
Most Recent - Next - Previous - Top - Page 1 - Photos - Index - Topics - MP3s - Jazclass Links
Wednesday May 27, 2009 (diary)
I do my usual Wednesday round trip to Stokes Hill Wharf for a grilled prawns, salad and chips lunch (from the Portside Char Grill, where else ??), then on to the Nightcliff pool for a swim.
On my way to Nightcliff I stop in Parap for a quick look in the Country Classics Mens shop (big mistake !). They have some new stock in store and several items are in my size, amongst them several new Hugo Boss T-shirts of wonderfully light soft material and in great colours.
So I buy one long sleeve (brown) and two short sleeve T-shirts (light green and light brown). The damage is over $400, but as the shop assistance says : "You can't take it with you." I am very pleased with my purchase and back home I now count 18 T-shirts I have bought since last November ! I am clearly becoming an addict of some sort, but who cares ?
On ABC TV is an interesting program about Gold on the current affairs 7.30 Report.
It was Karl Marx who defined gold as "the Currency of the World". About a dozen years ago many countries around the world (including the UK and Australia), feeling that Gold had had its days, sold large quantities of their gold reserves reducing their holdings to half or even one third of what it was before. Interestingly China took advantage of this and against the general trend increased their Gold holding considerably.
In hindsight this has proven to be a very shrewd move and leaves Australia, the UK and others with some egg on their faces. In the last 18 months or so Gold has increased 50% in value, while the stock market has dropped dramatically and is still 30% down on its high from late 2007.

Also with the massive outpour of Government moneys for the various "rescue packages" at present there is, according to many economists, a grave danger that we are entering another period of high inflation in the near future. Gold would be the best protection against such scenario and is therefore tipped to rise substantially from its present $900 level, possibly to $1,500 per ounce in the not too distant future. So it very much appears that Marx is right again : Gold will probably remain the Currency of the World for quite some time to come.

Hunter Hall, one of my share fund managers, notified all their Unit holders (including myself) at the beginning of this year, that they had changed their Company's statutes, including a new clause which now enables them to trade in Gold on our behalf. Seen from the above perspective I now appreciate much better that this is a very shrewd move by the Hunter Hall Fund Managers.


---
Most Recent - Next - Previous - Top - Page 1 - Photos - Index - Topics - MP3s - Jazclass Links
Thursday May 28, 2009 (diary)
Hurray, Gordon has arrived at the Mango farm. Gordon and his wife Iris are Kim's parents. They have traveled for the past few weeks from their home in Victoria gradually wandering Northwards and when I wake up from my siesta this afternoon their caravan has suddenly appeared at their usual spot.
Gordon, like me in his 70s, is a retired very successful master builder. His great passion is fruit and vegetable gardening, and no sooner have we greeted each other again and he enthusiastically tells me about some new seeds he brought for some very special melons. Two years ago he grew some strangely shaped extraordinary juicy tomatoes right in front of my tent site. If his melons are half as good they will be terrific.

Gordon is also fighting a personal war against the poisonous cane toads which have invaded the Northern Territory (from Queensland). They are enormously harmful to the natural inhabitants of our environment as any animal that eats them dies from their poison. Gordon, armed with a torch and spike, roams the farm ground in the dark, often killing 20 or so toads every night.

The lawn around our swimming pool too, looking somewhat yellowish, is in need of some TLC. Leave it to Gordon, with some fertilizer he will have it sparkling green again in no time.
So the regular dry season contingent of the Mango farm is now complete. Next to my cabin are three caravans occupied by Rick and Rene, Gordon and Iris, and Rod and Mary. And in the large shed are the permanents Brian and Margaret. Nine of us altogether, plus of course the farm owners Andrew and Kim with their three boys.
Three of the caravan inhabitants will be working in Kim and Andrew's new Darwin Airport Gateway Motel when it opens next month. Rick will be the breakfast cook, his wife Rene will be working in the Reception and Marie will be one of the four housemaids.


From left to right : Brian and Margaret's shed (in the foreground the red tiled swimming pool ground) - camp ablution block - my cabin hidden behind mango trees - caravans of Rick & Rene, Gordon & Iris, and Rod & Mary.


---
Most Recent - Next - Previous - Top - Page 1 - Photos - Index - Topics - MP3s - Jazclass Links
Friday - Sunday May 29-31, 2009 (diary)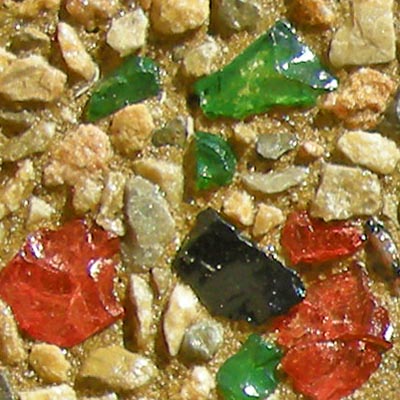 I have always been fascinated by images of the small to very small. As a geological student I much enjoyed studying and analysing minerals of igneous rocks in thin rock sections under the microscope. The enormous beauty of that world defies belief.
In recent years with the emergence of ever increasing sensitive digital cameras this interest of mine has expanded to the smaller dimensions of nature and daily life.

The Darwin Airport Gateway Motel is nearing completion and my attention is drawn to the pavement of some pathways and the area around the swimming pool. It consists of very small (5mm) polished coloured glass fragment embedded in a layer of light yellow concrete. It looks very attractive and in detail, as shown on this photo it is indeed quite stunning.
Gordon who, as master builder, of course is very knowledgeable about these things, explains to me the process involved in its construction, adding that Darwin is the only place in Australia where this treatment is known and used.
Friday evening, the last Friday in the month is traditionally a free champagne evening at the Darwin Bridge Club. There are only 4 tables playing tonight, but the mood, especially when the champagne corks are starting to pop, is good. Freda and I have a good win, despite the abundance of alcohol.
Saturday morning I leave early with the whole Mango farm gang for the Motel. The furniture, bed linnen and electrical appliances have arrived and we spend all day distributing these items over the 62 motel rooms. During the lunch break I manage to have a quick sushi lunch followed by a swim in the Nightcliff pool. Then it is back to the Motel for some more work. Back home late in the afternoon I can hardly walk, having going up and down staircases all day. But we got a lot done.
In the evening I watch the FA Cup Final, Chelsea against Everton. It is a good match but in the end Chelsea the higher ranking club in the English Premier League, ably led by the Dutch super coach Guus Hiddink wins 2-1. Sunday a quiet rest day. We all do our washing as Monday may be full on work again.


Comments - Most Recent - Next Page - Previous - Top - Page 1 - Photos - Index - Topics - Jazclass Links

---

Copyright © 2009 Michael Furstner