Biographical Log of Michael Furstner - Page 113
2008 || 2009 : Jan | Feb | Mar | Apr | May | Jun | Jul | Aug | Sep | Oct | Nov | Dec | Page : Previous | Next |
---
Most Recent - Next - Previous - Page 1 - Photos - Index - Topics - MP3s - Jazclass Links
Monday & Tuesday, September 21 & 22 2009 (diary)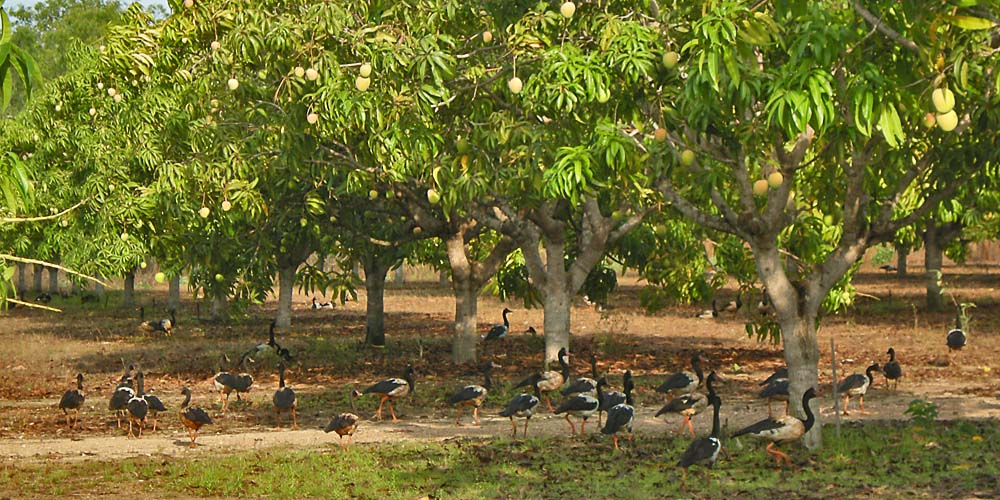 The humidity is really starting to hit now. Clouds battle with clear blue skies every day, like a tug of war, one moment the sky is blue the next it is covered in clouds. There has been some light patchy rain, but we have had none of it here on the Mango farm for the past two weeks.
The Mango geese are now out in force, picking away at the still green fruit that has been dropped on the ground. On some trees the mangos are in full blush, but still a couple of weeks away from ripe.

Monday bridge with Mairead, as usual we are rather aggressive in our bidding, and as the card distributions are very much against us today we don't do well. Tuesday I fill in for Mairead (who is away for work) and play with Lisa Hambour. She is a beginner but has a good card sense. We do quite well.


Later when I return home I watch a documentary on the TV about the 100,000 or more homeless in Australia at present. All young families with 2, 3 or more children who simply can not find affordable housing. Rental properties are scarce and the rents are sky high.
The Government puts them in Motels as emergency accommodation one week at a time, so they are shunted around week after week from one Motel to the next, in a vicious circle for months on end with no solution in sight. The children are highly unsettled, often have to change school several times, and burst out crying every time they see their parents starting to pack suitcases again.

The average house price used to be 3 times the average annual income, now it is 7 times that value. Local Governments have been very slow in releasing new land keeping the prices artificially high. This has now clearly become a National disaster. I for one could not afford to rent a unit anymore, let alone buy a house, but I decided long ago to spend my money on other things (than bricks and mortar) and feel happy and free to live in a cabin or caravan.


---
Most Recent - Next - Previous - Top - Page 1 - Photos - Index - Topics - MP3s - Jazclass Links
Wednesday - Friday, September 23 - 25 2009 (diary)
I still do my daily 2 km walks around the Mango farm every morning. Dressed only in shorts and a straw hat I soak up the sunshine on my body for about 25 minutes, supposed to be good for you, taking in Vitamin D (?). Back in my cabin the sweat pours off my head and body all morning, wetting the table top while I write on my laptop.
The mango geese are all around cleaning up the green mangos lying on the ground, they appear to like these.

My sister Wivica is having an exhibition this weekend in Gelsenkirchen, a town just to the North East of Köln (Cologne, West Germany). A large group exhibition with several artists contributing.

Barbara, the lady who advised me on white vinegar (for cleaning my windscreen of calcium) last Sunday is an Entertainment Agent from Gosford (NSW, 50 km N of Sydney). She is an interesting woman who served in the Vietnam war, organising entertainment for the troupes over there.
At present Barbara is doing some short term Government work in Batchelor, a small village 80 km South of Darwin, and suggested I do a musical gig there before I leave for Queensland in five weeks time. She is tying something up for me at the Butterfly Farm over there, which includes a nice restaurant. It is the sort of venue I quite enjoy playing in. We shall see, it gives me some incentive to play more on my keyboard and I have started going through my song list, brushing up on my repertoire.


Comments - Most Recent - Next Page - Previous - Top - Page 1 - Photos - Index - Topics - Jazclass Links

---

Copyright © 2009 Michael Furstner