Biographical Log of Michael Furstner - Page 121
2008 || 2009 : Jan | Feb | Mar | Apr | May | Jun | Jul | Aug | Sep | Oct | Nov | Dec | Page : Previous | Next |
---
Most Recent - Next - Previous - Page 1 - Photos - Index - Topics - MP3s - Jazclass Links
Sunday, November 1 2009 (diary)
Early in the morning I drive to Darwin hoping to take some photos of chef Rick in action in his kitchen at the DAG Motel, but he did not come in today (no cooked breakfasts required). So to kill time before the start of this morning's bridge I go on to the Sunday morning Rapid Creek markets.
It is a few years since I have been there an the markets have grown considerably since then. It is bustling with people. This is where all the locals go for their fruit and vegetables as the market is renown for its huge and exotic range of produce. A number of Asian food stalls are also doing very well here.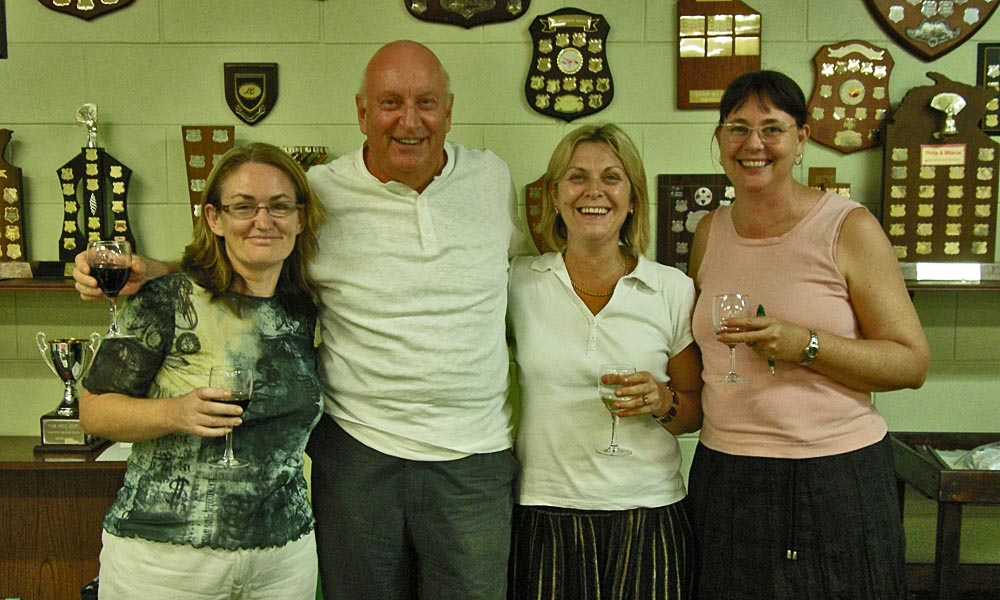 It is too early for me for food so I go on to the Bridge Club which opens shortly after I arrive there. Then three and a half hours of solid bridge with Les Girls, we make quite a few errors, but never mind.
Lisa Hambour has invited us for lunch at her home and as we arrive there her husband Ian has already (on previous express instructions from his wife) poured us generous glasses of wine. Lisa is an outstanding cook. We have a light and excellent chicken salad with the best home made salad dressing I have ever tasted.

We have only half an hour for lunch, then back for this afternoon's bridge session. Aided by several bottles of wine we do slightly better. At the end of the day we finish in the middle of the field (of 6 teams) but win comfortably on handicap, as all three girls in our team are still relatively unexperienced. Satisfied we all return home in the evening.


---
Most Recent - Next - Previous - Page 1 - Photos - Index - Topics - MP3s - Jazclass Links
Monday, November 2 2009 (diary)
"Never trust a man who has read only one book!" (or words to that effect) writes Arturo Pérez-Reverte in his novel Purity of Blood.

He refers here to books like the Talmud, Koran and Bible. On the political (rather than religious) side I could add books like "Das Kapitaal" (Carl Marx), "Mein Kampf" (Adolf Hitler) and "The Little Red Book" (Mao Tse Tung) to his list, which arguably have caused more misery, bloodshed and human death in this world than anything else. I totally agree with his above statement.

"Purity of Blood" is the second Volume in Arturo Pérez-Reverte's Historic adventure series The Adventures of Captain Alatriste. Six parts of this series have been published so far (the first 5 translated into English) and three more are planned. It is also a popular Spanish TV series.
The series is set during the Spanish reign of King Phillip IV in the early 17th Century, at the time of the demise of the mighty Spanish Empire and latter part of the 80 years War with the Dutch.

The books provide a brilliant insight into the customs, life style and (often treacherous and very dangerous) social environment in Spain during the early 1600s. I was delighted to read that the wonderful Spanish social event of the paseo (the daily late afternoon stroll through a town's main streets, everybody all dressed up, to see and to be seen) was already very much in vogue way back then. It was called the ruá in those days.


In The Sun over Breda (the 3rd Volume in the series) P&eacuterez-Reverte describes some events towards the end of the 80 Years War from the Spanish perspective, certainly different from what we learned at our Dutch schools.
I remember all the joy and glory of the recapture of Den Briel by the Dutch Watergeuzen and the sudden abandonment of Leiden by the Spaniards.
But I don't remember having been told much about the fate of Breda recaptured by the Spanish and immortalised by Velázquez's painting of its surrender.

There was much hate between our two countries back then. How times have changed (as they always do). I still remember with great fondness the very warm welcome I received when entering Spain for the first time in my life.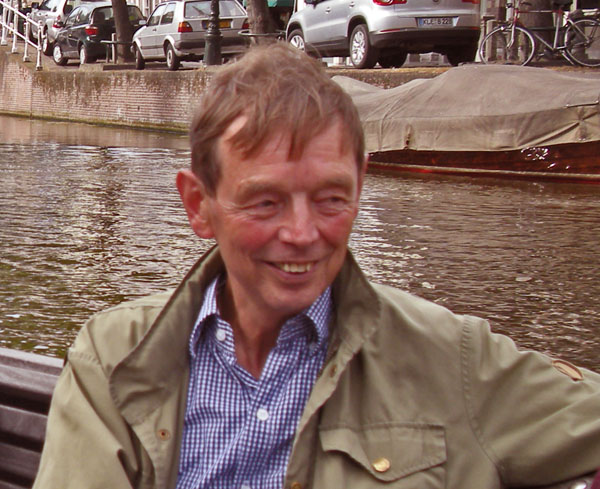 That was in June 1956, when my friend Hauk Fischer and I (on our first Geological study field assignment), after hitch hiking from Holland to the central Pyrenees in Southern France, walked (rucksacks on our backs) from the French village of Fos across the 1.5 km of "no man's land" to Les right on the border of Spain.
To our astonishment we were welcomed with great delight by a (I believe English speaking and born) Roman Catholic Priest. He had been alerted to our imminent arrival by a phone call from the French border guards.

The priest took us to the local Pub where he had arranged for us a wonderful 4-course meal, including wine and bread, for just 1.6 pesetas (specially discounted for us, he declared, from the regular price of 2.2 pesetas). It was here that I had my very first famous Spanish flan for desert.
Afterwards he took us to our free accommodation, of all things a new abattoir under construction, where we slept quite comfortably on our inflatable rubber mattresses upon the concrete floor and in the morning washed and brushed our teeth in the Garonne river (there only just a narrow stream, barely 20 meters wide) which flowed right alongside the rear of the abattoir.


In those day, under the tight rule of General Franco, the Spanish borders were hermetically closed to all foreigners. But because we were mapping the geology of Spain and provided copies of our efforts to the Spanish Government we were given (the oh so rare) entry visas.
Each of us also carried a Letter of Recommendation ("Consejo") from the Spanish Government which opened numerous doors and ensured excellent co-operation from local councils as well as private individuals throughout our stays in that country. Even the then still widely feared Guardia Civil (Civil Police, dressed in their wide green capes and strangely shaped black glossy hats), respected and assisted us when required.

But times since then have long changed once again. Spain is now flooded by tourists. Many Northern Europeans have taken up residence there, sadly relegating the original countrymen to (what some of them experience as) second rate citizen status.


---
Most Recent - Next - Previous - Top - Page 1 - Photos - Index - Topics - MP3s - Jazclass Links
Tuesday & Wenesday, November 3 & 4 2009 (diary)
Tuesday early afternoon we have a brief but fierce thunder and rain storm. I am just on my way to Palmerston driving through pouring rain. When I return to our farm I find the ground littered with numerous mangos blown off the trees. The shade cover alongside my cabin has also given up the ghost. Its supporting pole on the right has now collapsed too.

In the evening Les Girls and I play the second and final session of the Wiese Moir Teams Championships and become this year's outright winners of this social bridge event. We have had in fact three good bridge days in a row. On Sunday we also were Handicap winners in the annual NTBA (Northern Territory Bridge Association) Open & Handicap Teams Championships, and this Monday Mairead and I won the Melbourne Cup Special Pairs event.

Wednesday morning I am off early to Paul's Service Centre (part of the Repco group) in Darwin for my car service. Paul is a very likeable and efficient man in charge of a reliable team of mechanics which always provides excellent service. I have been with him since I purchased my Mercedes Vito back in 2002.


Afterwards I check out a few shops then have lunch in Casuarina in Bar Zushi. To my surprise I find the former sushi chef back in the kitchen. After 7 weeks of rest, sleeping most of the time she tells me, her boss has enticed her back to her job. I am pleased to see her again.

In the evening I send emails to my bridge friends at the Sunshine Coast, alerting them to my arrival there in 2 weeks time, then watch another thrilling episode of the Danish crime series The Eagle on SBS TV.


---
Most Recent - Next - Previous - Top - Page 1 - Photos - Index - Topics - MP3s - Jazclass Links
Thursday, November 5 2009 (diary)
The Bahn Thai eatery at the Palmerston Shopping Centre have recently added deep fried wonderfully crispy anchovies to their daily offerings. These are delicious in combination with their thin rice noodles. Their chili squid is also nice and very tender, so I have had a few lunches here again recently including today.

During the trench warfare of Word War 1 (I read some time ago in Sebastian Faulks' novel Bird song) it was common practice to dig underground tunnels towards the enemy side, then explode mines underneath their territory.
I am reminded of this today as I read in Arturo Pérez-Revertes historic novel Sun over Breda that the Spaniards and Dutch employed the same method 300 years earlier (in 1625) during the siege of Breda. In all likely hood this sort of thing must have happened even earlier whenever two waring sides were entrenched opposite one another.

In the evening we have a pleasant evenings bridge at the Palmerston Bridge Club. The Director Betty Mills is away at present and I am running the show for her for a few weeks until she returns. As usual a few of us stay after the game for an extra glass of wine and a chat, and it is well after midnight when I return home.


Comments - Most Recent - Next Page - Previous - Top - Page 1 - Photos - Index - Topics - Jazclass Links

---

Copyright © 2009 Michael Furstner