Biographical Log of Michael Furstner - Page 122
2008 || 2009 : Jan | Feb | Mar | Apr | May | Jun | Jul | Aug | Sep | Oct | Nov | Dec | Page : Previous | Next |
---
Most Recent - Next - Previous - Page 1 - Photos - Index - Topics - MP3s - Jazclass Links
Friday & Saturday, November 6 & 7 2009 (diary)
Today I receive a recent photo of Maria in Peru, the younger one of my two Sponsor children I support through the World Vision organisation. Over the years I have helped about half a dozen children receive their education and looked after in health through this organisation.

In Spanish the term encamisada is used for military night exercise. In Sun over Breda I read that this is derived from those early wars when Spanish soldiers at night wore their white shirt ("camisa") over their battle dress, so that they could see and recognise each other in the dark.

I have as a rule very little interest in touristy ancient historic monuments like the pyramids, temple ruins, cathedrals, what have you. This reflects my way of looking at life from the broad universal and solar system time perspective, rather than from the blip on the time scale the human race has been in existence. This is why I feel in general more affinity to nature than to humans.
But I do (like perhaps most people) feel a nostalgic affinity to places I have had experiences myself and through this sometimes derive a connection with human beings from the recent or distant past.

Reading the novel Sun over Breda I, in a peculiar way, do feel such connection with Spanish soldiers during their siege of this Dutch city back in 1625. For it was in Breda in the SROA (School for Reserve Officers in the Artillery) in 1964 that I was trained to become a Dutch Artillery Officer. We too had our numerous encamisadas in this very area during that brief but tough time of our training, forging our way through dense woods, swamps and across the Merx (now called Mark) river. I was at the time blissfully unaware of the activities of our former enemies the Spaniards.
But now that I have become familiar with this fact of history I feel curiously connected to those soldiers from the past. We have tread the same ground, experienced the same environment, although I, fortunately, in peace time and not under the threat of death like them.


---
Most Recent - Next - Previous - Page 1 - Photos - Index - Topics - MP3s - Jazclass Links
Sunday & Monday, November 8 & 9 2009 (diary)
I am gradually going through the motions of getting ready for my drive back South, so that I don't have to do everything in a hurry at the last moment. I have decided to leave here on Friday, giving me 4 days to get back to the Sunshine Coast and in time for next week's Tuesday bridge in Diddilliba.

In order to be able to read while under way I have purchased a Penguin Edition of The Consolations of Philosophy by Alain de Botton which covers six subjects dealt with by six selected key philosophers from Socrates to Nietzsche.

Under Consolation for Popularity (as dealt with by Socrates) I read :
It is not only the hostility of others that may prevent us from questioning the status quo.
Our will to doubt can be just as powerfully sapped by an internal sense that social conventions must have a sound basis, even if we are not sure exactly what this may be, because they have been adhered to by a great many people for a long time.

It seems implausible that our society could be gravely mistaken in its beliefs and at the same time that we would be alone in noticing the fact. We stifle our doubts and follow the flock because we cannot conceive of ourselves as pioneers of hitherto unknown, difficult truths.

It is for help in overcoming our meekness that we may turn to the philosopher.

And farther down the text :
Other people may be wrong, even when they are in important positions, even when they are espousing beliefs held for centuries by vast majorities.
And the reason is simple : they have not examined their beliefs logically.
I have lived with the above dilemma virtually my entire life. I did overcome my self doubt however at the age of just 8 years, shortly after the war (WW2) through circumstances I have recorded previously. But over the years I have kept my own views mostly to myself, not out of "meekness", but perhaps more out of a sense of false modesty, not to presume to be smarter, more intelligent than others.

But (I start to realise now) it is not an above average measure of intelligence or even courage (that so frequently misused term these days), but a deep relentless desire to be true to one's self that makes one step out from the crowd and shake off the shackles of popular misbeliefs.
This is the vital step one must make in order to utilise, unrestrained and to its fullest potential, the one thing that sets us apart from all the other species on earth : our mind. Only by taking that step do we become a true and fully developed specimen of our species.


---
Most Recent - Next - Previous - Top - Page 1 - Photos - Index - Topics - MP3s - Jazclass Links
Tuesday, November 10 2009 (diary)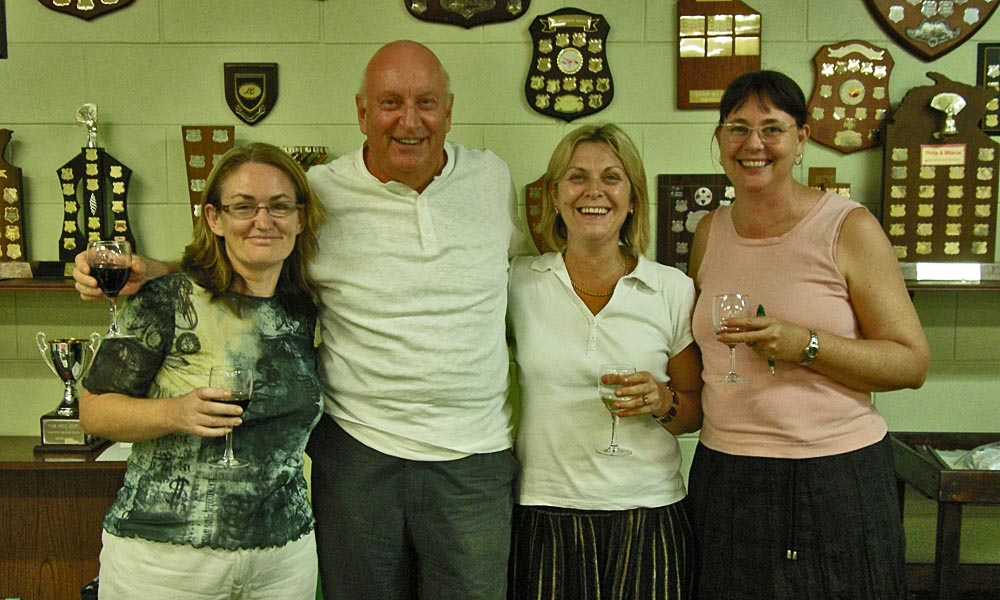 Last night was my final bridge evening at the Arafura Bridge Club. As special farewell gift to me Lisa (a super cook) had made her delicious Salmon dip. I was much touched by her gesture. The whole club dived into it with great enthusiasm and the large plate was sparkling empty clean in no time. But I did get my fair share of it. I paired up with Gaileen (the third member of "Les Girls") for the evening as we had not played together before. We did quite OK for a first time. I will be back next March guys.

Another heavy rain and thunder storm in the middle of the night and I was worried that my car might be dented by flying mango fruit, but this morning that proved not to be the case, thanks goodness. A quiet day today, having done the bulk of my packing. Only my keyboard and computer gear to go into the car yet. Two more evenings of bridge, lunch with my son Jeroen tomorrow and another one with "Les Girls" on Thursday.


Comments - Most Recent - Next Page - Previous - Top - Page 1 - Photos - Index - Topics - Jazclass Links

---

Copyright © 2009 Michael Furstner