Biographical Log of Michael Furstner - Page 127
08 || 2009 : Jan | Feb | Mar | Apr | May | Jun | Jul | Aug | Sep | Oct | Nov | Dec || 2010 Page : Previous | Next |

The Martinshof Story - A Philosophy of Happiness - Life Awareness - Maps & other Text series
---
Most Recent - Next - Previous - Page 1 - Photos - Index - Topics - MP3s - Jazclass Links
Tuesday, December 1 2009 (diary, Australian politics)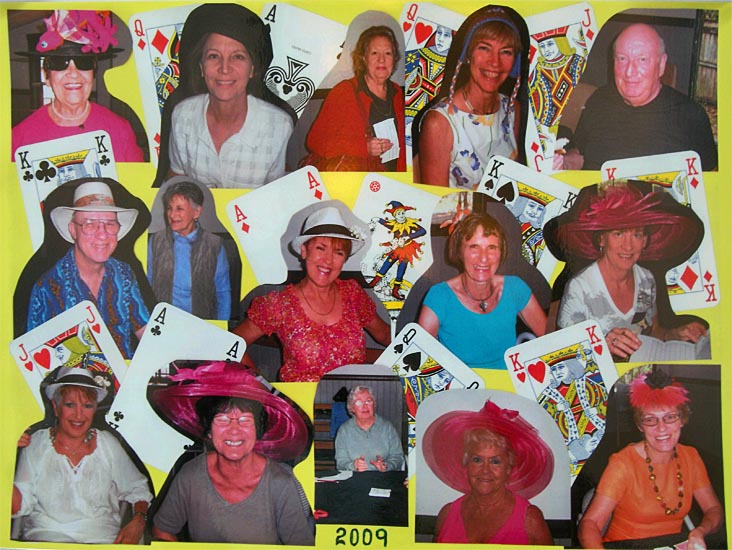 December 1, the first day of summer in Australia.
It is our Bridge Christmas party today. First three hours of pleasant bridge at the Diddilliba Community Hall, then on to Le Baroque French restaurant in Buderim.
Sarndra Vaughan has collated a beautiful place mat for the event with photos of most members taken at the Melbourne Cup Bridge morning a few weeks ago. A laminated copy is placed in front of each seat at the table. Well done Sandra !
The lunch is good and we have a great time, with a present for everybody, but the aircon is blowing right onto my head and chest and I am freezing cold. I get a sweater from my car for the last half hour, but after lunch I race back home to warm myself. No swim today.

On the TV evening news I see (and hear) that Tony Abbott has become the new Leader of the Liberal Party. I am absolutely delighted. He is in my opinion the most human high profile politician in Australia.
Honest, with great integrity, straight talk, great intelligence and brimming with creative ideas. He is very conservative and therefore not liked by everybody (especially women, because of his anti abortion stance), but it is an exhilarating contrast to the dull, cardboard cutout, forever platitudes squirting nerd Prime Minister Kevin Rudd. It is clear that the Labour party is scared of this new Liberal leader, because within hours of Abbott's election there are already the first smear campaign ads against him on the television.

Under Abbott's leadership, the Liberal party will now oppose the proposed ETS (Emissions Trading Scheme), and thanks goodness for that. It is wonderful that the sceptics (of man made climate change) now finally have a political party that will unambiguously stand up for their cause.


---
Most Recent - Next - Previous - Top - Page 1 - Photos - Index - Topics - MP3s - Jazclass Links
Wednesday, December 2 2009 (diary, politics)
For some time I have been looking for a copy of Tony Abbott's latest book Battlelines (unlike most Sports and Media "Personalities" Abbott, an accomplished former journalist, writes his books himself) but could not find it in any of the Bookshops in Darwin.
Abbott's election to Leader of the Liberal Party yesterday, prompted me to look again, and I finally did get a copy in a shop (Angus & Robertson) here in Maroochydore. But it was not even on display in the shop but stashed away in their storeroom.

Bookshops reflect the mind set, interests and intelligence (?) of their customers, and sadly that appears for the great majority of shops not to be of a very high standard these days. Consequently most people appear to keep falling into the same old trap Socrates warned against 2,500 years ago : That as long as we refrain from questioning the "status quo", we will continue to (often mistakenly) believe that what is popular is right.

Most people clearly prefer to fill their minds with trivia, make believe fairy tales and infotainment, rather than spending much time at their own critical analysis of the serious issues in life. The latest "religion", man made Global Warming, is a case in point. (Sure, we don't have to be serious all the time, but never ???)
However on this topic Tony Abbott scored a win on his first day of leadership for the Opposition, defeating the ETS bill in Parliament today. He called the Labour Government's bluff (who had hinted at calling a possible early election after a double dissolution), and the Government clearly "blinked first". Obviously afraid of a poor election outcome the Labour Government decided to try and reintroduce the bill for a third time early next year.

The book by Abbott, bye the way, is a great read and provides an in depth analysis and clear insight into his side of politics. Every "thinking liberal" should certainly read it.


---
Most Recent - Next - Previous - Top - Page 1 - Photos - Index - Topics - MP3s - Jazclass Links
Thursday - Saturday, December 3 - 5 2009 (diary)
Rather regular routine days at present, but of course very pleasant ones. Lots of reading, with the main daily highlight my trip to Mooloolaba (a 10 minutes, 12km drive) around midday, for my walk and swim, then lunch at the Surf Club.
After the very strong winds of a week ago there has been either an inland breeze or very weak sea breeze the last few days. As a result not much in terms of good body surf waves, but the water is nice and refreshing all the same.


It suddenly struck me some time ago why I enjoy living in the tropics so much. My first experiences of it where in the 1970s, first 3 years in the Highlands of Papua New Guinea, then (after a short spell back in Canberra, Australia) another 3 years on Bougainville Island. Most recently, since 2001, I have spent most of my time in tropical Darwin.

Of course one reason why I like the tropics is because it is always warm there. After 29 years of living in the miserable cold and depressing climate of Holland I absolutely hate cold days. But if it was only that I would be happy just to stay here at the Sunshine Coast. The (at least for me I believe) real reason for my great attraction to the tropics is that I don't belong there. The Caucasian race, especially the North European part of it, does not belong in the tropics. It is not our "natural habitat". We evolved in and adapted biologically to the moderate and cool climates of Northern Europe.

And this, oddly enough, is why I like living in those hot tropics so much. For me it is as living in a surreal, virtual world, not a serious one, almost a dream world. For a person like me, who has a strong natural aversion to being pinned down in one place in life, it is the ideal environment to be in.
The contrast with the Sunshine Coast is enormous, and that is what I enjoy too and why I migrate up and down each year. The people here are "normal", life is "normal", just as it should be (or at least as we are used to) in the "real world". I have my regular swims here, look at the ocean each day, talk with my daughter and her partner, enjoy ThreePonds. Then, after a few month I can't wait to immerse myself back into that apparently unreal world up north in the tropics, where I feel so comfortable in its environment and amongst its people.


Comments - Most Recent - Next Page - Previous - Top - Page 1 - Photos - Index - Topics - Jazclass Links

---

Copyright © 2009 Michael Furstner