Biographical Log of Michael Furstner - Page 134
08 | 09 || 2010 : Jan | Feb | Mar | Apr | May | Jun | Jul | Aug | Sep | Oct | Nov | Dec || Page : Previous | Next

The Martinshof Story - A Philosophy of Happiness - Life Awareness - Maps & other Text series
---
Most Recent - Next - Previous - Page 1 - Photos - Index - Topics - MP3s - Jazclass Links
Wednesday & Thursday, January 6 & 7 2010 (diary, happiness is a good home)
Philosophy of Happiness : 4 continues from December 20
I am reading several books at the same time at present. One is "The Architecture of Happiness" by Alain de Botton.
Buildings, especially our home, can contribute to making us happy he writes, and I thoroughly agree with that.
This is of course true when you live in one place most of your life, but it is equally important (perhaps even more so) when you move around a lot, like I and my family did during my years as a geologist.
During the 17 year of my marriage we lived in eight different homes (not counting the 5 transit houses we stayed for up to 3-4 months each time), spaced thousands of kilometers apart, each time in a new environment and within a different community. A house in which you feel happy is most important in such circumstances.


My wife Antien did most of the house hunting in those days (while I was at work) and always came up with a good choice. Only one of the houses we lived in (in Merewether) was our own, four were rented homes (in The Hague and Assen in Holland, and Kalgoorlie and Canberra in Australia), and three were company houses (in Kalgoorlie WA, Jonki in PNG and in Arawa on Bougainville Island). The Company houses in Kalgoorlie and Jonki were brand new and we were the very first occupiers.

Besides furniture we had lots of decorations which we took with us everywhere. This helped greatly in making each place we lived in "our own". And invariably, every time we had to pull up stumps and move on, there was a sense of sadness of leaving a place we had been happy and had felt so at home.
How does the above fit into my six proclaimed factors for happiness, you may ask.
1. Health 2. Freedom
3. Sense of Purpose
4. Thought
5. Friendship
6. Environment
Easy ! It is a most important part of the factor of one's Living Environment of course.


These days, living by myself, the place I live in is still most important to me. But I have become much more austere in my taste. As long as a place is light and roomy and only a single step away from nature I am quite happy.

These last 8 years this has been just a a tent or a simple cabin (like I rent now on the Mango farm near Darwin) with bare walls and no frills. Quite remarkable how we can change as we grow through life.
Philosophy of Happiness continues on January 11


---
Most Recent - Next - Previous - Top - Page 1 - Photos - Index - Topics - MP3s - Jazclass Links
Friday & Saturday, January 8 & 9 2010 (diary, Holland)
I have been somewhat distracted these last few days, because I am in the process of getting my European holiday organised. I need to do this early as August-September (the time I am visiting there) is the peak holiday season and I need to book my hotels as early as possible. The venture is taking shape nicely.
I have booked the lovely holiday apartment : Feldbergblick in Sankt Peter (near my sister Wivica's home) for three weeks 1-21 September. I very much look forward to spend an extended stay in the Black Forest, with its wonderful walking trails, spectacular views and great restaurants.

My stay in Holland in August is also starting to take shape. My University Year Club Pimpernel is likely to follow through on my proposal to organise a day at the picturesque Weerribben. Hopefully we can all get together during the first half of August. During this period I hope to stay with some very good primary school friends : Dick and Lyde Matthes in Gorssel and Ank and her children in Gramsbergen.

If you ever get to Holland don't just follow the usual tourist traps. I highly recommend that you try to go to the following four locations, which for me define my home country more than anything else.
If you do visit one or more of these locations in the future I would be delighted to hear from you about it.


---
Most Recent - Next - Previous - Top - Page 1 - Photos - Index - Topics - MP3s - Jazclass Links
Sunday, January 10 2010 (diary)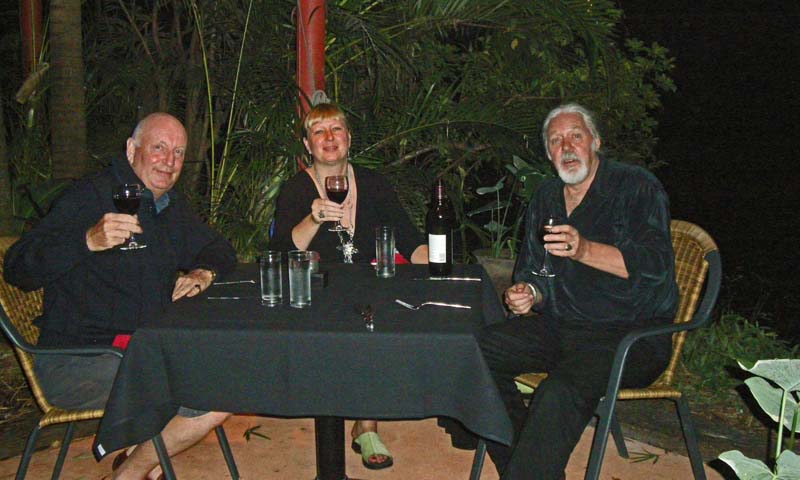 It is my daughter's birthday today : Happy birthday Babette!
We will celebrate her and my birthday with a dinner next Saturday (again in the Spirit House) when (my ex) Antien is here too.

The last few days a cat bird has woken me up every morning. It is called like that because it makes a sound like an eery (and rather annoying) long drawn out "miauuuuuuuuuuw". It sits on the balustrade of the rear deck and sees its reflection in my window. It tries to fly to it and bangs its head against the glass. It keeps doing that until I get up and chase it away. Obviously it persists in thinking it has a mate trapped behind the glass, rather than realising it is fooled by its own reflection.


I keep thinking "What a stupid bird", but then I realise : "Aren't we all a little bit like that ?"
Men certainly (women appear to be much more down to earth). We are attracted to and fall in love with an image we have of someone, not the real person. And when we gradually discover that the two don't match we (more often than not) become disappointed. Smart women realise this of course and ensure that there always remains a veil of mystery around them, so we (men) can continue to imagine and dream.

Having said all that : aren't we all really a mystery, even to ourselves, and remain so throughout our lives ?


Comments - Most Recent - Next Page - Previous - Top - Page 1 - Photos - Index - Topics - Jazclass Links

---

Copyright © 2010 Michael Furstner