Biographical Log of Michael Furstner - Page 146
08 | 09 || 2010 : Jan | Feb | Mar | Apr | May | Jun | Jul | Aug | Sep | Oct | Nov | Dec || Page : Previous | Next

The Martinshof Story - A Philosophy of Happiness - Life Awareness - Maps & other Text series
---
Most Recent - Next - Previous - Page 1 - Photos - Index - Topics - MP3s - Jazclass Links
Saturday, March 6 2010 (diary)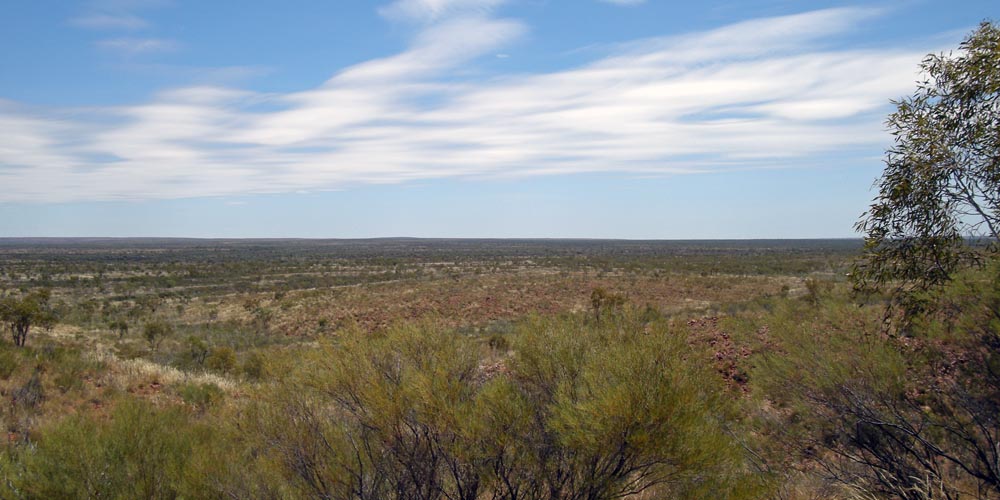 Last night, in the bar I drink beer and chat with Brian, (5 years my senior), part time bar keeper here at the Post Office Hotel. Early light is at 6.15 in the morning (Queensland time) he advises me, so that is when I want to get on my way. I have my usual meal here (sausages) and climb early into bed.
This morning I do get away early, and also save half an hour as I cross the NT border. I have a good fast run down the Barkly Highway and do 460km in 3 hours 45 minutes, arriving at ThreeWays (just North of Tennant Creek) at 40 minutes to 10. Here I rest and have my favourite savoury mince on toast, I love it. Also a free coffee.

There used to be an Australia wide service, giving the driver of any car free coffee at the various rest stations, to help reduce driver fatigue. It looks like they have abandoned that idea in Queensland, but in the Northern Territory it is still going. At ThreeWays they even ask me to fill in a questionnaire about it. "Do I think the free coffee helps me to overcome my fatigue?" Of course it does, anything for free always helps whatever it is.


At ThreeWays the ground is covered with thousands of small (3cm, 1 inch long) dead locusts. Numerous live ones are covering walls and windows. I have never seen anything like it! "It is not so bad today" the waitress tells me, "yesterday was really horrible!" Am I glad I was not here then.

There is a large table spoon in the instant coffee jar. I hold it up to a trucky sitting at a nearby table. "Yes" he says "we use that much coffee in our cup, so that we stay awake on the road." I am glad to hear it, as he drives a huge road train standing outside (on his way from Adelaide to Darwin).

I pour the 20 litres of fuel from my spare jerrycan into my car, then turn North onto the Stuart Highway.
I make good progress, cruising again at a speed just under 130 kph, and after 300kms make a fuel stop at Dunmarra, and, yes, another "free coffee for the driver". I notice another truck driver just filling up his own thermos cup with coffee and taking it back with him in his car. (I must remember that.)


By the time I get to Larrimah I feel I have earned a beer for my efforts. Only 180 kms to go now, so that is OK, as long as it is "just the one". So I stop at the Pink Panther Hotel for a quicky (beer that is) and while sitting at the bar have a pleasant chat with the Manageress, about horses and various other animals.
Finally my home run to Katherine, where I arrive just after 4PM. That is 1,100kms for the day. I check in at the Katherine Hotel and will have a meal at the Sport & Country Club tonight. They make a wonderful spaghetti bolognese there I remember. Life is good, a real mince meat day today. What else could I possibly desire ? (a leading question perhaps ?)


---
Most Recent - Next - Previous - Page 1 - Photos - Index - Topics - MP3s - Jazclass Links
Sunday, March 7 2010 (diary)
I did go to the Sports & Country Club in Katherine last night and had my Spaghetti Bol. When you are in cattle country like here they are not so fussy about the Italian finesse of the recipe. The chef sees just one word in the ingredients list minced meat, and that is what you get, lots of it, with the odd bit of tomato thrown in for looks. It was good though.
I also had a large Cuba libre (Baccardi rum with Coca Cola and a slice of lemon). It was probably the coke (which I don't drink very often) that kept me awake for hours back at the Motel.
Thoughts kept whirling round and round through my mind and I just could not stop them. So finally I got up at about 2AM and wrote a bit more on my Happiness 9 segment. Then at last, with my mind at peace, I went back to bed and fell asleep quickly after that.

This morning I went on the road at about 9AM for the final 290 km to Darwin. My cabin was nice and clean, waiting for me when I arrived there. I unpacked my car, had a long siesta and will have a quiet night to get ready for bridge tomorrow.


---
Most Recent - Next - Previous - Top - Page 1 - Photos - Index - Topics - MP3s - Jazclass Links
Monday, March 8 2010 (diary)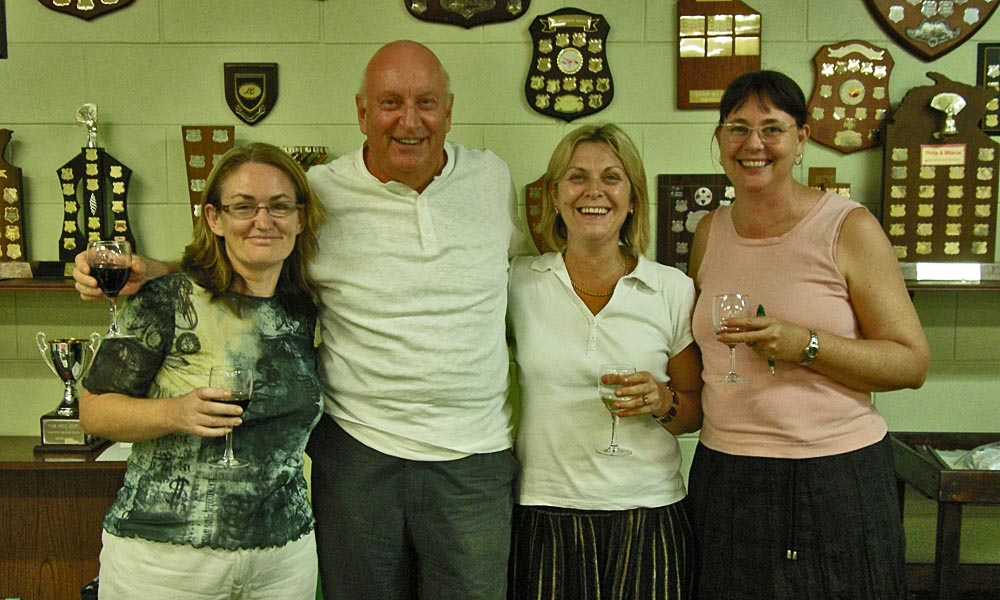 At bridge this evening I am warmly welcomed by my team members, Mairead, Lisa and Gaileen. Lisa has made a large plate of my favourite salmon dip for the supper break which is appreciated by all present.
It is also good to see Freda Park again, we have been playing bridge together for a long time and will continue to do so again on Friday evenings.
The GNOT tournament has for some reason been postponed for two weeks, but we have a most pleasant evening's bridge anyway, with the usual bottle of red.

Stories from Galicia 6 continues from November 27, 2009
When I arrived here yesterday I found a copy of Veldwerk Deel 2 (2010) (published by the Leidse Geologische Vereniging) Charley Arps had sent, waiting for me. It is a collection of memories by former Geology students at Leiden University of their field work in Spain and includes two of my own stories from Caión. I read some of the stories with interest. They transport me right back in time to those wonderful days in Spain, 50 years ago, and two more of my own experiences come immediately to mind. Here follows one.


Bembaree (spelling?, in English pronounced "Bembaray" - watching over the shoulders of old Basilio on adjacent photo), was the blue eyed, blond hair and most daring fisherman in Caión. Like all others on the coast he mainly fished for sardines, but now and then went very secretly catching buoy francess (spelling?), a huge size crab (with 20cm, 8 inch wide body), especially during their breeding season, when it was forbidden to do so, and of course always just then secured the very best prices.

After one of these secret missions Bembaree invited my friends Henk, Freddie and myself, as well as the local Guardia Civil to a hush hush very secret meal of this forbidden fare, at our hotel. So one Sunday afternoon we quietly gathered in a private back room of the hotel, whispering only, finger on lips, door closed. Spaniards are experts at bringing out drama like that.

The five of us, plus the hotel owner who had also been invited, were sitting around a large wooden table, waiting expectantly. After a while the door opened and the cook came in carrying a huge platter of red boiled buoy francess. After he had left, closing the door quietly behind him, we tucked in, cracking the crab shells with wooden hammers on the wood planks in front of us. It was a wonderful feast lasting for a couple of hours, and of course accompanied by lots of local wine. Upon completion of the meal we left quietly, one at a time, not to attract suspicion, although I strongly suspect that the whole village knew of it.


After the event the local Guardia Civil who himself had participated in the feast, of course could not possibly charge Bembaree for breaking the law. So when two large crates of buoy francess, hidden underneath a stack of boxes with sardines, drove out off Caión by truck the next morning, he let it pass without a word.
Instead, the Guardia Civil cycled on his bike to the next village down the road where he telephoned a colleague near Vigo (large port and cannery town on the West coast of Spain, just North of Portugal) and passed on the truck's registration number. In due course the truck was inspected there and the illegal crab load confiscated.

Bembaree however had been paid before the truck left so was not disadvantaged. Likewise the Guardia had done his duty.
Most loads of buoy francess arrived at their destination as planned, but occasional the Guardia Civil had to step in and confiscate a load for appearance sake.
Stories from Galicia continues on March 20


---
Most Recent - Next - Previous - Top - Page 1 - Photos - Index - Topics - MP3s - Jazclass Links
Tuesday & Wednesday, March 9 & 10 2010 (diary)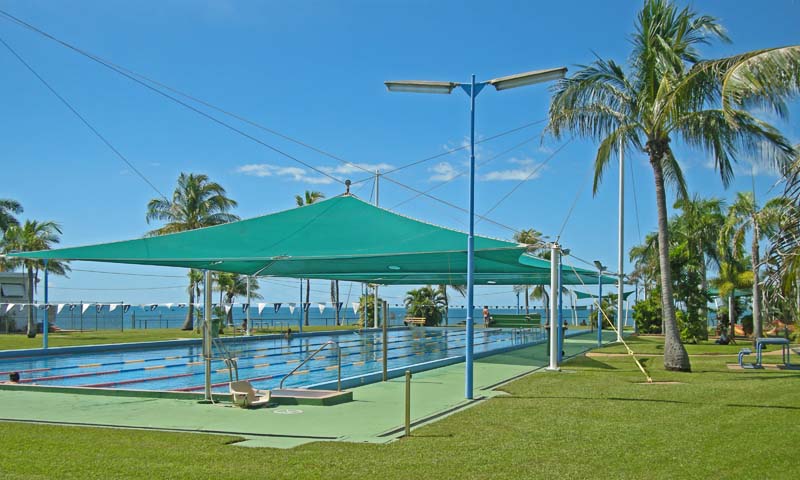 I am still tired from the long drive, so am taking it easy. The Mango farm is wonderfully green and peaceful. Went back to the Palmerston Library to get some books. By chance I saw an interview on TV a couple of weeks ago of the Australian writer Peter Temple. So I got one of his books.
Absolutely marvelous writer, a touch of Annie Proulx about his style, and, believe me, at least as good. This is in my opinion the best Australian writer I have ever read, leaves Peter Carey, Tim Winton, etc. well behind I think, not to mention Bryce Courtney with his usual populist crap.

Today (Wednesday) to Casuarina for a sushi lunch, good as usual, then onto the Nightcliff swimming pool for the odd lap and a wonderful soak in the water.
I keep daily track of the Euro with one of my laptop gadgets. The Aussie dollar has shot up against it during the past 24 hours and is now worth 67.5 Euro cents. My holiday to Europe in August is becoming cheaper (or rather less expensive) by the day.


Comments - Most Recent - Next Page - Previous - Top - Page 1 - Photos - Index - Topics - Jazclass Links

---

Copyright © 2010 Michael Furstner