Biographical Log of Michael Furstner - Page 148
08 | 09 || 2010 : Jan | Feb | Mar | Apr | May | Jun | Jul | Aug | Sep | Oct | Nov | Dec || Page : Previous | Next

The Martinshof Story - A Philosophy of Happiness - Life Awareness - Maps & other Text series
---
Most Recent - Next - Previous - Page 1 - Photos - Index - Topics - MP3s - Jazclass Links
Tuesday & Wednesday, March 16 & 17 2010 (diary)
The Bucket List : your wish list of things you would dearly like to do before you "kick the bucket" (die). Sky diving, white water rafting, climbing the Himalayas. A very cute theme for a movie and Jack Nicholson and Morgan Freeman certainly ensured an enjoyable viewing experience, but how serious is this idea in real life ?

Looking back on my own life I am filled with gratitude (for having lived through a war without any horror experiences), satisfaction (for the many things I have accomplished) and joy (for the great tapestry of experiences I have lived through).
In short, I am strongly aware of having lived a very creative and fulfilling life. Believe it or not, but this has been (very consciously) my main goal and aim in life since I was a little boy of just 8 or 9 years old. Looking back I have done what I wanted to do up to this point, and anything which may be yet to follow is a bonus, but I have no specific wishes.

When I said as much to my daughter Babette a few weeks ago, Doug immediately asked me "Have you climbed the Himalayas yet ?", the very last thing I ever would want to do. But it made me think : Do I have a bucket list? Definitely not! Should I have one? I don't think so! Have I ever had one? Not really!
Throughout my life I have had goals or strong wishes. But I responded to them as they came up, like : having a wife and children > migrating to Australia > living on a tropical island > becoming a musician > driving around Australia > etc.

So if you do have a Bucket List when you get close to 70 what is it an indication of? A sign of immaturity? Of trying to catch up after a frustrated or unfulfilled life? Or is it an indicator for the type of personality you have?

Not me, I am an introvert I live in my mind. As long as there is a sun that warms me, a surf that cools me down, a beach I can walk and meditate on........ Hold on, there's a bucket right there, that kid is playing with it, filling it with sand. Now that's a great idea, why didn't I think of that before.


---
Most Recent - Next - Previous - Top - Page 1 - Photos - Index - Topics - MP3s - Jazclass Links
Thursday, March 18 2010 (diary)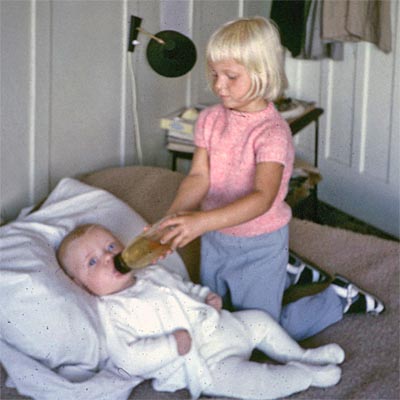 Early in the morning, 40 years ago to the day, Antien's water had broken and I raced her to the Maternity Hospital in Kalgoorlie. "You better go back home", said the nurse at the reception to me, "this will take hours."

I was barely back home (only a 5 minutes drive) or the phone rang, the hospital. It was 7 AM, Jeroen was born. I ran to my neighbours across (the Appleyards) and next door to us (the Stokes), then on the phone : "We have a son, Jeroen, healthy, 7.5 pounds."

Antien, the local pottery teacher, was very popular in town, so within half an hour the cool room of the only florist in Kalgoorlie was empty. Jeroen was the first baby born that morning. Antien's room was full of flowers, but she passed some of hers on to other mothers as more babies entered the world that day.

Happy birthday Jeroen, have a great day with your friends in Bali.
Love,
Dad.


---
Most Recent - Next - Previous - Top - Page 1 - Photos - Index - Topics - MP3s - Jazclass Links
Friday, March 19 2010 (diary)
A pleasant evening's bridge with Mairead in Palmerston last night, where I was presented with an expensive bottle of wine (Penfolds Bin 128, 2008 Coonawarra Shiraz) for having done some of the scoring for the Club last year. I'll share it with Mairead next Monday.

Late at night I wake up, there's a light on outside. I look out off the window and there is Rick, my neighbour living with wife Renee in the caravan next to my cabin, just returned from holiday in Sydney. And what is the first thing he does? At 2 AM in the morning?! Fill up his bird feeding station with honey-water elixir the birds like so much. That is dedication to animals for you. Good to see them back though.

I see that at least two of the small Lapwing chicks from last year have grown up and made the Mango farm their permanent home. They step about quite self assured and are as territorial as their parents.


I have a sushi lunch in Casuarina, then drive down to Nightcliff for a swim in the pool. But as I get there a large class of school kids also arrive. This, and a sudden downpour of rain, localised but very heavy, decide me against a swim today. Next time.
The rain reminds me of my new tyres however. I have had Michelin tyres on my Mercedes Vito ever since I bought the car, but they were becoming very expensive : $300 per tyre. So on advice from Bob Jane T-Mart in Nambour I changed over to Yokohama commercials. They are $100 cheaper per tyre and boy are they good! I put two of them on the front and the car feels rock solid, even in very heavy rain with lots of water flowing over the road. Beat the Michelins by a mile I reckon.


---
Most Recent - Next - Previous - Top - Page 1 - Photos - Index - Topics - MP3s - Jazclass Links
Saturday, March 20 2010 (sardine fishing on the Gulf of Biscay)
Stories from Galicia 7 continues from March 8
Bembaree (blue eyed Spaniard, younger member of the same family as Joseliño) finally gave in to my repeated requests in 1961.
Every time I visited Caión I tried to get someone to take me on one of their sardine fishing trips out to sea, the rough Gulf of Biscay, but nobody wanted to do that, afraid that something might happen to me.
But Bembaree, the most daring young fisherman in the village, thought "what the heck" and took me with him one night.


The fishing fleet usually went out twice during a night. First trip leaving shortly after 7 PM returning at midnight, the second, after unloading their catch, going out again at 1 or 2 AM and returning around daybreak.
I went on the early shift. It was a windy night and the sea quite rough. I was ordered to sit in the back and stay out off the way of everyone else. The boat, like all the others, was rather small, 6 meters (20 ft) long perhaps, not much more, carrying the captain Bembaree plus three crew.

Out to sea one of the crew became sea sick. I felt fine, lit a cigaret with my contra viento y marea and smiled. After perhaps an hour or two the crew threw the dropnet anchor buoy overboard, then started to reel out the 500 meters (1700 ft) long, 2 meters (7 ft) deep net while steaming away from the buoy. Once the net was stretched out in the water, Bembaree slowly completed a 360° circuit around the buoy.

I will never forget the magical scene that followed.
Under the light of the moon and a hissing, sputtering, brightly lit carbide lamp above the fore deck, the net was slowly hauled in from across a horizontal, 90 cm (3 ft) long wooden roller, fixed between the tops of two vertical poles at the very front of the boat. Two men, one on either side of the roller, started pulling the lively shaking, silver gleaming sardines (15+cm, 6+ inches long) from the net, dropping them on the fore deck, while a third crew kept pulling in the net. Soon all three crew were standing over ankle deep in an ever growing solid mass of wriggling silver fish.


When the entire length of the net was finally hauled in and the anchor buoy pulled on board we headed back home. The wind had remained strong however, blowing right into Caión harbour and it was impossible to moor onto the quay normally, as the boat was wildly moving several meters up and down on the rough waves.
For this eventuality a couple of small cranes, with two large size lassos hanging from each of them, were installed right alongside the waterfront.
Bembaree attempted to jump across from our boat onto the quay, but missed and fell into the water, narrowly missing our violently moving hull, but he was safely pulled ashore.

One of the cranes was turned by manpower over the water above our boat, then the two lassos (of steel wire or strong hessian rope ?) were lowered and pulled, one on each end, underneath our boat. This way, boat, catch and us crew, were safely pulled up, rotated back over land and gently put down on some wood blocks on the quay.

I climbed out, received a complimentary large flat crate full with the freshest sardines possible. I immediately returned to my hotel, it was now midnight but all Cai&oacuten pubs were open all night, and passed on my prize to the kitchen, who returned them to me and my friends in the bar within 15 minutes, perfectly grilled sardines, liberally sprinkled with coarse sea salt. Hungrily consumed by us with large slices of fresh bread and carafes of rough Galician wine. Boy, what a night, what a life was it back in those days!!
All Memories of Galicia.


Comments - Most Recent - Next Page - Previous - Top - Page 1 - Photos - Index - Topics - Jazclass Links

---

Copyright © 2010 Michael Furstner