Biographical Log of Michael Furstner - Page 153
08 | 09 || 2010 : Jan | Feb | Mar | Apr | May | Jun | Jul | Aug | Sep | Oct | Nov | Dec || Page : Previous | Next

The Martinshof Story - A Philosophy of Happiness - Life Awareness - Maps & other Text series
---
Most Recent - Next - Previous - Page 1 - Photos - Index - Topics - MP3s - Jazclass Links
Sunday & Monday, April 11 & 12 2010 (diary, grass)
When the happy exuberance of the sky blue is mixed with the fierce heat of the sun's yellow the two energies cancel one another out, melting away into the wonderful tranquility of the resultant green.
Where would humanity be without this natural omnipresent "tranquiliser"? We would long ago have killed each other off into extinction, I am quite sure of that!

This mood of tranquility is elevated to an almost spiritual level when the eye and mind can rest on the predictably regular, even and clean texture of a well mown lawn, shifting the presence of any unpredictably shaped plants or nervously rustling tree leaves away into the unobtrusive subconscious background.
Brian has spent half a day this weekend on the ride-on lawn mower, mowing the lawn around the house, pool, sheds, my cabin and the grass underneath the mango trees, and tranquility (as experienced from my cabin patio), reigns supreme. An absolutely wonderful sight.


For me grass is almost (but not quite) as good as water : a pond, stream, lake, the ocean. And whenever there is no water around I try to spend a little time each day at a place overlooking a lawn. Like the Palmerston Library Bistro for example, or right here on the Mango farm.
Of course when both these natural spiritual tranquilisers are found together, a pond in a park or a river in the countryside, the experience is supreme.
This is why I was so deeply saddened by the closure of Gorssel's iconic pub along the river IJssel, De Houtwal (now private property with access denied to the public) which was an ideal location for just such a setting.


---
Most Recent - Next - Previous - Top - Page 1 - Photos - Index - Topics - MP3s - Jazclass Links
Tuesday, April 13 2010 (diary, Paris-Roubais)
Unlike last year, when it was raining heavily, during this year's Paris-Roubaix classic one-day bike race the weather was dry, although rather cold according to the commentators. I watched the race on SBS TV this Sunday.
This most famous one-dayer features 18 narrow cobblestone road sections (each of 1-3 km in length) spread over the second half of the 260 km distance. The winner's trophy is accordingly a bread size cobble stone, one of the most coveted possessions of the top professional cycling fraternity.
Last year's winner Tom Boonen (from Belgium) was this time clearly outsmarted by the Swiss rider Fabian Cancellara who in the end had a very comfortable and well deserved victory.

Many of the big name Tour de France riders were competing in the race, which was especially significant this time, as the 3rd Etappe of this year's Tour (which will start in Rotterdam on July the 3rd) will include some of the Paris-Roubais cobblestone sections.

While on the subject of sport :
A sway of convictions again this week of Australian (AFL and NRL) football players and a very prominent coach, for bad behaviour on and off the field : drunkenness, sex scandals, drugs, lying.
In a recent TV interview half a dozen prominent AFL so called "heroes" were asked to name 5 past Australian Prime Ministers. The question was well above their heads seeing that all had trouble naming even one : "a short fellow with glasses" (John Howard) said one, "George Bush" said another one.
These guys are supposed to be role models for our Aussie kids!


---
Most Recent - Next - Previous - Top - Page 1 - Photos - Index - Topics - MP3s - Jazclass Links
Wednesday & Thursday, April 14 & 15 2010 (memories from the Pyrenees)
1955 saw a sudden increase of geology student enrollments at Leiden University, from the usual half dozen or so to almost 20. The Geology staff felt this could not be right, must be a fashion fluke, so they decided to conduct at the end of our first year (summer of 1956) a 2 week mapping exercise for us in the Belgium Ardennes around Comblain au Pont. That would surely get rid of the fake ones amongst us, they felt.
We were divided into 3-men groups, each group to map a small area of perhaps 15 square kilometers. Hauk Fischer, Henk Rijks and myself formed one group, Group Deux (all three of us also belonging to the same student social club Pimpernel), and as such we were known throughout our first 4 years of geology study.
The mapping exercises had in fact the opposite effect as intended, we all loved it and were determined to continue with our geology study.


Hauk and I however had some poor experiences hitch hiking in Belgium, so that when we, later that summer in 1956, set off for the Spanish Pyrenees to join Richard Boersma as his field assistants for a month, we gave Belgium a miss and hitch hiked our way along the Rhine in Germany instead.

Our progress was slow however, and after only getting as far as Besançon (via Basel) in two days we ran out off time and decided to take the overnight train to Toulouse. From there we hiked our way to Bagnères-de-Luchon and finally to the tiny French border village of Fos.

It was around 5 or 6 PM with no cars crossing, and the French border guards told us we had to walk across the 2 km stretch of "no man's land" into Spain by our selves. But they did alert their colleagues across the border by phone, so that upon our arrival, to our great surprise, we were greeted by a very enthusiastic English priest who was dying to speak his native tongue again.


In those days Spain's borders were firmly closed to all foreigners, except for those, like us, who had official business there. The priest (who was there as a result of an exchange deal with the UK I believe) took us to a pub in the small village of Les.
Here we were served a great 4-course meal (including bread and wine) for the unbelievable sum of just 1 peseta 60 centimos, a 30% discount on the normal pub price (2.20 pesetas) the priest had negotiated on our behalf.
I can't remember all 4 courses, but it included a wonderful goat cheese and my very first traditional Spanish flan (caramel pudding).

After completing our dinner the priest took us to a new, almost completed building, the village's abattoir to be, where we blew up our inflatable rubber mattresses and spent the night for free on its concrete floor. In the morning, after opening two large doors at the back we washed and brushed our teeth in the famous Garonne river (here maybe only 10 meters wide) right behind the abattoir building.

Then it was off to find a bus to Viella (on the map shown as Vielha), but as we kept pronouncing it like the English "villa" no-one had any idea what we were talking about, until someone looked at what was written on our map and said "Oh, you mean Bjelja? Our first lesson in Spanish pronunciation.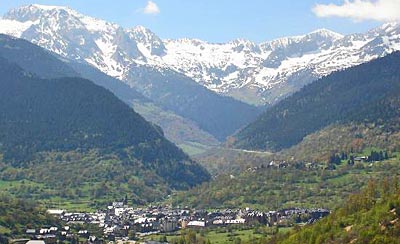 We found a bus that took us to Vielha, where we disembarked and took another bus to Pont de Suert and Senterada.
After emerging from a long tunnel through the mountains and barely a dozen kilometers out off Vielha we were stopped by several wailing men, blood streaming from their faces, standing in the middle of the road, waving their arms.

A truck, carrying 20 or 30 miners, standing unprotected on its open tray, on their way to work, had gone off the road and summersoulted down the steep mountain slope for almost 100 meters.

There were, including Hauk and I, only half a dozen passengers on our bus, including fortunately one priest. The latter immediately disembarked and gave the last rites to 4 miners killed in the accident. The others climbed or where helped on board our bus, some bleeding profusely from deep wounds on their faces and bodies.
Our bus eventually continued its journey, stopping at every village along the way, disembarking some casualties while surrounded by mobs of wailing women who feared the worst for their husbands. At last we reached the hospital in Pont de Suert, where the last and most severely wounded where carried inside.

After dropping off these final injured our bus eventually continued and we got out at Senterada catching another bus that took us finally to Cabdella, where Richard Boersma was waiting for us. As you can imagine, we felt much relieved to see his happy smiling face.
Other stories from Spain



Comments - Most Recent - Next Page - Previous - Top - Page 1 - Photos - Index - Topics - Jazclass Links

---

Copyright © 2010 Michael Furstner