Biographical Log of Michael Furstner - Page 170
08 | 09 || 2010 : Jan | Feb | Mar | Apr | May | Jun | Jul | Aug | Sep | Oct | Nov | Dec || Page : Previous | Next

The Martinshof Story - A Philosophy of Happiness - Life Awareness - Maps & other Text series
---
Most Recent - Next - Previous - Page 1 - Photos - Index - Topics - MP3s - Jazclass Links
Tuesday & Wednesday, July 6 & 7 2010 (diary)
Thanks goodness, I finally have my car back again. Picked it up Wednesday and was awake half the night worrying that it would not start in the morning, but when I tried it started alright. The garage did not charge me for their hire car, but all up this repair and various part replacements has still cost me a whopping $3,500.- Hopefully I will be OK for a while again. I was thinking of buying a new small car (Honda Jazz or the new Volkswagen Polo) but the trade in they offer me here in Darwin for my van is just laughable, so I will keep driving my Vito probably for another year or two. It drives very well.

I have been busy organising my Europe trip in more detail, deciding on the various train journeys and making seat reservation on the ICEs (Inter City Express trains).
I have accepted an invitation from the present Manager of our former family business Martinshof (Yvonne Hafkamp) to visit them in Apeldoorn and I look forward to that. Jaap van der Goes has done a great job to get our student year club Pimpernel all organised for a day at the wonderful Weerribben. And of course I will visit lots of friends over there. On my way back through Germany I will spend some days in Boppard (on the Rhine) and Altenahr (on the Ahr), staying in the same lovely Hotels I was two years ago.


---
Most Recent - Next - Previous - Page 1 - Photos - Index - Topics - MP3s - Jazclass Links
Thursday - Saturday, July 8 - 10 2010 (diary)
The Australian Dollar is very much a barometer for the mood of the financial world at present. This reflects of course the strong reliance of the Australian economy on the fortunes of our mining industry and its dependency on China. When China sneezes Australia gets sick.
I have a gadget on my laptop that tracks the hourly exchange rates of any two currencies. I am tracking the Euro of course. The last few months the Aussie dollar has gone up and down like a jojo between 65 and 71 Euro cents. At the moment it has risen again to just above 69 Euro cents from a 67 cents low three days ago. I hope it will keep rising.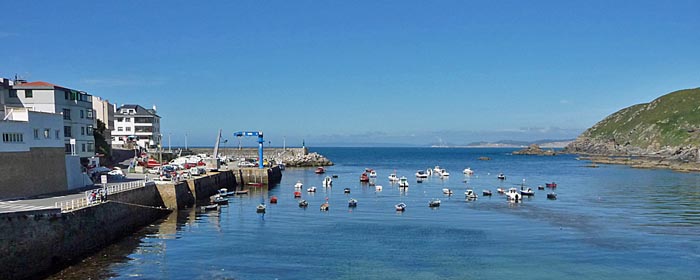 My former fellow student and geology colleague Charley Arps has just returned from a holiday in Galicia. Passing through Caión he was kind enough to take several photos for me there, including this nice shot of Caión's harbour.
On the horizon La Coruña. The blue crane on the quay is new, but the grey one to its left was there 50 years ago and was the one which pulled our fishing boat out of the water after my sardine fishing trip. For Charley's other photos see my Galician stories 1 (My friend Maria-Luz) and 7 (Sardines fishing with Bembarree).


Comments - Most Recent - Next Page - Previous - Top - Page 1 - Photos - Index - Topics - Jazclass Links

---

Copyright © 2010 Michael Furstner