Biographical Log of Michael Furstner - Page 184
08 | 09 || 2010 : Jan | Feb | Mar | Apr | May | Jun | Jul | Aug | Sep | Oct | Nov | Dec || Page : Previous | Next

The Martinshof Story - A Philosophy of Happiness - Life Awareness - Maps & other Text series
---
Most Recent - Next - Previous - Page 1 - Photos - Index - Topics - MP3s - Jazclass Links
Friday & Saturday, October 1 & 2 2010 (diary, Camino Francés)
Thursday evening we had a brief freak rainstorm which blew off quite a lot of green mangos, strewn around now all over the grass. Still, there are many more left on the trees for us to eat in 6 weeks time. I also had my first bridge session again last night in Palmerston which was very enjoyable.
I must say, it only takes a month experiencing a so-called "summer" in Europe to appreciate the wonderful weather we have, day in day out, in Australia (especially North of the Tropic of Capricorn). We normally just take it for granted. I am very glad to be back in Darwin, to wake up in the morning, open all windows and door of my cabin and step outside on bare feet with only a pair of shorts on.


Isn't it strange how sometimes a vague idea suddenly comes to the fore in one's mind to take on a distinct and firm shape.
Two years ago I mentioned in this Blog that I had a vague plan to someday walk a small segment of the famous Medieval pilgrims route from the French border to Santiago de Compostela, the Camino de Santiago ("Jacobsweg", "Way of St.James", "Camino Francés").
It was then for me really a "may be, may be not" idea prompted by my purchase (in Freiburg) of two wonderful maps of Northern Spain which show this Historic route.

But this idea has taken on a very serious form right now. While doing my various walks through the Black Forest last month, I really started to feel that I should do a small segment of the Camino, probably because I had gained confidence in my ability to still walk reasonable distances without muscle or fatigue problems. All up I completed some 18 walks in Holland, Altenahr and the Black Forest, covering at least 100kms.


So this morning I got the maps out and read again through the description of the Camino route in the Lonely Planet Guide (LPG) of Spain.
And it suddenly occurred to me that no way was I going to do just a small segment of say 50 or may be 100 km of this road. There is only one way (at least for me) to walk this road, and that is all the way!!

Checking roughly it is a 750km journey. There is a nice symmetry here. I will do this walk in 2 years time to celebrate my 75th year, so I will walk 10km for every year of my life at that time.
The LPG recommends allowing for 5 weeks to do the whole thing on foot, but I will take 8 weeks. This enables me to do this trip at a leisurely pace and perhaps rest a day here or there at places I like along the road.

The Camino Francés (as it is also called, shown by purple dots on above map) enters Spain just South of St.Jean (which is located 46km to the SE of coastal Biarritz). It then goes through the Puerto de Ibañeta pass (immortalised in the French epic "Song of Roland", and also used by Napoleon in 1802 to launch his occupation of Spain) near Roncesvalles, which is the unofficial starting point of the Spanish segment of the route, and I will start my journey at this point.
The initial trail follows the N-135 and leads to Pamplona, the first large town along the route, 45km to the South West of Roncesvalles. Other large cities along the route are Logroño, Burgos, León and Ponferrada before it finally reaches its destination : Santiago de Compostela.
I plan to do this trip (baring unforeseen circumstances) during May and June in 2012. The spring flowers will be out then, and the hectic holiday season during July and August has not started yet.


---
Most Recent - Next - Previous - Top - Page 1 - Photos - Index - Topics - MP3s - Jazclass Links
Sunday, October 3 2010 (diary, Camino Francés)
I did a bit more Camino research today. The Lonely Planet Guide (LPG) strongly recommends to check out the website of the UK based Confraternity of St.James which I did. It has some good advise and a great link to Godesalco.com where you can plan your own Camino journey Itinerary and generate several useful planning documents.
Here shown are the first 3 days of the Itinerary I planned (Roncesvalles - Pamplona), showing the length of each day's section I hope to walk and its Altitude profile. (Click on the illustration to see the whole route.)

I have only selected overnight stops in villages with a Hotel or Guesthouse (for reasons I explain below) and kept the daily walking distances between 10 and 25 km.
On this basis I need 42 walking days (6 weeks exactly) to complete the whole journey. As I am planning for 8 weeks I will have 14 days up my sleeve for rest days along the route.

Looking at the Altitude profile I will certainly need several, as this walk is not going to be a push over. There is quite a lot of climbing involved (not my favourite activity).
(An American pilgrim reported in his Travelogue that he had lost 20 pounds in weight during his trip, so there is something positive there to consider.)

But the Confraternity of St.James gives also two strong warnings :
Firstly this Camino Francés has become so popular now that even in the early season overcrowding occurs. Pilgrims get up very early in the morning to rush to the next overnight "albergue" (pilgrims dormitories at very low, €3-6, or no cost) to secure their bed for the night. This is not in keeping with a proper pilgrim's spirit.
The Confraternity of St.James therefore urges even 1st time pilgrims (like me!) to choose the less busy Via de la Plata instead. This is a pilgrims route coming from Seville in the South of Spain, traveling North along the ancient Roman trade route via Zafra, Mérida, Cáceres, Salamanca, and Zamora to Santiago.

Secondly there was (2007-08) a definite bed bug problem in many of the albergues on the Camino de Francés route! They look (from the picture shown) very much like fleas to me, and I can tell you I know all about that problem in Northern Spain. No matter where I went (in 1958-61) I managed to pick up these nasties. On market squares, public places, even in 1st class train compartments (which I deliberately had booked to avoid fleas). I got from the chemist some powder to sprinkle through my underclothes but that never did any good either.
The present problem "has been dealt with", but (reading between the lines) by no means completely.


So for both reasons stated above I will not make use of the low cost albergues, but only stay at proper hotels and guesthouses instead.

The question remains however, if it gets so busy even in the early season (May-June, when I plan to travel) will the hotels too be fully occupied at many places ? I have to get more information about this.

Meanwhile I have ordered from the Confraternity of St.James Bookshop their Travel guides for both the Camino Francés and the Via de la Plata. I also will get a copy of the LPG "Walking in Spain" guide. So plenty more research to do, but I have lots of time to do so.


---
Most Recent - Next - Previous - Top - Page 1 - Photos - Index - Topics - MP3s - Jazclass Links
Monday & Tuesday, October 4 & 5 2010 (diary, Via de la Plata)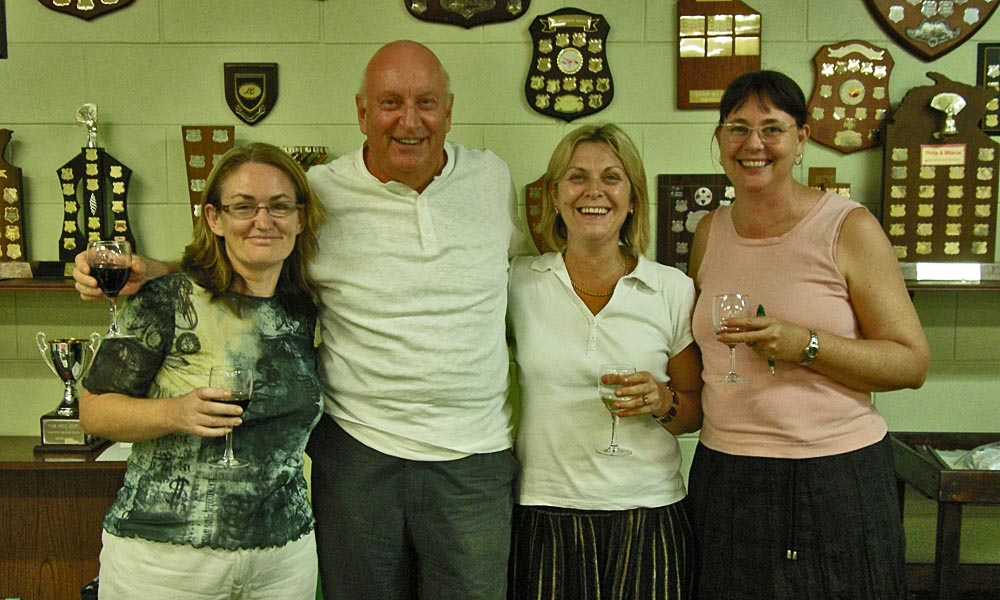 Monday morning I had to go to the Darwin Hospital for a pre admission check up and a consultation with the anesthetist. As my BCC spots are at different and a couple of vulnerable places (my right eye lid and just inside my left nostril) I will get a general anesthetic.
I will not be allowed to drive my car so I Margaret (from the Mango farm) has agreed to drop me off at the Hospital on Friday morning (Oct.15) and Sybil (one of my bridge partners) will pick me up after the operation to drive me home. All organised.

Monday evening I received a nice welcome at the Arafura Bridge Clubs, with firm handshakes of the guys and a few cuddles and kisses from the ladies. They were obviously all happy to have this noisy unrestrained character back amongst their midst.

On Tuesday (as advised by the Confraternity of St.James) I had a closer look at the Via de la Plata pilgrims route. The entire route from Seville to Santiago is 1,000km, so that is definitely not on as far as I am concerned. But doing half that distance, from Salamanca onwards, making the total walk length 500km, is indeed a very attractive option. The terrain is also much flatter than along the Camino Francés, with (once it enters the province of Galicia) some hills and mountains only over the second half of the route to negotiate.

Reducing the average daily walking distance to 14.5km enables me to do the whole route in about 5 weeks. Perhaps this is the more realistic alternative. It would also allow me to fly from Australia directly (via Frankfurt) to Madrid, have a few days there, then onto Salamanca (according to the LPG a beautiful city) and stay there for a week (getting over my jet lag) before heading up North on my walk along the pilgrims trail.

After completing the walk I would have enough time to spend a few days in Santiago, followed by perhaps a week in La Coruña (50km North of Santiago), a city I liked very much in the past. From there I can either fly out off Spain, or, more likely, catch a train up through France and to the Netherlands for a reunion with my friends there. This is starting to make good sense to me. So, although the Camino Francés is still a realistic option, it is at this stage running second to the Via de la Plata. But I look forward to reading much more about these two routes before I make a definite choice.


Comments - Most Recent - Next Page - Previous - Top - Page 1 - Photos - Index - Topics - Jazclass Links

---

Copyright © 2010 Michael Furstner