Biographical Log of Michael Furstner - Page 186
08 | 09 || 2010 : Jan | Feb | Mar | Apr | May | Jun | Jul | Aug | Sep | Oct | Nov | Dec || Page : Previous | Next

The Martinshof Story - A Philosophy of Happiness - Life Awareness - Maps & other Text series
---
Most Recent - Next - Previous - Page 1 - Photos - Index - Topics - MP3s - Jazclass Links
Saturday - Wednesday, October 16 - 20 2010 (diary)
The Weather is absolutely fabulous at present, not too warm and low humidity. It is just bliss to open my eyes in the early morning and see a yellow dawn slowly changing into a pale blue. It is peaceful on our farm, total bliss.
I am recovering well from my surgery, saw the surgeon on Tuesday and everything appears to be healing fine.

I brought several novels written in German back with me to keep up my German language. I enjoy reading them enormously. All are translations of foreign writers including one of Georges Simenon's romans dure : "Die Flucht des Monsieur Monde" (La fuite de Monsieur Monde). Simenon's novels are experiencing a huge Renaissance in Europe at present.
The Diogenes Verlag has printed some 80 Simenon novels (!!) in the last few years, all in reworked new German translations.
In the past he has always been regarded as a crime writer because of his successful Maigret detective stories, and only now is his extensive work outside this genre (his "romans dure") becoming more well known.

I personally like his style very much, which contains shades of impressionism, even surrealism. And the atmosphere of the early and mid 20th Century in France and especially Paris feels very genuine and is wonderful to relive.
There is a growing realisation that looking back in history Georges Simenon will stand out as one of the giants of 20th Century literature.


---
Most Recent - Next - Previous - Page 1 - Photos - Index - Topics - MP3s - Jazclass Links
Thursday - Tuesday, October 21 - 26 2010 (diary)
I have not written much on my Blog these last days as I have been very busy working on the Martinshof Story. I have completed another 5 pages of it, starting from page 9 and you are welcome to read it. I will complete another 3 or 4 pages over the next week or so to finish it off.

Meanwhile the weather has been hotting up. The mangos are ripening much earlier than last year and thousands of fruit are lying to rot on the ground. Even the many Mango geese and other birds can not keep up with it. We do miss Gordon the mango man. He has not come this year because his wife Iris has had a triple bypass and the hot weather here might not be so good for her.

Yesterday (Tuesday) I had my final check up with the plastic surgeon. Everything is healing fine and the bits they removed were all benign. So I don't have to see him any more.
I am also in the process of getting a hearing aid. Robyn, the specialist who tested my hearing said, after looking at the result : "Michael, I am rather surprised that we were able to have a conversation!" Judging from that comment a hearing aid is definitely not a luxury at this point in time.

Interestingly, Robyn walked already part of the Camino de Santiago with her husband last year, from the Mediterranean coast through the Pyrenees up to just south of Pamplona where the Eastern route connects up with the Camino Frances. They hope to complete the route to Santiago next year, after Robyn has retired from her job.


---
Most Recent - Next - Previous - Page 1 - Photos - Index - Topics - MP3s - Jazclass Links
Wednesday - Sunday, October 27 - 31 2010 (diary)
I now have completed 48 Chapters of the Martinshof Story with only about 5 Chapters to go I think, so almost there!

Before I went to Europe I started four of my bridge friends in Darwin on a Cardplay Technique course. Last Wednesday we resumed for another couple of lessons. We hold them at Sybil's place who lives right on the waterfront. We consume some finger food and a couple of bottles of wine and all have a good time. Bridge has become a bit of a passion in life for us and we enjoy sharing it amongst ourselves.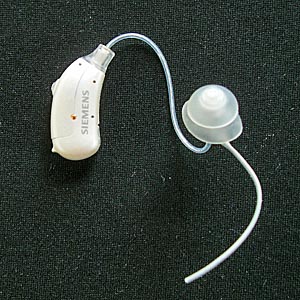 Thursday I had my hearing aid fitted and calibrated. It is a Siemens Pure 501 model with 12 channels. Absolutely amazing what can be done with modern computer technology these days. The aid can be calibrated so that it exactly matches the pitch regions which need boosting.

Visually too we have moved on. You no longer need to take a skin coloured device which makes you feel somewhat like an invalid. Siemens offers a wide range of happy colours, white, blue, red, yellow, about 8 or 10 different choices. I selected a "Pearl white" device.

That afternoon I immediately tried it out at bridge. Unfortunately the plastic dome did not fully close off my right ear, producing lots of feed back squeaks, so I only put the left one in. It made a great deal of difference already.

Perhaps most amazingly a big difference occurred straight away with my own speech. I was speaking a lot softer than usual (reacting to my voice coming in through the hearing aid), to the great delight of all bridge players present, as they always complain about me speaking too loud. Very interesting.

Australian Hearing (the company who provides my hearing aid services) has made casts of the shape of my ear openings, so that tailor made plastic domes can be made to completely seal off both ears, eliminating any feedback.

PS
Just figured out how to instal the ear piece properly. I push the plastic dome well into my ear, then pull it out again a fraction, so that the dome spreads out and seals perfectly. The hearing aids work now perfectly, no feedback at all!


Comments - Most Recent - Next Page - Previous - Top - Page 1 - Photos - Index - Topics - Jazclass Links

---

Copyright © 2010 Michael Furstner