Biographical Log of Michael Furstner - Page 187
08 | 09 || 2010 : Jan | Feb | Mar | Apr | May | Jun | Jul | Aug | Sep | Oct | Nov | Dec || Page : Previous | Next

The Martinshof Story - A Philosophy of Happiness - Life Awareness - Maps & other Text series
---
Most Recent - Next - Previous - Page 1 - Photos - Index - Topics - MP3s - Jazclass Links
Monday - Friday, November 1 - 5 2010 (diary)
Monday I had an interview with Trish, Head of the Casuarina Senior College, which runs a fantastic range of Night classes for adults (18 years and older). I followed some myself over the years on Spanish, photography and painting.
I put in a proposal to run some Blues improvisation classes next year and we are getting the ball rolling. I won't be back in Darwin for the start of Term 1 (which start on Feb.7, 2011), but I will be available for Terms 2, 3 and 4 next year.
The course will definitely be on offer then, but will only go ahead if at least 8 students enroll, otherwise it would financially not be viable for the school. I have written a course outline and also a resume which will go online in due course.

Otherwise I have been rather lazy. I have taken a brief rest from writing the Martinshof Story, but there is not much more to come for that. I did write several long emails to my friends in Holland, enjoying to get back into writing Dutch. I am fully in command of that now again.

I still play a lot of bridge, four times a week, and had some considerable success. I won the Arafura Bridge Club Individual Championship 2 weeks ago, and this week clocked up 4 solid wins in Pairs competition with Freda, Mairead, Sybil and a visitor (Lesly). Three weeks to go and I am off driving South across Australia to stay with my bridge friends in Adelaide for a week.


---
Most Recent - Next - Previous - Top - Page 1 - Photos - Index - Topics - MP3s - Jazclass Links
Saturday & Sunday, November 6 & 7 2010 (diary)
My student Club friend Ernest van Marle had warned me some time ago that his fellow ten pin bowls club friend, also Leidenaar and former Njord rowing hero, Sjoerd Vrind and his wife Dania would briefly visit Darwin in November.
This Saturday they duly arrived, after having traveled on the East Asian "Orient Express" (from Bangkok to Singapore) which had to return halfway because of heavy floods in the region. We hit it off immediately after meeting for the first time.

Wonderful how close personal relations are when you both went to the same University in Holland (Leiden of course), even when neither of you can remember having met before. Sjoerd and I were also both members of the Leidse Student Rowing Club Njord. I was only a humble coxswain, but Sjoerd (before my time) was a highly successful rower (winning 18 medals, one time winner of the Varsity in the Senior Four) and later also a successful coach.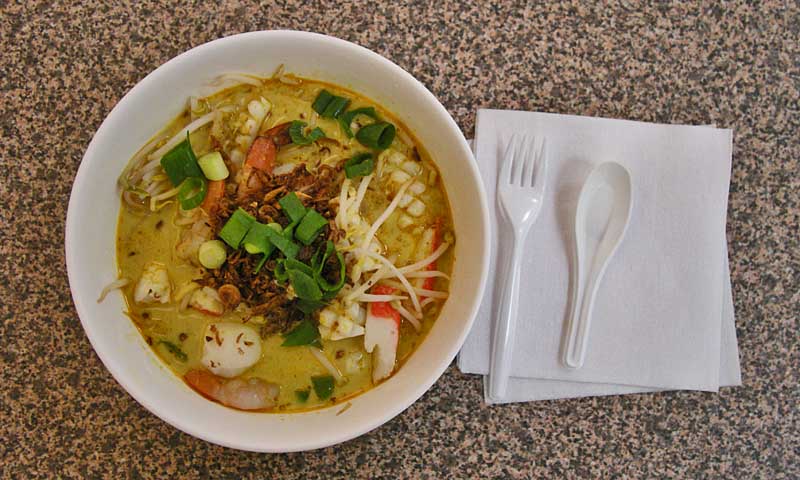 So we had a wonderful time together, talking so busily that I totally forgot to put in my hearing aids. I took them to Stokes Hill Wharf of course which they absolutely loved. Being keen sailors (having sailed around the Indonesian archipelago before, going along the Java island tail in reverse order as I had to memorise it at primary school : Timor - Flores - Sumba - Sumbawa - Lombok - Bali), they felt most at home right on the water's edge. There I recommended they try the Asian seafood laksa, which they did for the very first time in their lives and discovered it to be absolutely delicious. Meanwhile the beer and wine were flowing generously.

Sunday too we were together while I drove them around, to the Nightcliff markets, the Darwin War museum (which has a wonderful record of the WW2 attacks by the Japanese on Darwin), feeding the fish at Doctor's Gully and back of course to the Stokes Hill Wharf for more drinks and another meal. Dania filming the events as they unfolded throughout these two days.

On Monday they are off on a 10 day camping trip through the bush to Alice Springs, where they will take a plane to Brisbane and Proserpine to stay with their son for a few weeks. Will we ever meet again? One never knows, but I am sure that all three of us will always remember this brief get together with great fondness.


---
Most Recent - Next - Previous - Top - Page 1 - Photos - Index - Topics - MP3s - Jazclass Links
Monday - Wednesday, November 8 - 10 2010 (diary, Kate Chopin)
I feared I had picked up the start of a cold this weekend and I hate that as it usually wanders down from nose, to throat to chest and can sit there then for ages.
So I pumped myself full of Codral tablets and that appeared to have done the trick. Nothing developed.
Otherwise quiet days except for lots of bridge. Mairead and I had a fun evening on Monday. Then on Tuesday evening I played with Lisa practicing for the coming weekend as she had talked me into participating in a Pairs Championship held over the next two Saturdays. The practice went well, so that was good.

I have been driving around for ages with cracks in the front windscreen of my car, but Wednesday the new window finally arrived in Darwin and was put on. I usually do 1-2 years with a windscreen, as on the inland roads you are likely to get hit by flying stones from road trains, but this last window has lasted for 3-4 years. So that was not so bad. Hopefully the new one will survive the 5,500km trip (to Adelaide, then Sunshine Coast) I do next month.


When browsing through the Palmerston Library last week I picked up a novel by the 19th Century writer Kate Chopin (1851-1904), "The Awakening". The most infamous, later famous, of the two novels she ever wrote. It is now regarded as the first feminist novel and was far ahead of its time, but after its first publication in 1899 was condemned by the world.
Chopin brilliantly describes the gradual longing and development of a young woman seeking individual independence and freedom from the suppressing "mother wife" role. The book does not contain a single sexual scene, only a couple of kisses with a lover (not her husband), but was considered a highly immoral story by critics of the time.
After an initially promising start as a writer with a number of short stories to her name, Chopin was dropped by her publisher immediately after the bad critic and never recovered from her literary downfall after that.

Now she is recognised as perhaps the best American and French writer of the 19th Century. I read the book virtually in one long breath right through, and found it by far the best I have read in a long long time.
It certainly (in my view) is right up there with writers like F. Scott Fitzgerald and Graham Greene, which I felt were both writers with a sniff of the Chopin style. At least while reading The Awakening my mind was frequently cast back to those two writers.

Interestingly I am practising my German by also reading a translation of Jennifer Donnelly's novel "The Winter Rose", a very entertaining story with many sub plots. It is at the level of James Clavel (Taipan) or Ken Follett (Pillars of the Earth) and others. But the contrast with Chopin could not be starker.
Donnelly and Co produce stories that entertain, written in a no nonsense domestic (?) style.
With Chopin, you immediately realise that you are reading literature of the highest order : it hums, it dances, sings and smells. It lights up your mind, but above all it enriches your life!


Comments - Most Recent - Next Page - Previous - Top - Page 1 - Photos - Index - Topics - Jazclass Links

---

Copyright © 2010 Michael Furstner