Biographical Log of Michael Furstner - Page 192
09 | 10 || 2011 : Jan | Feb | Mar | Apr | May | Jun | Jul | Aug | Sep | Oct | Nov | Dec || Page : Previous | Next

The Martinshof Story - A Philosophy of Happiness - Life Awareness - Maps & other Text series
---
Most Recent - Next - Previous - Page 1 - Photos - MP3s - Maps & Text series - Jazclass
Saturday - Monday, January 1 - 3 2010 (diary)
I think it was while driving down from Darwin to Adelaide a few weeks ago, that somewhere, perhaps halfway one word suddenly sprang to the front of my mind : Crete ! I want to go to Crete.
Why Crete? The only sensible thing I can think of (and don't you laugh) is olive oil! Inhabitants of Crete live longer than any other population in Europe and it is thought to be because of their exceptional olive oil. This fact has always intreagued me and made me curious about the island of Crete.

As you no doubt have gathered by now I just love to travel. However I am not what you call a regular tourist and never have been. I stay away from all the famous places everybody else visits : Ayers Rock (Uluru), the Taj Mahal, the Pyramids, etc., etc. Why on earth should I go there? I never follow crowds, instead I usually prefer to go my own way focussing on pure nature.

In my travels I am invariably attracted to four things : trees, water, food and drink. These are the four essential elements which really attract me to a place or environment.
Olive oil and the wonderful Crete food which is prepared with it fits right into that formula. Besides Crete is surrounded by water and lovely beaches, especially along its South coast. There are also spectacular Gorges to explore which contain (I read) wonderful trees. And last but not least there are exciting new wines and spirits to taste.


So I looked into it online these last few weeks and have now my sights set on the South coast of Crete, possibly staying at Paleochora, from where I can do marvelous walks along the coast and through some of its gorges. The Samaria Gorge (North of Agia Roumeli) is the most famous one (walked by 170,000 hikers each year!) and at 16km considered the longest gorge in Europe. Two other gorges, the Agia Irini Gorge (North of Sougia) and Imbros Gorge (NE of Hora Sfakion) will also be on my walking program.
There is a daily ferry from Paleochora to Hora Sfakion, with intermediate stops at the villages of Sougia, Agia Roumeli and Loutro. I most certainly will make use of that too.



When will I go there?
Four weeks ago I was fairly set on a 25 days walk along the Camino Frances from Sahagun to Santiago and had a good itinerary planned and confirmed by the "Follow the Camino" team.. But I have had second thoughts about this. It would be rather expensive and of course take a lot of time out of my holiday.
So I went back online and found another company Walks in Spain with a better option : an 8 days guided tour picking out the best parts of the Camino Frances route between Astorga (300km East of Santiago) and Santiago.

This would mean walking in a small group of 14 persons max with 2 Mercedes mini busses as support every day, carrying luggage, drinks and as back up in case you feel you have done enough walking for the day (Yes, you are right, I am a lazy so and so!). Good overnight hotels and planned lunches every day. Sounds great!
The company does 3 tours each year in June, so I will try and get onto the first one in 2012 and after that fly across to Crete to spend 2 to 3 weeks there before flying to Holland (early July) for the hunnebed tour I have proposed with my Uni friends in Drenthe, and to see my other friends in Holland. After that down to the Black Forest as usual for a few weeks to see my sister Wivica (and of course more forest walks!) before returning home to Australia.

So that is my 2012 holiday plan for now. Will it be the final one? We'll see. My plan is a work in progress until about this time next year when I start booking flights etc.


---
Most Recent - Next - Previous - Top - Page 1 - Photos - MP3s - Maps & Text series - Jazclass
Tuesday, January 4 2010 (diary)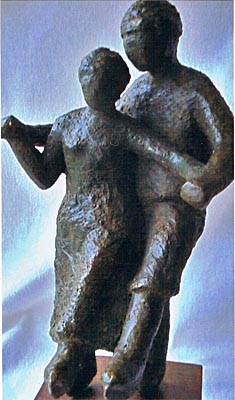 As you probably have heard or seen on the news (wherever you are in the world), a large chunk of the State of Queensland (about the size of the entire country of France) is under water and over 20 towns and villages are affected by the floods. At some places the water has risen by an incredible 21 meters !
We usually get floods down here during our summer, but mostly a bit later on, in mid to late January or early February, so perhaps there is more to come yet.

The Sunshine Coast in SE Queensland is not affected by this, except of course that we had lots of rain too over the past weeks, but presently the sun is shining (over most of Queensland in fact). However I will not be able to return to Darwin by car until the roads are open again. This usually is the case in early March.

In stark contrast my home country Holland is having snow, snow and more snow, quite unusual too.
Anneke Rijks (from our Student Year Club Pimpernel) has sent me a photo of one of her small clay sculptures, ice skaters, which reflects the present mood there. Hopefully there will be the traditional Elf Steden tocht (Dutch 11 cities skating tour) this year.


---
Most Recent - Next - Previous - Top - Page 1 - Photos - MP3s - Maps & Text series - Jazclass
Wednesday, January 5 2010 (diary)
I had lunch yesterday (Tuesday) with Malveen at the Surf Club. She has won several prizes with her watercolour paintings in 2010, and is planning a painting trip to Italy later this year.
I offered to have a look for her online and found the most gorgeous place in Tuscany : The Watermill at Posara, located about 50km North of Pisa.
They do both painting and writing holidays, accommodated in the most romantic setting, an ancient watermill.
Malveen was immediately enthusiast (not least because one of her favourite painters, David Taylor, will be there for a week) and has made booking enquiries already.


Wednesday evening I had dinner with Mel and her new friend Paul at Restaurant Chez Claude which was good as always and we had a most enjoyable time.

Returning home another treat watching The House of Eliott on DVD. Babette purchased the complete 3-part BBC TV series : a wonderful story of two sisters, having come upon hard times, who set up a fashion house during the roaring twenties.
The scenery, costumes, props are absolutely magnificent and match the outstanding performances of the actors. Every evening we watch one or two episodes, which is most enjoyable.


---
Most Recent - Next - Previous - Top - Page 1 - Photos - MP3s - Maps & Text series - Jazclass
Thursday - Monday, January 6 - 10 2010 (diary, writing)
How fitting that I should pick up a book from the library which covers the same period as "The House of Eliott" : This Side of Paradise by none other than F. Scott Fitzgerald, who, perhaps more than anyone else, represents so well the lifestyle and culture of that "Jazz Age" (a term coined by Fitzgerald himself).

Evelyn Waugh said of his own work : "I regard writing not as investigation of character but as an exercise in the use of language, and with this I am obsessed."

I find this an excellent definition of what good literature is, and it is exemplified to the highest degree by the brilliant writing of F. Scott Fitzgerald.

"This Side of Paradise" was his very first novel, and the fact that he completed this at the age of 22 is astonishing and a most humbling thought. I have written previously about his impressionistic and hugely imaginative style, but let me include here another short sample of the way he writes. This is how he begins his novel :
Amory Blaine (the main character in the novel and portrayed on Fitzgerald himself) inherited from his mother every trait, except the stray inexpressible few, that made him worth while.
His father, an ineffectual, inarticulate man with a taste for Byron and a habit of drowsing over the Encyclopedia Britannica, grew wealthy at thirty through the death of two elder brothers, successful Chicago brokers, and in the first flush of feeling that the world was his, went to Bar Harbor and met Beatrice O'Hara. In consequence, Stephen Blaine handed down to posterity his height of just under six feet and his tendency to waver at crucial moments, these two abstractions appearing in his son Amory.
For many years he hovered in the background of his family's life, an unassertive figure with a face half-obliterated by lifeless, silky hair, continually occupied in "taking care" of his wife, continually harassed by the idea that he didn't and couldn't understand her.
In just three effortlessly flowing sentences, stringing together several somewhat unusual (perhaps eccentric, but not contrived) observations and perspectives, Fitzgerald brings to life a portrayal of Armory's father which is believable, authentic and (to many of us) rather familiar.

PS
Fitzgerald took the title for his book from a line of the Rupert Brooke poem Tiare Tahiti.
Brooke (1887-1915), very attractive and a promising young poet (who reputedly went skinny dipping with Virginia Woolf one night), unfortunately died at age 27 from a mosquito bite turned septic, while on a transport ship as a soldier during World War 1.


Comments - Most Recent - Next Page - Previous - Top - Page 1 - Photos - MP3s - Maps & Text series - Jazclass

---

Copyright © 2011 Michael Furstner