Biographical Log of Michael Furstner - Page 211
09 | 10 || 2011 : Jan | Feb | Mar | Apr | May | Jun | Jul | Aug | Sep | Oct | Nov | Dec || Page : Previous | Next

The Martinshof Story - A Philosophy of Happiness - Life Awareness - Maps & other Text series
---
Most Recent - Next - Previous - Page 1 - Photos - MP3s - Maps & Text series - Jazclass
Sunday & Monday, May 1 & 2 2011 (diary, astronomy)
Saturday night I went out with the Darwin Hobby Astronomy Club for an evening of star watching. We drove in convoy about 50km inland to a nice flat observation area with little city and traffic light disturbance.

There were three members with large telescopes (two Newtonian Reflector and one Cassegrain telescope). Good views were offered through all three telescopes, but I was especially impressed with the computer driven Cassegrain. Once it is aligned on its reference point you can punch the reference name of any star, Galaxy or other feature into the remote control pad, and it automatically turns and zooms onto its target.


In addition there were two members with binoculars (8 x 45), one with an iPad (used upside down while comparing its map with the real sky overhead) and two members with digital SLR cameras with which they got quite good photographs of the sky. I even found that when wearing my long distance glasses (I normally only use for driving) I could see a lot more.


The Great Bear was again a major feature of the lower NE sky. I saw wonderful images of Saturn with its rings (and even the space between them and the planet itself) clearly visible.

I was introduced to several interesting features of the Souther Cross ("Crux"). Its αCrux is a triple star combination of which I could clearly see the two brightest ones.

I also saw NGC 4755, an open star cluster, called the Jewel Box because of the variety of colours and brightness of its stars.

As the evening went on, and the sky became darker, the so called Coal Sack (a dark area to the left of αCrux) could also clearly be seen by the naked eye. It is a sign of a sky of good "seeing" quality.


---
Most Recent - Next - Previous - Top - Page 1 - Photos - MP3s - Maps & Text series - Jazclass
Tuesday - Friday, May 3 - 5 2011 (diary)
It was my sister Wivica's birthday this Tuesday (May 4), and as usual every year she celebrated that day with a visit to the lovely flower island of Mainau located in the Bodensee, the lake on the border between South Germany and Switzerland. This time of the year the Mainau rose garden is getting into full bloom and a truly magnificent spectacle not to be missed.
Wivica just purchased an iPad with which she happily sent emails from the island to all her friends and well wishers.

Like me and many of our forefathers, Wivica is a restless soul, and after 14 years living in picturesque Sankt Peter is anxious to move on. She has in fact found an even nicer area (so she tells me), very similar to her present environment (in the Black Forest mountains) and has started looking there for a place to live. I look forward seeing that myself when I visit next year.

I have been busy, out every night playing bridge and attending my second astronomy lesson. The Arafura Bridge Club is very keen on me giving some bridge lessons for their members, so I will probably start running several courses in one or two weeks time.


---
Most Recent - Next - Previous - Top - Page 1 - Photos - MP3s - Maps & Text series - Jazclass
Saturday - Tuesday, May 6 - 10 2011 (diary)
I have been very busy these days, refreshing, updating and extending my Contract Bridge Course, which is a lot of work.
I am inspired by this as I will start a full class of 12 Intermediate players next Tuesday (May 17). There is a lot of interest in this by the Arafura Bridge Club members, and more courses are likely later on this year.
In anticipation I have also purchased a brand new digital projector with which I can display any images or text from my laptop onto a screen or blank wall. It is a great machine and I look forward to using this in the course.


---
Most Recent - Next - Previous - Top - Page 1 - Photos - MP3s - Maps & Text series - Jazclass
Wednesday - Sunday, May 11 - 16 2011 (diary)
Yes I know, my Blog has been neglected this last week. I have still been flat out upgrading my Bridge Course and preparing for the Intermediate Course. Interest has been substantial and I have now two courses fully booked, the first one starting on Tuesday evening, the second one next week on Saturday afternoon. So I am going to be busy.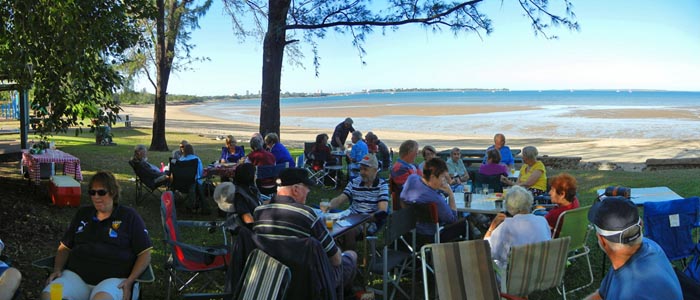 Yesterday morning (Sunday) the Arafura Bridge Club held one of their Champagne breakfasts, with an early morning BBQ on the shores of Fannie Bay. The event was well attended with some 50 people turning up. The weather was great and we had a lovely morning, eating, drinking, talking, or lazily watching the water.
I took a whole heap of photos, 36 of them will be posted on the Arafura Bridge Club's website, probably here (give it a day or two).


The Eurovision Song Festival, this year held in Düsseldorf (Germany), has returned to its boring sameness I remember so well from the past. The best part generally were the spectacular High Tech light displays, as well as some great performances during the intervals.
Amongst the competitors were (in my view) two outstanding Jazz like performances. One by a vocal sextet from Belgium, performing entirely without a instrumental backing, with a very skillful and highly creative and enjoyable performance. To my utter surprise they did not even make the finals!
Also good was the band from Italy featuring a brilliant pianist/vocalist (they at least finished in the top 3 or 4). A great return by Italy, after 14 years of absence from the festival.
The other noteworthy performances I enjoyed were the two "hair raising" twins from Ireland, and the sand painting artist, performing on a transparent table (displayed on screen), drawing pictures illustrating the story presented in Ukraine's song. Ukraine's singer was not bad, but every time the camera switched from the sand painting to the vocalist, I (and I am sure everybody else) was annoyed to miss part of the painting act.


Comments - Most Recent - Next Page - Previous - Top - Photos - MP3s - Maps & Text series - Jazclass

---

Copyright © 2011 Michael Furstner