Biographical Log of Michael Furstner - Page 213
09 | 10 || 2011 : Jan | Feb | Mar | Apr | May | Jun | Jul | Aug | Sep | Oct | Nov | Dec || Page : Previous | Next

The Martinshof Story - A Philosophy of Happiness - Life Awareness - Maps & other Text series
---
Most Recent - Next - Previous - Page 1 - Photos - MP3s - Maps & Text series - Jazclass
Wednesday - Friday, June 1 - 3 2011 (diary)
Tuesday night I had a most agreeable Bridge session with my Intermediate group 1. Some of the material I am presenting is starting to be absorbed by the participants and that is always a rewarding experience for me.
As a teacher you always learn more yourself than anyone else, because you need to really think through all aspects and even research new areas here and there. As a result my online Bridge Course is also getting a face lift and thorough upgrade, especially my Bridge Bidding Guide which has been extended and substantially modified.

Wednesday evening we had our Astronomy course "field lesson" at the new observation site of the Darwin Astronomy Club. Four telescopes were being set up, including one brand new telescope just purchased by one of the students. You see him standing next to his new baby on the right on above photo, while our teacher Alan Cairncross is standing on the left, repairing a piece of his large self made telescope (a couple of snapped wires) before assembling it. It was an instructive night. I learned to recognise the constellation of Scorpio and observed M104, a far away Galaxy shape in the form of a sombrero, all good fun.


I have cleared my intentions with the Mango farm owners and am now a permanent resident here on the property. I was staying here longer and longer every year, up to 8 and 9 months, but still felt (and was regarded as) a visitor in Darwin. I now feel a true resident here, a clear, different and very good feeling.
The Sunshine Coast is a great environment but it is becoming too urbanised and pedestrian now for my taste.
I may return there eventually, as I love the Mooloolaba beach and the area has all the amenities for when I become too old to do much.
But at present I prefer to live amongst the "salt of the earth" here in Darwin, where I feel much more at home. It comes closer to my early life environment in the Dutch Achterhoek amongst the farms and the Cafe Beuse culture I cherished so much.


---
Most Recent - Next - Previous - Page 1 - Photos - MP3s - Maps & Text series - Jazclass
Saturday - Friday, June 4 - 10 2011 (diary)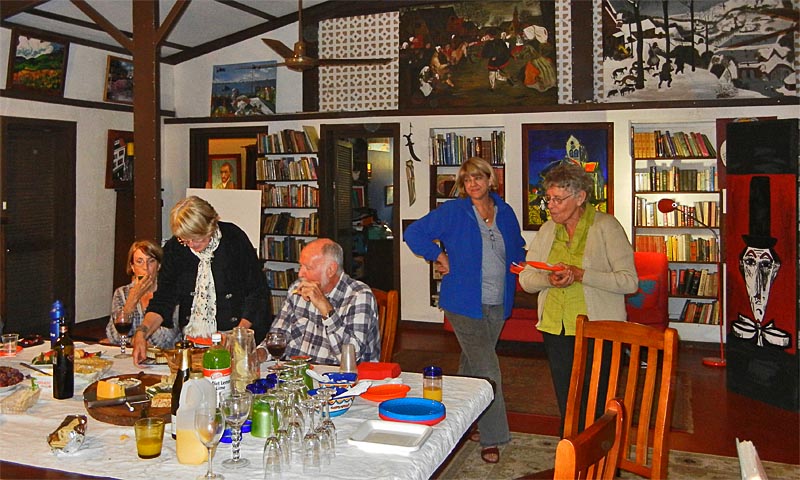 Saturday afternoon and evening about a dozen of us (bridge club friends) had a splendid party at the home of Anne-Marie, playing bridge in the afternoon.
Alan and one of his astronomy club colleagues brought their telescopes, through which we watched the sky at night, and after dinner I played music on my keyboard to which some dancing took place. All round a successful evening.

Throughout the week I have still been very busy with the bridge courses. They are going well, and in the process I am upgrading my online bridge course, so my Blog takes a back seat for a short while.


---
Most Recent - Next - Previous - Top - Page 1 - Photos - MP3s - Maps & Text series - Jazclass
Saturday - Wednesday, June 11 - 15 2011 (diary)
As I start writing here on my Blog my son Jeroen rings to tell me that my ex wife Antien just had a successful hip replacement in a hospital in Adelaide. Everything went well. Jeroen's wife Lisa too had an operation in Sydney a few weeks ago and is recovering back home here in Darwin.

My Intermediate Group 1 had their 5th bridge lesson at Sybil's place. All 12 of them fitted in very well, so our last lesson next week will also be held at her place.
Last night went very well indeed and I was much pleased with every bodies progress. As a thank you they will all take me out to dinner at a nice restaurant at the Darwin Golf Club next week. I look forward to that.

Meanwhile we are having here in tropical (??) Darwin one hell of a "cold snap". Everybody is walking around in long pants and rugged up in sweaters and winter coats. It is 11°C here on the Mango farm. The sun is out but there is a cold breeze around. As soon as that drops it is quite pleasant sitting outside.
But this is just the thing the mango trees have been waiting for. They are all out in abundant and magnificent bloom. We will have a good crop of fruit this year. That's for sure!


---
Most Recent - Next - Previous - Top - Page 1 - Photos - MP3s - Maps & Text series - Jazclass
Tursday - Monday, June 16 - 20 2011 (diary)
I am approaching the end of running my two bridge courses and the mind gradually reverts to thinking about other things than bridge. The cold snap (of the weather) has also ended and we have returned to more gentle rather nice weather with lots of blue skies and sunshine.


This weekend SBS TV was showing a WW2 documentary about the Nazi effort of boosting the supposedly Aryan "Master race". German SS officers were encouraged to have affairs and produce extramarital offsprings, and when that did not seem enough, blond blue eyed "orphans" were kidnapped from Poland, Russia, Scandinavia, etc., brought back to Germany and brought up in special institutions.
Children involved in these crackpot processes have been traumatised ever since and (as the SBS documentary revealed) to this very day.

Watching the documentary a curious fact my mother told me years ago, suddenly came back to my mind.
During those days (1939-45) a large framed photo of me (at about the age I was on above photo with my German Grandparents) was hanging in one of the schools in my mother's home town Wismar as a typical example of an Aryan child.
I have never given this fact much thought before, and it is only now that I suddenly start to wonder : "how the hell did it get there ?"
My parents lived in Holland at the time and had I believe no connections with any schools in Wismar. My Grandparents (as far as I remember) were always very silent about politics and certainly not pro Nazi. My Grandfather, a very well respected figure in Wismar, had been a member of the City Council, but either resigned or was dismissed when the Nazis came to power.

Most photos in those days were made by professional photographers, often in special "poses" (like above where my Grandmother is holding a cuckoo clock). I therefore suspect that the local Photography shop was approached, either by the school in question or by the Nazis, to come up with some appropriate photos for the school.
Whether they ever asked permission from my Parents or Grandparents to use the photo I don't know. But my mother was proud of the fact that my photo was hanging in the school. But then, which mother would not be ?


Comments - Most Recent - Next Page - Previous - Top - Photos - MP3s - Maps & Text series - Jazclass

---

Copyright © 2011 Michael Furstner