Biographical Log of Michael Furstner - Page 215
09 | 10 || 2011 : Jan | Feb | Mar | Apr | May | Jun | Jul | Aug | Sep | Oct | Nov | Dec || Page : Previous | Next

The Martinshof Story - A Philosophy of Happiness - Life Awareness - Maps & other Text series
---
Most Recent - Next - Previous - Page 1 - Photos - MP3s - Maps & Text series - Jazclass
Friday - Sunday, July 1 - 3 2011 (diary)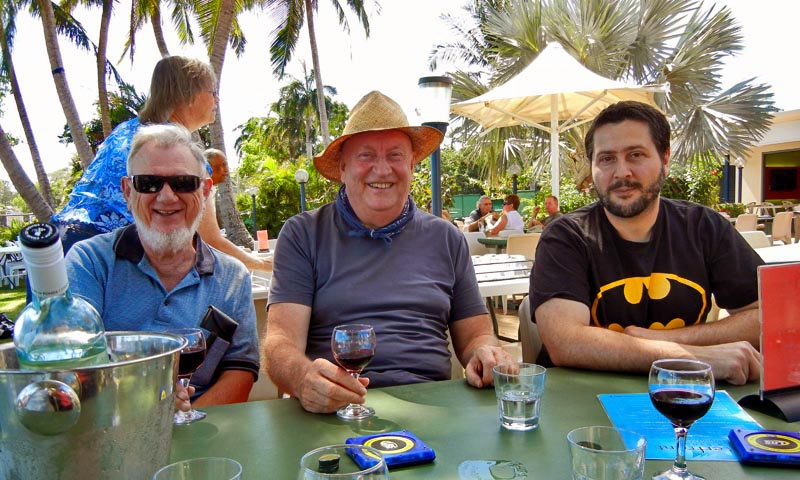 This Saturday I completed the last lesson for my second Intermediate Bridge group. Everybody seems to be satisfied, but of course they all need to make some effort to convert what they have learned into practice and that will take a while.

The Tour de France also started with two great stages. The Australian Cadel Evans is probably having his last shot this year to finish first, having stood 2nd on the podium in Paris twice in previous years. He is doing well so far and almost 2 minutes ahead of the main contender, the Spanish rider Contador.

Wimbleton has also ended with two new Champions and Australia is becoming hopeful for the future with Tomic reaching the Quarter finals this year and two young Australians winning the boys and the girls Junior Championships.

Sunday the Arafura Bridge Club held its annual "Dry Lunch", the "dry" referring to our present tropical "dry season" and not in any way to an abstention of alcohol. So needless to say I was there!
The event was held at the Darwin Sailing Club. I had not been there for several years, and I was pleasantly surprised by the improvements made to the premises and the excellent Bistro, which even served tapas (I had some excellent salt & pepper squid and also delicious grilled Spanish chorizo).
I also noticed that my name is still displayed on the Darwin Sailing Club's Honours board for having been the 2006 Club Member of the Year. I indeed did put in a big effort that year for the Club, running both the weekly races on the water and doing all the results scoring on the computer which was a rather involved procedure at the time.


---
Most Recent - Next - Previous - Top - Page 1 - Photos - MP3s - Maps & Text series - Jazclass
Monday - Wednesday, July 4 - 6 2011 (diary, Bougainville)
Bougainville Island has, without a doubt, been the most beautiful place I ever lived. Tropical rain forests with bubbling mountain streams, palm trees and exotic flowers, a gently smoking volcano, white sandy beaches and stunning coral reefs just yards from the shore with an abundance of multicolored fish. No environment I have lived in can compare quite with that.
Unfortunately this is the only photo I have from my time on the island (1977-80 employed by the Bougainville Copper-gold mine), as I did not have a camera at that time.

These past few weeks Bougainville has been again in the news here on Australian TV. They apparently have some hope of restarting the copper-gold mine there. But even with the high gold price right now, I doubt whether that will ever be feasible again. During their civil war all infrastructure, plants, housing, harbour facilities, township where burnt down or otherwise destroyed. Equipment has been reduced to rusting junk and the main 28 km access road is barely passable with a 4-wheel drive car.

Gone are the school, the hospital, the shops, and living has been reduced to the primitive substandard prevailing 50 years ago. All has been lost because of the dispute over the bulk of the mine's royalties which were going to mainland PNG, rather than to the island, although the island too benefited hugely through the great facilities and liberal training plans dished out to many of the locals.

As Senior Engineering Geologist in charge of all slope stability and other geotechnical investigations around the mine, I had a staff of 11 employees, 9 of them either locals or Papuans, and I recall sending at least three of them off to training courses in Port Moresby or Australia.
One of those three (I vaguely seem to recall) was a lively happy-go-lucky Bougainvillian, named Philip Miriori, I rather liked him. To my great surprise I saw him being interviewed on TV last week (several times). He is at present the spokesman (and current leader ?) of the armed rebel group who still controls the mine area. Spokes people of other local political groups want to make peace and move the island forward, but Philip does not trust them and won't do a deal.
It is hard for me to really understand what is going on, but at least it is good to see him still alive after the war and apparently in good health.


---
Most Recent - Next - Previous - Top - Page 1 - Photos - MP3s - Maps & Text series - Jazclass
Thursday - Sunday, July 7 - 10 2011 (diary)
The Tour the France has completed its first week. It has been rather cruel with more crashes and pile-ups than I can remember from previous Tours. As a result several big name contenders have already abandoned the Tour.
Saturday was the first mountain stage through France's Massif Central.
This brings back memories to me from way back in August/September 1959 when we had a Geological excursion in this region under the guidance of our Prof. Emile den Tex. It is quite a beautiful landscape with several ancient volcano tops of which we climbed one or two, including the famous Puis de Dôme.


Prof. den Tex was later instrumental in my migration to Australia. Having previously lectured at Melbourne University for a number of years he had good contacts in Australia. And when the BHP company in 1965 asked him for suitable geologists to come to Australia Den Tex put up my name. I was readily accepted and worked during the first three years after my arrival in Australia for BHP in Newcastle.
Prof. den Tex also assisted in bringing Johan Smit (standing on the extreme left in above photo) to Australia, a few years before my own arrival there, as well as Bas Hensen just two weeks after me.


Comments - Most Recent - Next Page - Previous - Top - Photos - MP3s - Maps & Text series - Jazclass

---

Copyright © 2011 Michael Furstner