Biographical Log of Michael Furstner - Page 223
09 | 10 || 2011 : Jan | Feb | Mar | Apr | May | Jun | Jul | Aug | Sep | Oct | Nov | Dec || Page : Previous | Next

The Martinshof Story - A Philosophy of Happiness - Life Awareness - Maps & other Text series
---
Most Recent - Next - Previous - Page 1 - Photos - MP3s - Maps & Text series - Jazclass
Wednesday - Sunday, September 21 - 25 2011 (diary)
We are almost at the point of 2 years ago when I took adjacent photo. It is a bumper mango crop this year with producers' main worry being whether they will be able to secure enough trucks to transport the produce to the larger cities "down South".
With the buildup period starting, the main tourist season in the NT is over, and many of the young backpackers from overseas (especially from Europe) who previously found temporary jobs in Darwin's numerous cafes, bars and restaurants have now switched to fruit picking on the mango farms, some large farms employing well over a hundred of them each right now. Good for the local economy and the overseas visitors alike.

The weather here is changing rather gradually with the humidity slowly rising, now hovering between to 50% and 70% most days and temperatures a bit warmer than before (33°- 36° C), but all in all still very pleasant indeed. I love it. I do enjoy my trips to Europe every two years, but there is no place I can think of these days where I would rather live than right here in this wonderful Northern Territory.
The combination of an exotic climate, tropical nature environment and the laid back, broad minded people forming this multi-cultural society (with its great variety of most delicious food) would be very hard to beat. All this in a relatively safe and free country with good medical and social services which is especially important for those over the retirement age like myself.


---
Most Recent - Next - Previous - Page 1 - Photos - MP3s - Maps & Text series - Jazclass
Monday & Tuesday, September 26 & 27 2011 (diary)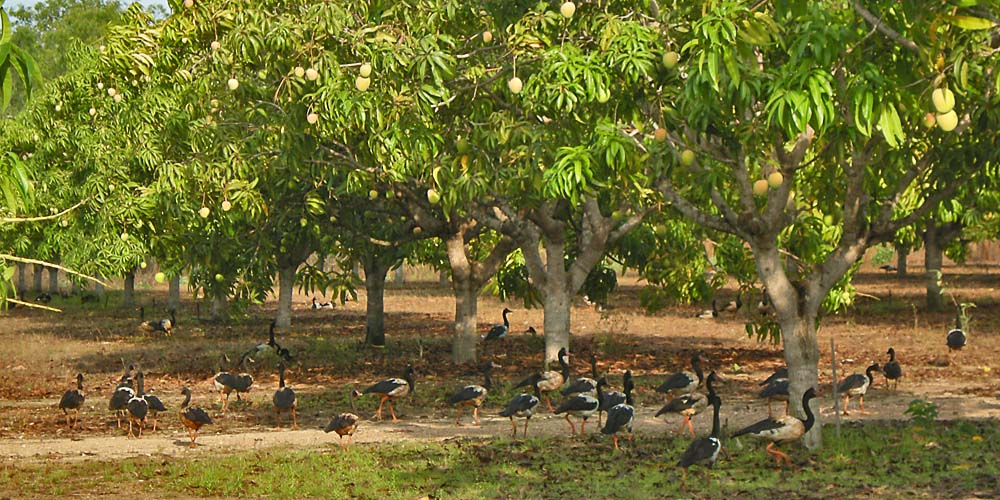 The mango geese arrived at our farm this morning for a brief peek. "No, nothing doing yet." they must have thought and they flew away again. I had thought that our two dogs would have kept these rather shy birds away, but no that has proved not to be the case.

Last Saturday I started a new Bridge Beginners Course in the Casuarina Club in town on behalf of the Arafura Bridge Club. Eight new students are attending, conveniently making up two tables. The course will run for six weeks.

My thoughts have been on Paris, partly because of Zola's novel Thérèse Raquin, partly because I have decided to travel from Santiago to Holland by train next year. This will mean traveling by Metro through the center of Paris from Gare Austerlitz to Gare du Nord, so I am thinking "Why not stay there for a couple of days."
I don't fancy large cities in general and tend to stay well away from them, and it has been 29 years since I visited Paris last (in 1982) and at that occasion only for half a day meeting some business people there. I am not a culture tourist but always have enjoyed the ambiance of the Cafe terraces and small restaurants around the Boulevard St.Michel area. I like to just sit there and watch the world go by. So perhaps I will give that a try next year in June.

Anyway, walking through the Palmerston Library my eye suddenly caught a book on display entitled The PARIS WIFE which I immediately borrowed and read through.


It is a biographical novel written by Paula McLain about Ernest Hemingway's first wife (he had 4 plus several mistresses) Hadley Richardson with whom he lived in Paris during the crucial period (in the 1920s) of his development as a writer.
McLain painstakingly researched the novel through countless letters, original manuscripts and other references which makes the story, told by and from the perspective of Hadley herself, very authentic.
The novel also provides a most informative background to some of Hemingway's famous novels, such as A Farewell to Arms, A Moveable Feast, Fiesta and The Sun also Rises.
The story is peopled with many of the famous characters of that "Jazz Age" era in the 1920s all living in Paris, including Gertrude Stein, Ezra Pound, Scott Fitzgerald and his wife Zelda, James Joyce, Sherwood Anderson and many others. It was a very promiscuous society often with wife and extramarital mistress thrown together on a daily basis, sometimes living together in the same apartment.

Hemingway comes across as a dominant, abrasive, often rude character, throwing around his macho image while hiding his great fragility underneath. His experience as an ambulance driver in the Italian/Greek war (where he was wounded) clearly scared him mentally and emotionally for the rest of his life.
It were especially Ezra Pound ("cut it down to the bare bones") and most of all Gertrude Stein (teaching him the repetition of keywords to give them extra strength and magic) who were instrumental in bringing out Hemingway's famous and unique writing style. I have enjoyed his novels more for how he wrote, rather than for what he wrote. And that I believe will always remain his greatest legacy.

After gaining his first successes Hemingway fell out with and abused the very friends (Pound, Stein, Anderson) who had helped him to get there. In this regard he reminds me somewhat of Pablo Picasso, from all accounts a shit of a man, who deliberately ignored his own father (Ruiz), taking his mother's name instead (Picasso). Yet Picasso's father had been the one who painstakingly taught him the drawing techniques on which all Picasso's later creativity was founded.


---
Most Recent - Next - Previous - Page 1 - Photos - MP3s - Maps & Text series - Jazclass
Wednesday - Friday, September 28 - 30 2011 (diary)
The build up is indeed slowly starting to build up. It is overcast as I write this in the late morning with humidity at 72% , but still a mild temperature of 30°C in the shade. So not unpleasant. The longer one lives in the tropics the better acclimatised one becomes. I certainly have found that over the years.

Gordon has started picking the first ripe mangos on the farm, but the main harvest will start in 1 to 2 weeks time I think. The mango geese are out in abundance but occasionally chased away to the neighbour's property across our fence by Chase and Roxy (our two dogs), who believe this is good fun.

My son Jeroen and wife Lisa have been successful in adopting a child, a young boy from Taiwan. They went over there last weekend to pick him up and bring him here, via a brief stay on Bali. Due to their 40 years of age they could not adopt a baby, Jai and just turned 7 last month.
It will be quite an experience for all three of them, but it should be a great life opportunity for the boy. Living in Darwin he will experience a similar climate and with so many Asians around will not feel totally isolated. There is a good school for him to go to which specially caters for situations like his.
So I am becoming a Grandfather of sorts after all.

After a lot of Internet searching how to get from Crete to Spain I have decided to put my visit to Crete and Paleochora on hold (perhaps going there in 2014). The general situation in Greece is not very good at present and it also is awkward to fly from Crete across to Madrid. It is possible but the flight connections are not very good.


So instead I have more or less decided to give the cheap flights in Europe a miss and purchase another Eurail Pass. I found this a great way to travel last year.

After first getting over my jet lag in the Black Forest for a week I will now plan to travel by rail to Spain via visits to the French Provence and San Sebastian, a popular holiday spot on the Gulf of Biscay just across the French-Spanish border. From there I will travel to the starting point of my Pilgrims tour : Astorga.

In the Provence I certainly will stay a couple of days in Aix-en-Provence, the town where both Paul Cezanne and Emile Zola grew up. I will then move on to Arles, which of course is famous for Vincent van Gogh's stay and work there. I also want to have a good look at the Camargue, perhaps staying overnight at Les Stes-Maries de la Mar and/or Aigues-Mortes.

The latest Lonely Planet Guide for France which I just purchased has inviting write-ups for these latter two places, so I will certainly have a look at them. The area around Rousillon is also highly recommended (I have been to Avignon), but I am keen to spend at least five days in San Sebastian, known as theTapas Capital of Spain and for me food has a high priority.


Comments - Most Recent - Next Page - Previous - Top - Photos - MP3s - Maps & Text series - Jazclass

---

Copyright © 2011 Michael Furstner