Biographical Log of Michael Furstner - Page 235
10 | 11 || 2012 : Jan | Feb | Mar | Apr | May | Jun | Jul | Aug | Sep | Oct | Nov | Dec || Page : Previous | Next

The Martinshof Story - A Philosophy of Happiness - Life Awareness - Maps, Text & Photo series
---
Most Recent - Next - Previous - Page 1 - Photos - MP3s - Maps & Text series - Jazclass
Saturday - Wednesday, January 21 - 25 2012 (diary)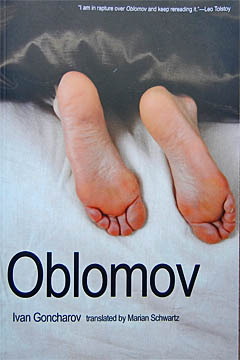 Weather wise we are once again visited by a monsoonal trough with lots of rain and some strong winds but without the development of a cyclone.
I quite like this weather and love lying on my bed, reading a book while listening to the rain battering on the corrugated iron roof of my cabin. Tropical rain always feels like a blessing to me.

And what better choice of book than Russian's iconic novel Oblomov by Ivan Goncharov (1812-1891). It is a story about a young lethargic Russian aristocrat, incapable of making a decision, given to daydreaming and procrastination. Forced between an unworthy life and sleeping he chooses sleep, moving by day from his bed to his sofa.

I was alerted to this novel by Bas Hensen a few months back. Bas collaborated on some geological research with several Russian scientists and while visiting there must have been made aware of it.
Goncharov was much revered by the likes of Tolstoy and Chekhov and I gather that what Don Quijote is for the Spaniards, (although in a totally different vain) Oblomov is for the Russians.

Stolz (Oblomov's friend) spurs on Oblomov to become more active and introduces him to 20 years old Olga with whom Oblomov promptly falls in love. A tender intimate friendship develops between the two (although Oblomov does not believe he is worthy of Olga's love).
Here a cameo description of Olga's sudden transition from a girl into a grown woman.
The forest held the same trees, but their sound had take on a special meaning; she had established a vibrant consonance with them. The birds did not simply twitter and chirp but were saying something to each other. Everything around her spoke and responded to her mood; a flower would blossom and she seemed to hear its breathing.

Her dreams also took on a life of their own, populated by visions and images she occasionally addressed aloud. They would tell her things, but so obscurely that she couldn't understand them and struggled to talk to and question them, and she, too, said something that made no sense.
If you are interested in this book make sure you purchase the Edition translated by Marian Schwarz (published by Yale University Press 2008), the first contemporary translation into English from the definitive Russian text. There are several other editions available online, but (according to Bas) mostly inadequate and abridged versions.


---
Most Recent - Next - Previous - Page 1 - Photos - MP3s - Maps & Text series - Jazclass
Thursday - Tuesday, January 26 - 31 2012 (diary)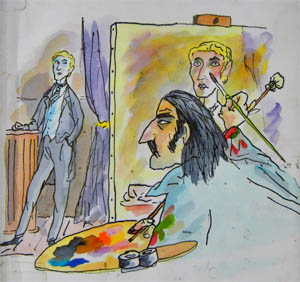 A month ago (on New Years Eve) I watched on TV a repeat of the one man performance of the actor-writer-journalist Stephen Fry at the Sydney Opera House recorded in 2010. It was most entertaining.
Amongst other things Fry explained that he grew up with a quite different w.w.w. than youngsters do these days :
(PG) Woodhouse, (Evelyn)Waugh and (Oscar) Wilde.
Fry clearly being much influenced by these three writers, I decided to give "The Picture of Dorian Gray" another go.
I found at the Palmerston Library a second copy of the book, this one being illustrated with photographs of Wilde, buildings, paintings and scenes from the era as well as some cute sketches depicting scenes of the book's story.
But after reading through some and racing through most of the content I could not help finding the sketches by far the best part of the book.

Fry's w.w.w.s are famous for their hilarious parody views of English Upper Class life during the late 19th and early 20th Century, expressed in exquisite intelligent language. As such they have their value.
But reading straight after it some (often quite lyrical) Oblomov, even in English translation, the Russian shines through as being the very real thing.


As I have mentioned before in this Blog The Picture of Dorian Gray is full of contrarian statements and observations (voiced by the character Lord Henry, seated on the bench in adjacent sketch).
Some of them do make you think, but bombarded by too many of them they (at least to me) become irritating, lose their cleverness, and are reduced to just verbal trickery.

One of them however, reiterated by Stephen Fry during his Opera House performance, resonates strongly with me.
Having found one's true vocation one is not enriched and fulfilled by it, but instead one's personal growth is rail tracked and imprisoned by it!
The cast is set and we (usually) do not escape from it.
Only when we never manage to find our true vocation in life, so argues Lord Henry, will we remain free and in a position to develop our personality to the fullest extent.

This is the opposite view held, I am sure, by most, but not by me. I fully agree with Lord Henry in this case and in fact have lived by it both consciously an unconsciously, throughout and in all aspects of my life.


Above book illustratians are by Tony Ross.

Comments - Most Recent - Next Page - Previous - Top - Photos - MP3s - Maps & Text series - Jazclass

---

© 2012 Michael Furstner