Biographical Log of Michael Furstner - Page 255
10 | 11 || 2012 : Jan | Feb | Mar | Apr | May | Jun | Jul | Aug | Sep | Oct | Nov | Dec || Page : Previous | Next

The Martinshof Story - A Philosophy of Happiness - Life Awareness - Maps, Text & Photo series
---
Most Recent - Next - Previous - Page 1 - Photos - MP3s - Maps & Text series - Jazclass
Saturday - Tuesday, August 11 - 14 2012 (diary)
Australia is not up to scratch when it comes to modern sculptures in public places. There is an army of "big" monstrosities scattered around the continent : the Big Pineapple, Big Banana, Big Guitar, Big Croc, Big Orange, Big Lobster, etc. etc., which set the tone, with the more modest life size exhibits predominantly in similar bland realistic style, like the pelicans in front of Winton's Tattersalls Hotel for example.
But here is one (entitled "Peace") which one might almost call surrealist, at least that is my take on it for it reminds me strongly of the sculpture heads Salvador Dali placed on top of his home in Port Lligat (near Cadaqués in NW Spain).

I came across it during a walk on a new exercise trail I was checking out this weekend in the NW Palmerston suburb of Durack. It is a lovely concrete paved walkway which meanders around the Palmerston Golf Course and half a dozen surrounding lagoons. The whole area is nicely landscaped with the lagoons full of red water lilies and a wide range of bird life. Because the surrounding homes, the birds seem to be much more relaxed about walkers than around the Marlow Lagoon and don't fly away that quickly when approached by man.

So I now have two pleasant areas to do my daily exercise walks which I much enjoy.


---
Most Recent - Next - Previous - Page 1 - Photos - MP3s - Maps & Text series - Jazclass
Wednesday & Thursday, August 15 & 16 2012 (diary)
The Northern Territory, especially Darwin, stands out from the rest of Australia when it comes to personalised car number plates. Whereas in the Southern states these are predominantly boring, predictable and unimaginative, in Darwin there seems to be an unspoken competition going on about who can think up the funniest one.
You find me often giggling when I am driving behind one of these and I tell myself to write them down but never really get around that. The one I spotted yesterday however must surely be the very best one I have come across here. It took me a few seconds too to translate it :

Translation : Oh no, I'm late !
Was there a lady behind the wheel ? I did not see.
Frankly I could do with a bit of cheering up yesterday after my Vodafone debacle !

Vodafone
I reported already previously the technical trouble I had with Vodafone's Global Roaming connection in Europe. Access was excruciatingly slow and after just 10 days it packed up totally. As a result I had to close my online Jazclass shop for a whole month. The rest of my stay in Europe I used free Internet access in all the Hotels I stayed at and in my Holiday unit at the Steingrubenhof.


Tuesday, receiving my Bank statement for June and July I found out that my Vodafone debacle had not only been technical but also financial. Vodafone had slugged me (over and above their regular access fees of $49 for 25MB per month) for the only 10 days I had used their service with a whacking great bill of $703 !!

During that period I downloaded or sent only a dozen or two small text emails and uploaded a few (max. 20K) segments of my Blog.
Knowing that I had only a small amount of data access I uploaded most of the 12 photos I took during that period (average size 125K each) at the Kebab shop in Saints Mairies (the town I was then staying), which offered free Wifi access. During this period I did not Google, visit any website or Social media page (I never visit those!). So I just can not imagine how I could have gone over my 25MB limit.

Yesterday I talked and argued with four Vodafone consultants over the phone (all in India). They were very polite and friendly, but the best I got out off them was a $250 credit. They insisted that I had grossly overused my data allowance, although all they had was a single figure without a detailed statement of my usage.
Clearly there has been some technical malfunction somewhere in the system, but I am the one paying for it !

I have used my credit to pay off the rest of my Australian One Year contract with Vodafone and clearly will never ever use them again. A great disappointment, after the good Global roaming services I had with them back in 2008.
This time, all up (even after the $250 credit they gave me), those 10 days of Global roaming have cost me a total of $900.

I am not very fond of Telstra (the dominant Telco in Australia) but at least you get a detailed specified Invoice from them every month and they SMS you with a warning when you are approaching your data limit.
Vodafone does none of that, so be warned if you are contemplating using them.

Mystery solved ?


---
Most Recent - Next - Previous - Page 1 - Photos - MP3s - Maps & Text series - Jazclass
Friday - Monday, August 17 - 20 2012 (diary)
My anxiousness to service my online customers as well as I can is something I have in common with my father.
Throughout his business life excellent service to his customers was always his top priority.

My father had one client, a jeweler in Hilversum 100km from our Martinshof base, who on frequent occasions ordered just one pair of engraved wedding rings late on Friday afternoon, insisting he urgently needed them for his customer the next (Saturday) morning.
There was no postal service on Saturdays then so my father or one of his personnel would make the 200km round trip by car to deliver the rings on time. In fact, after my father's sudden death, when I was in charge of the business I did this trip myself once or twice. The expense was clearly more than the profit on the sale warranted, but that was always part of the service.

However taking out a Global roaming contract with Vodafone this year, was on my part just over anxious and totally unnecessary. In the past two years Internet services provided by hotels in Europe have considerably improved. This time around all but one hotel (Hotel Mediterranee in Southern France) provided either wireless Wifi access or had a connected computer in their lounge or both. So live and learn, I won't do this again in the future.

When I returned to Darwin last month Paul (current President of the Arafura Bridge Club) told me that they were probably cancelling the Club's annual outing to the Berry Springs Nature Park (50km South of Darwin).
I had much enjoyed this outing last year, so immediately suggested to him to make it a joint outing with the Palmerston Bridge Club (which I knew, was looking to add more social functions to their activities).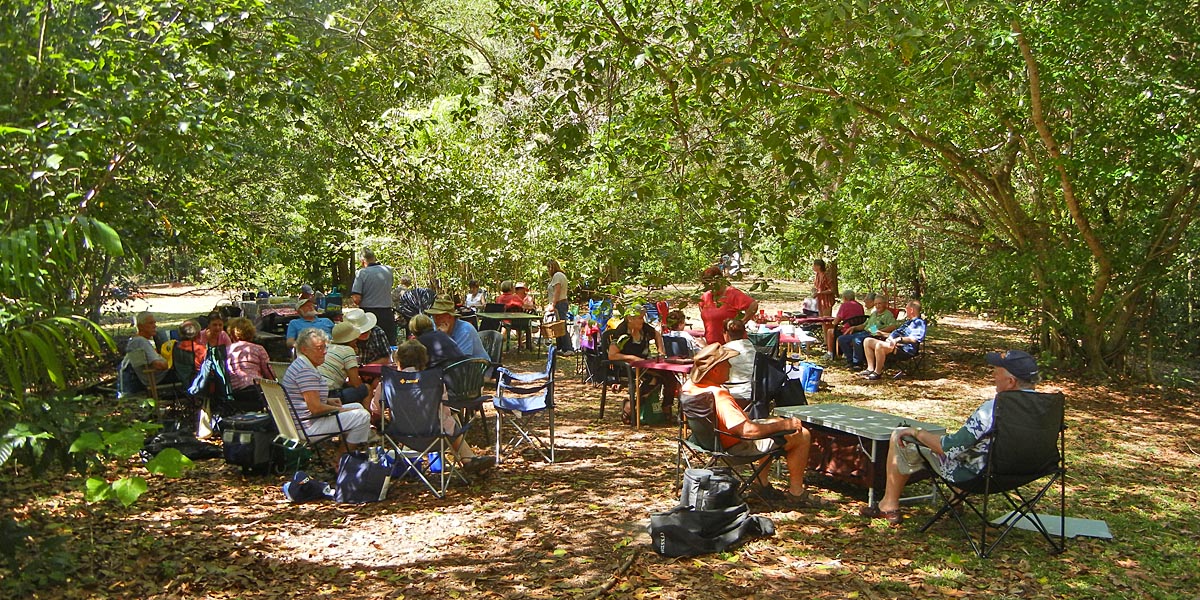 This Paul did, with the result that we ended up with a 40 strong attendance of members and guests this past Sunday.
One of the great privileges we have here in Darwin (one only becomes again aware of after a dreadful summer in Europe like this year) is the predictability of the good weather in the dry season. One can confidently plan an outdoor outing a day, a week, a month, or even several months ahead, knowing that the weather will be excellent. And of course it was this Sunday. We all had a great time.


Comments - Most Recent - Next Page - Previous - Top - Photos - MP3s - Maps, Text & Photo series - Jazclass

---

© 2012 Michael Furstner