Biographical Log of Michael Furstner - Page 292

11 | 12 || 2012 : Jan | Feb | Mar | Apr | May | Jun | Jul | Aug | Sep | Oct | Nov | Dec || Page : Previous | Next

Martinshof Story - Happiness - Awareness - Black Forest walks - Camino - Dolmen Tour - Travel
---
Most Recent - Next - Previous - Page 1 - Photos - Maps & Articles - MP3s - Jazclass
Wednesday - Friday, September 11 - 20 2013 (diary)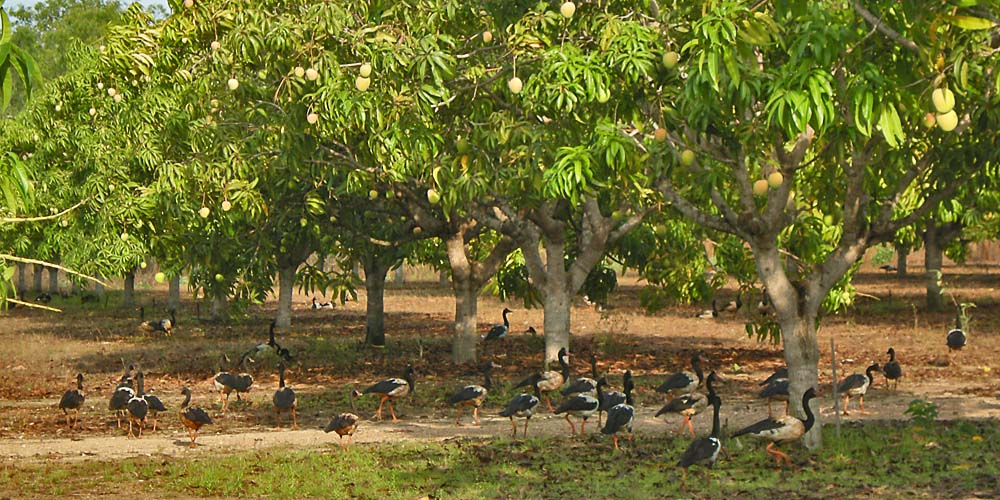 Yes, the mango geese have arrived, and in great numbers. Rather optimistic of course as some of the mango trees only the past few weeks have started to bloom. It will be a late season again.

Nevertheless the geese are finding plenty other tidbits to eat and make a much noise as they have numerous disagreements amongst themselves, with "kwak kwak kwak" talk going on all the time.

Otherwise it is rather quiet here on the farm. Rod and Mary who used to live here too had to return to Melbourne recently to look after their ailing father. And Gordon and Iris, who come here with their caravan for the dry season every year have also returned home a week or so ago. So at present I am the only non-family member living here.
Still no rain, although there is an increase of clouds in the sky, but fortunately the humidity remains still very low.

The new (Conservative) Coalition Government is settling in and their Ministers are about to be sworn in. I always do feel much more in harmony with the spirit of this country when the Coalition is in Government. It promises stability, a reduction of financial waste, and common sense and (hopefully) well thought through policies. Australia, especially business at all scales, can breathe again and start moving forward.


Comments - Most Recent - Next Page - Previous - Top - Page 1 - Photos - Maps & Articles - MP3s - Jazclass
---

© 2013 Michael Furstner