Biographical Log of Michael Furstner - Page 293

11 | 12 || 2012 : Jan | Feb | Mar | Apr | May | Jun | Jul | Aug | Sep | Oct | Nov | Dec || Page : Previous | Next

Martinshof Story - Happiness - Awareness - Black Forest walks - Camino - Dolmen Tour - Travel
---
Most Recent - Next - Previous - Page 1 - Photos - Maps & Articles - MP3s - Jazclass
Saturday - Thursday, September 21 - 26 2013 (diary)
Great to see that Angela Merkel (and her CDU party) had a resounding victory in the German elections this week. This is a strong endorsement of her balanced approach towards both Germany and the greater European Union.
Her former coalition party was not so lucky, being wiped out entirely. Merkel now has probably to form a coalition Government with her main political opponents, the socialist SPD, which is less encouraging, but Merkel managed to do this before, so we will see.

Early sings from the recently sworn in Australian Coalition Government are very encouraging. The Government exudes confidence and looks thorough and professional in their approach.

As the new Prime Minister Tony Abbott emphatically stated the Coalition Government wants to be judged by its achievements, not by its words. Consistent with this approach daily door stop announcements, 24/7 info-tainment politics, etc. have stopped and only matter of substance is now made public by the Government.
The Labour opposition leaders on the other hand continue with their verbal spin, unwittingly digging their own grave, for in the end substance will win over trivia every time.

I have just joined Médicins Sans Frontières (Doctors without Borders) with a regular monthly subscription to help finance their efforts. I meant to do this for some time but previously when phoning their toll free number on my mobile could not get through to them. This week there is a small stand in one of the Palmerston shopping centres and I enrolled there. I feel happy about this. The amount of violence and suffering right around the world is just staggering and contributing to its relieve even in this tiny way is important to me.


---
Most Recent - Next - Previous - Page 1 - Photos - Maps & Articles - MP3s - Jazclass
Friday - Monday, September 27 - 30 2013 (diary)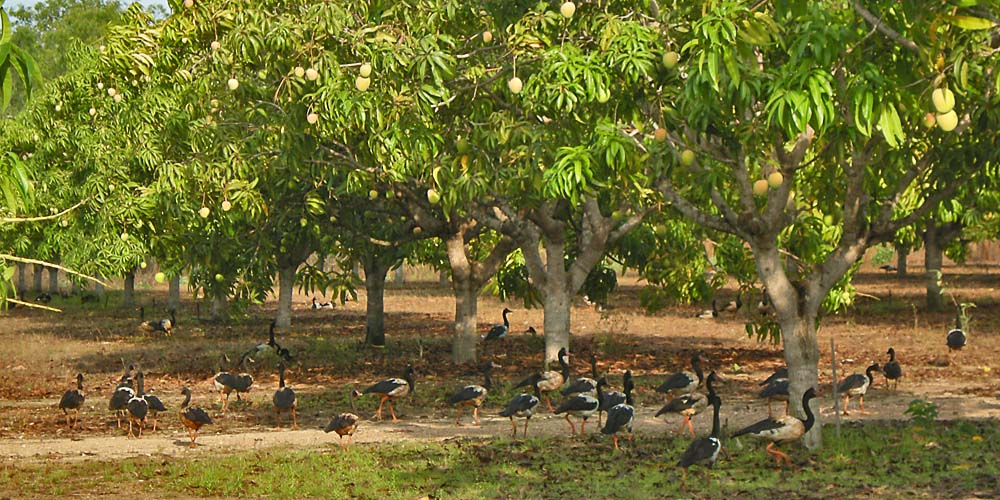 Yes, the mango geese are out in full. There are hundreds of them roaming around underneath our mango trees. The Mangos are not ripe yet, but the geese find plenty to eat anyway.
The weather is still fabulous here, blue skies, sunshine, low humidity and as yet no rain.
I would be hard pressed to find another place in Australia with a (what I consider to be) a better climate. I love the warmth and always have hated to be cold. Undoubtedly my feelings are a reaction to the miserable weather I experienced while growing up in the Netherlands.
The years just after WW2 were especially unpleasant with a couple of super cold winters we went through.
These days when visiting Europe I keep my stay in the Netherlands to a minimum, just a week or so to visit my friends, but then it is back down south to seek more warmth in the German Black Forest and in Spain.

I am still steadily working away at consolidating our new Bridge Club. With back-to-back Beginners Courses I am gradually increasing the club's membership through this initial critical formative stage. We now have around 30 members and financially we are in positive territory, which is good. But it won't be until the middle of 2014 that I should be able to relax a little on this project. Still it is very much worthwhile doing.


Comments - Most Recent - Next Page - Previous - Top - Page 1 - Photos - Maps & Articles - MP3s - Jazclass
---

© 2013 Michael Furstner