8 - Stories from Asturias 1958 : by Michael Furstner ------------------------- Previous - Next - Contents
---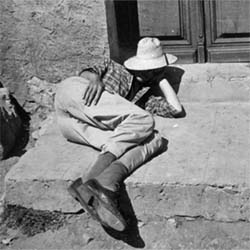 Setting up camp in Felechas
Yes that is me, patiently waiting until Julio too has finished his siesta and opens the doors to his house and tiny grocery shop, the only store in the small hamlet of Felechas in Asturias, Northern Spain, some 150 km (as the crow flies) WSW of Santander.

Our base camp, a tent and a small shed we may use as office, is in a meadow only a hundred yards away from his shop, and every afternoon (after having completed our geological fieldwork) Hauk Fischer and I trod along the narrow goat track to his door to buy some food, drink a glass of local wine (so rough and strong we often mix it with water and sugar) and have a chat with Julio. Sometimes we are in luck and he even invites us in for dinner.
Julio, a nice guy married with children, has a respectable standing in the village on account of his store and own motorbike. He has a peculiar nail on one of his index fingers, not flat but shaped like one from a hawk or eagle. We are great friends.


It is the summer of 1958 and we are doing a 6 weeks geological mapping project in Asturias for Professor de Sitter to complete our Candidaats exam (BSc).
This year I travel to Spain in an interesting way. My father drops me and two fellow geological students (Freddie Warnaars and Pim Deteger) by car off in Emden in Germany, just across the border from Holland, where we embark on a small ore freighter on its way to Castro Urdiales (3), just west of Bilbao on the North coast of Spain.


We paid the shipping company 10 Dutch guilders per day (UK £1, US $2.50) which includes a comfortable bed and all meals on board. We hugely enjoy the 5 day journey despite some rough weather in the Bay of Biscay and play bridge with a crew member every night.
We disembark at Castro Urdiales on the small boat of the the customs officials who, like us, take their tax free booty ashore. We loads of American cigarets, they Dutch Genever rolled in a Dutch Newspaper under their arm.


After one night in Bilbao we travel next day by bus and rail via Santander to the small town of Cistierna. Here we put up our tent along the river Esla on a grass strip next to the main bridge into town (the lower one of the two on adjacent photo).

After a good night sleep we explore the town, but on our return to camp we find that all our tax free cigarets have been stolen from our tent.
Soon after the police arrive for a friendly chat and enquiry about our plans in the area, but when they hear of our loss they immediately spring into action. Unbelievably within 24 hours all cigarets are returned to us. Only one packet has been broken open with 2 cigarets missing, for which the police apologise. Yes, Spain was like that in those days!

We spend a few days here in Cistierna. Last year the geology students from Leyden made a lot of friends here and we are treated with enormous hospitality. Too much of it in fact. In every bar or restaurant we enter our drinks are paid for us. Fine at first, but after a while it starts to become embarrassing, as nobody reveals who our generous donors are. We try sitting outside on the terraces but even there our drinks are paid by somebody inside.


After a few days it is time to move on. I promised Hauk to set up a base camp in our designated mapping area around Felechas, but Freddy and Pim will work in other areas, so we part company.
Another geology student with Vespa scooter gives me a lift as far as Sabero, but after that I have to walk (heavy rucksack with tent on my back) the final 8 km of (what was then a) dirt road to Felechas.
The road follows a valley with on my left (South) several small coal mines near the bottom of the Southern slopes. Soon a truck loaded with coal overtakes me then stops. The driver asks me where I am going and offers me a lift.

His name is Ossany (English pronunciation) and over the following weeks he gives us a lift each time he sees us and we become good friends. Are in fact invited for lunch with his wife and friends in his home in Boñar one day. He drives the truck of a coal company, but his dream, he tells me, is to one day own his own and transport goods all over Spain and France. (A year later when I revisit this area and have a meal with his family again he has in fact realised that dream. I am so glad for him.)

Ossany drops me of at an irregular dirt track full of large stones, too narrow for a car. I see a small village 500 meters or so farther on, slightly uphill : Felechas. I walk up to and through the village, irregular muddy tracks wherever you look, not a soul around as it is afternoon, siesta time. The ground rises as I walk on but just beyond the last house of the village I find some flat grass areas on my left. There is one meadow with a small wooden shed on it and I pitch my tent here, nice spot overlooking the village below.
In the evening I find the local pub, a very small room in one of the houses right in the center of the village. I enter, bar, tables, benches are all of bare unpainted wood thoroughly scrubbed clean to a light grey colour. Within minutes of me entering the small room fills up with men, I suspect every man, from the village.
I am offered wine, poured from a large earthenware jug which is shared all around. "Who are you, what are you doing here, where are you from ?" With my small Spanish pocket dictionary I explain, and as the wine flows (I am not allowed to shout a single round myself) my Spanish improves rapidly from zero to almost 3 (out of 10) just on that first evening.

I show them my map. "Mira, mira!" (look, look) "Felechas!!" they cry out. They have never seen the name of their village in print in their lives before and are mightily pleased. More wine and "Miguel, what have you got there ?" The self winding watch my Grandmother gave to me for my 18th birthday. I take it of, move it back and forth alongside my ear so you can hear it rewinding. They all must have a go at that, how wonderful.
"Have you met the cura yet?". Who the hell is that ? The Lord Mayor ? No, no, it is the local priest. I have told them I am not a Catholic but a Protestant (well, sort of), so they insist : "Go and see our cura tomorrow."

Finally it is time to go home and they all come with me, follow me to my tent. Goodnight I say and go into my tent, but they remain there, waiting. I put on a light, undress, climb into my sleeping bag. "Are you alright in there Miguel ?" Yes, yes, I am fine thank you. "OK, muy bien, Buenos Notches Miguel, hasta mañana." They finally depart, satisfied. I fall asleep with a wonderful warm feeling inside me, nice people, all of them.


The next afternoon I find the cura's home and knock. I am greeted by two lovely young ladies, the cura's sisters. We talk, and after a while the cura himself arrives and I explain our mission.

Afterwards he walks with me (black cap, white collar, black robe) through the village and inspects my tent site. We meet nobody in the streets, but in the evening everyone in the pub knows : "It is OK, Miguel is a Protestant, but the cura approves of him being here." Now all can relax.

During the following days the cura is in fact most helpful. He gets the key to the small shed, so that we can use it as our "office" (for hanging maps, storing samples, etc.) and shelter if the weather turns really bad. One day he even arrives with a scythe and mows the grass around my tent.
So when Hauk arrives a week later, I am fully settled in with the locals (Every night in the pub, drinking wine, speaking Spanish, making friends. One afternoon I try to wash my clothes in the river like the village women do : they won't have that and insist doing it for me!) and our camp is in ship shape.

PS
In 2014 (58 years years later) the people in Felechas still remember me !
In a tiny, largely isolated, village in the Asturian mountains not much happens over the years.
After reading this story on my website one of the younger people from the village, Yosune , who's aunt remembers me well, contacted me by email. She geeted me in Barcelona in 2014 and showed me around some of the sites there and also invited me back to Felechas for a visit in the future. Perhaps I will.


Next Page - Top of Page
---

Copyright © 2010 Michael Furstner