>
---
Most Recent - Next - Previous - Top - Page 1 - Photos - Index - Jazclass Links
Tuesday March 4, 2008 (bio, my mother's birthday, pre war, politics, jewelry shop)
It is my mother's birthday today. Else Johanna Erna Martha Hicken was born in 1909 in Wismar, on the Baltic Sea in Germany. Her mother died young when Else was only a teenager, but her father soon remarried again. The relationship with her stepmother was never perfect but they both managed I think to keep it fairly good.
My mother grew up in the middle of the euphoria of the rise of the Third Reich under Adolf Hitler. The entire country (in stark contrast with most other European nations) was in high spirits. The economy was booming and there was much emphasis on rebuilding National pride (lost after WW1), through communal and National activities and sport.
My mother was captain of the local girls hockey team and traveled to and competed in various competitions throughout the country. She really enjoyed that. My mother did not join the Nazi party but was, like most, enthusiastic about the positive achievements made during those pre war years.
After my father died (in 1981) my mother kept telling me on a number of occasions that she had been the political on of the pair, while my father had followed her because of his romantic love for her. Although there was something in that, I don't believe this was entirely true.
Before my father met my mother, he lived and worked for two years in London, followed by two years in Paris. He then went on to work in Germany where he met my mother. The purpose of these travels was to develop both business and foreign language kills, the latter being essential in a small country like the Netherlands.
During these years he must undoubtedly have observed the enormous difference in mood, attitude and economic development, between Germany and the other two nations. I am therefore quite sure that he must have been sympathetic to the German policies from his own personal view point rather than for romantic loyalty to his wife.
That said however, when my parents started their jewelry business in Zutphen (where small town narrow mindedness was rife) he was very soon confronted, nagged and pestered by several other merchants in his street who wanted to know on which side he was on.
Bricks were thrown through his shop window and my father then, furious and intent on making a big statement joined the Dutch Nazi party, the NSB (National Socialistische Bond). This I firmly believe was for 95% a show of his love and loyalty to his German wife, and I believe he never ever regretted that from this point of view.
(Most Furstners are by nature typically not much interested in politics, let alone inclined to join a political party, so my father's action from this perspective is highly unusual.)
My father never intended to gain from his political decision, it always was a purely idealistic (or rather emotional motivated ?) one, and he never did. On the contrary. Immediately after joining the NSB he lost a large number of his regular customers, and bricks kept flying through his shop window at regular intervals. But he stayed loyal to his position and to his wife throughout the war.
My mother's father, my German Grandfather, was a watch maker by profession, and had a flourishing jewelry shop in Wismar. My mother, in the years before she married, worked in the shop and was well qualified and highly experienced in the business.
It was this that led my father to the path of jewelry himself. When they started their business in Zutphen it was my mother who had all the expertise. My father did the required courses through the Jewelers and Goldsmiths College in Schoonhoven and in due course received his qualification.
I was born in 1937 in the private quarters above the shop in the Beukerstraat. But soon we moved from there to the Coerhoornsingel at the outskirts of town, where my sister Wivica was born in 1940. I now believe that this move was primarily made for safety reasons. My father and his mother (my Dutch Grandmother) were building a house in the country, Martinshof and as soon that was ready (in 1942) we moved to there. It was paradise.
My parents never went back to live or work in Zutphen again. After my father's release from the concentration camp (in 1949) he started Atelier Martinshof, converting the Martinshof garage into a goldsmith atelier. My parents lived and worked at Martinshof for the rest of their lives.

> >
---
Most Recent - Next - Previous - Top - Page 1 - Photos - Index - Jazclass Links

Wednesday March 5, 2008 (bio, Martinshof)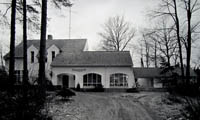 I have managed to get half a dozen photos together to give you an idea of our family home Martinshof. All of the images are photographs I took with my new Nikon Coolpix camera from old photos either Babette or I had kept. So they are not the best quality, but at least we now do have a permanent record of them this way.

The Furstners have had a centuries old custom that the oldest son of a generation is either called Johannes Theodorus or Johannes Martinus. The two name combinations alternate from generation to generation. My Grandfather was a Johannes Martinus, my father a Johannes Theodorus, I am, like my Grandfather a Johannes Martinus again, and my son is, like his Grandfather (and my father) a Johannes Theodorus.
My parents wanted to keep the custom in tact but also wanted to give me their own preferred choice of name, so they added Michael at the end of it (Johannes Martinus Michael). Antien and I had the same idea so we called our son Johannes Theodorus Jeroen.

My Grandfather died before my parents got married, so I never knew him of course. When my father and Grandmother built the house near Gorssel in 1942 they decided to name it, in memory of my Grandfather, "Martinshof". So he lived there in spirit rather than in the flesh.
After WW2 my father decided to start his goldsmith atelier there and it was logical to call that Atelier Martinshof. In due course when the business became a wholesale business for jewelry and wedding rings the business name became simply Martinshof.
I am therefore the only real "Martin" who ever lived there, and perhaps it was therefore quite appropriate that I lived there again for the final few years with my mother (until 1983), before both the business and the house were sold.



Comments - Most Recent - Next Page - Previous - Top - Page 1 - Photos - Index - Topics - Jazclass Links

---

Copyright © 2008 Michael Furstner