Contemplations around Music
by Michael Furstner
Martinshof Story - Awareness - Philosophy of Happiness - Memories from Spain - My Blog - Jazclass Links
---
Contents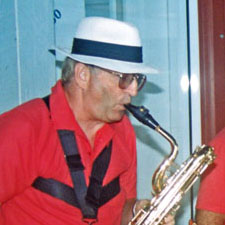 Introduction
In the early 1950s the young Jazz trumpetist Red Rodney was in all the papers for his conviction of possession of drugs. After completing his prison sentence he replaced Miles Davis in the legendary Charlie Parker Quintet.

During my time at the Jazz College in Adelaide in the 1980s we were much honoured by Red Rodney's visit.
Playing on flugelhorn he had the most beautiful sound I have ever heard on a brass instrument, smooth, supple and with a deep warmth which even now, years later, brings tears to my eyes just thinking of it again. It was for me the most moving expression of the total human experience in life.

Rodney told us stories of that magic time when modern Jazz was born.
He also made correlations between his music and (for example) the eb and flow (as he described it) of the stock market, his favourite hobby. Music can relate to many different things and in these short Blog entries I have made some perhaps unusual correlations which I hope you will enjoy reading.


Contents


---

1 - The full stop in music

2 - F. Scott Fitzgerald and the Jazz Age

3 - Four approaches to Jazz Improvisation

4 - My early accordion years
5 - Erik Satie and the Picardi triad

6 - Richard Feynman's "Sum over Histories"

7 - Charlemage and the modern Synthesiser
See also : Notes on Notes
Comments - Top - Jazclass Links

---

Copyright © 2017 Michael Furstner