1 - Spain 2017 : I am coming ! : by Michael Furstner ------------------------ Previous - Next - Contents
---
Saturday January 14, 2017 (Darwin, Australia)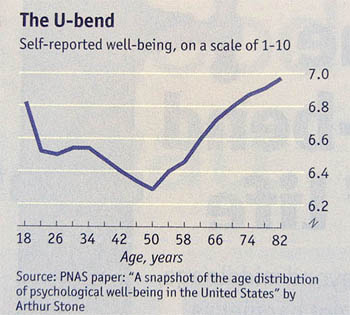 Tomorrow will be my 80th birthday.
A bridge friend asked me this week which had been the happiest period of my life.

Much to his surprise (but in agreement with Arthur Stone's extensive research on the subject shown in adjacent graph) I answered : "the past 10 years !"
This has been a period of great emotional tranquility, supported by a strong sense of purpose in building our Social Bridge Club.

But tranquility in one's life usually does not last forever. The next 10 years are going to be different, and deliberately so, because I will start this new period of my life by living in Spain for a year, perhaps even longer.

Some 56 years ago (in the summer of 1961) I was invited for dinner by a Spanish solicitor at his home in Carballo. I was 25 years old at the time, he probably twice my age.
North European visitors were very rare in Spain in those days, and perhaps partly the reason for his interest in me.
We sat opposite each other at the dining table with no other household members (wife or children) taking part. The room was dimly lit, and we sat in agreeable semi darkness while talking animatedly. One thing he said I will never forget :

"Most Spanish households have two books in their home : The Holy Bible and Cervante's ancient novel 'Don Quijote'. (correct Spanish spelling) "Which one" he asked me "do you think they consider to be the most important ?"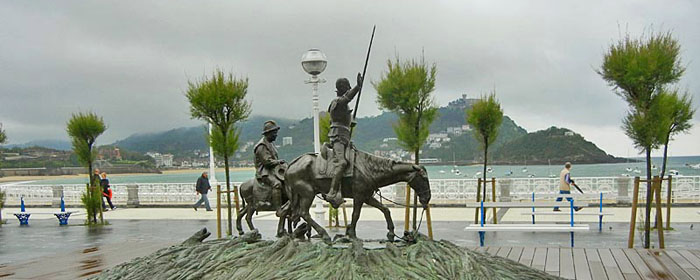 In Spain Don Quijote is the ultimate hero, because he sees extra-ordinary things where others can discover nothing out off the ordinary.
In a country where most inhabitants were poor (especially during Franko's regime), he showed people how to dream.
Dreaming the Spaniards did (and I believe still do) to escape from their daily often very modest lives. I used to be a willing participant in the dream building process during conversations in pubs and on cafe terraces. An incurable romantic this scenario appealed to me greatly.

I also looked the part : tall, skinny, with a crooked nose, dressed in army coat and trousers wearing an old Stetson hat (discarded by my Dad), I roamed the countryside all day on my own (collecting data for my geological studies). I looked like Don Quijote and soon was given that nickname. I still am very proud of that.

But my connection to Don Quijote is deeper and more significant than that.
Throughout my life I have been a supreme analist. I have the creative gift that enables me to easily see connections, correlations, associations between facts or events or observations, that other people just do not see at all.
These insights range from genuine scientific discoveries to creative visions that places a new perspective on the component parts. In this sense I too am a sort of Don Quijote.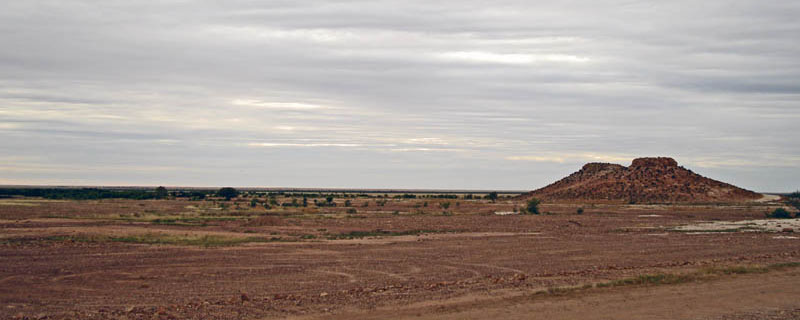 In Auatralia the emotional environment is of a relaxed, easy going attitude to life. And when traveling through the outback you get an enormous sense of awarenes of the universe, infinity and tranquility. This is absolutely wonderful and most inspiring.

Europe has none of this. When visiting I always perceive it as being enclosed within a box of Western culture from which there is no escape.
However in Spain there always was (and I believe still is) this sense of dreaming inspired by Cervante's Don Quijote. In contrast to the layed back attitude in Australia, in Spain you also find the passion, perhaps in much greater quatities than anywhere else in the Western world.

So that is what I hope to tap into in Spain : dreaming and passion. With luck it will inspire me through my 80s, and propel me to the start of my 90s !!!


Next Page - Top of Page
---

Copyright © 2017 Michael Furstner