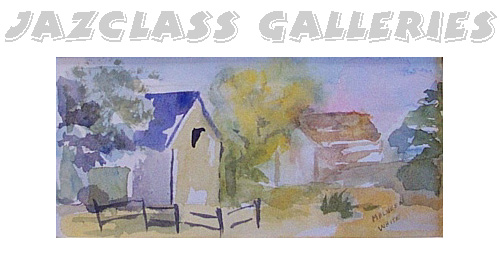 Visual Inspiration - The Galleries - Jazclass Links


---
(Down - Top - Jazclass Links)
Gal 1. Visual Inspiration
As explained in one of my online lessons, improvisation is very much like a painting.
The underlying scale or scales of a song are the palette for the improvised 'painting',

the chords of the song represent the colours,

and the improvised melody are the shapes of the work.
Many painters use music as source of inspiration while they are in the process of creating their art. It appears therefore quite logical that for musicians the reverse can be beneficial too.

Absorbing the image of a painting (or any other work of visual art) can be very inspirational to the perceptive musician.
You may be inspired by one particular piece of art, or by a series of works by a single artist or a group of artists on an exhibition.

In the Jazclass Galleries I present a selection of visual artists I have interest in or am associated with myself. I will gradually add to the collection as time progresses.

Besides the inspirational effect a painting can have on your creativity, it also focusses on the fact that like a painting an improvisation should consist of well defined shapes (or ideas) and present an imaginative 'story'.
When starting to develop the skills as an improviser it is part of the learning process, and quite unavoidable, that a lot of meaningless 'waffling' is going on. It takes time to absorb all scales, chords and chord progressions to such a degree that creative music can be produced.
Once you reach that point however, it is essential that you think while you play (to maintain direction and discipline over your intuitive creativity), so that a coherent piece of art, like a visual painting, can emerge.




---
(Down - Up - Top - Jazclass Links)

Gal 2. The Jazclass Galleries
Andy the Name Bender
Name brooches bended from silver wire.
From Darwin, Northern Territory, Australia
Demonstration - Website



---

Antien Furstner
Pottery and Ceramics
From Kangaroo Island, South Australia
Gallery - Website



---

Babette Furstner
Pastels and Oil paintings
From Brisbane, Queensland, Australia
Gallery - Website



---

Claus Furstner
Oil paintings and Graphics
From Nambour, Queensland, Australia
Oil paintings - Graphics - Numerology - Website



---

Jane Dennis
Limited Edition Lino cuts with water colours
From Wyndham, Kimberleys, Western Australia
Gallery - Email - Website



---

Malveen White
Water colour portraits and paintings
From SE Queensland, Australia
Gallery



---

Michael Furstner
Pastels on acrylics
From SE Queensland, Australia
Gallery - Website



---

Wivica Furstner
Oil paintings and 'Soul Portraits'
From St.Peter, near Freiburg, SW Germany
Gallery - Website



---


Living in or visiting Australia and interested in expanding you painting skills ?
Then try Byron Bay Art Workshops on the lovely NSW North Coast (750km North of Sydney).
They provide regular workshops all year round by a wide range of well known competent artists.




(Up - Top - Jazclass Links)

---


Copyright © 2005 Michael Furstner. All rights reserved.