---
(Down - Up - Top - Links)
JT 16.2 : Chord - Scale Combinations
The chord & scale combinations for the II-V-I progression in the key of C major are :
Audio 3
(Play swing style quavers for Jazz, but use straight quavers for Latin music.)

The D Dorian and G Mixolydian modes are both derived from the C major scale. The same seven notes are therefore used for the entire II-V-I segment.
(The mode, and as a result, the perceived tonality changes from one chord to the next.
Even if you do not consciously think of different modes, the underlying chords will produce the associated mode sound and your ear will select the notes accordingly.)
Most minor chords in songs function as IIm7 chords of IIm7 - V7 (- Imaj7) segments.
Much less frequently the minor chord is followed by another minor chord. (In such case the first chord is usually VIm7 and the second one IIm7.)
The most common chord - scale combinations therefore are :
| Chord Quality | Function | Scale for Improvisation |
| --- | --- | --- |
| Minor 7th | IIm7 | Dorian mode |
| Dominant 7th | V7 | Mixolydian mode |
| Major 7th | Imaj7 | Major scale |

I explained in Lesson 13 that the chord roots of the scale-tone chord progression of any major scale form a continuous string on the Circle of Fifths.
Audio 4
(Dm7 - G7 - Cmaj7 ---> Cm7 - F7 - Bbmaj7 ---> Bbm7 - Eb7 - etc.)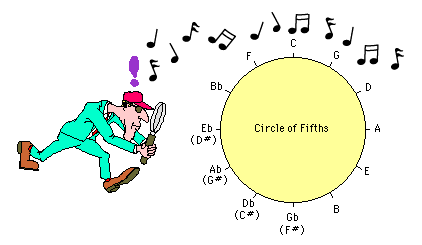 The root tones for any IIm7 - V7 - Imaj7 progressions form therefore a small segment on the Circle of Fifths.
The segment moves in anti-clockwise direction.
For example
Dm7 - G7 - Cmaj7, or


Cm7 - F7 - Bbmaj7, or


Bbm7 - Eb7 - Abmaj7, etc.