---
(Down - Up - Top - Links)

BL 5.2 - Lines for Nines

Lines for Nines is a basic blues in G. The entire melody consists of 9th chord tones only.

Use this song to get familiar with the 9th chords of the Blues.

Melody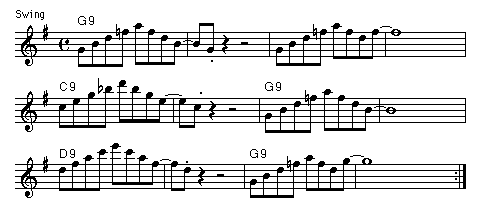 3-note chord voicings Keyboard players and guitarists can use 3-note chord vocings incorporating the 9th chord tone.
For example :
Audio 5.3

You can also use the 13th instead of the 5th in the G7 chord. This produces a great sound.
All above chord voicings straddle Middle C on the keyboard. This is the ideal pitch range for right hand chords.
Left hand chords usually need to be somewhat lower so that they do not interfere with the (right hand) melody line, but for this song you can comfortably play them as shown above.

See also BL Comp5 and check out the Blues chord voicings Rulers.
---
(Down - Up - Top - Links)

BL 5.3 - Improvisation with 9th chord tones

1.
Play Lines for Nines until you can play the melody from memory.

2.
Play 9th chord arpeggios ('broken chords') over the basic blues in G.
Use a rhythm pattern (like RP 16) as shown below.

Audio 5.4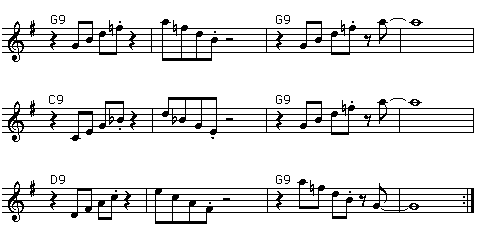 3.
Improvise with 9th chord-tones only over the basic blues in G using rhythm patterns : 1-8 or 9-16.
C- instruments use :

G9 chord tones over the G9 chord
C9 chord tones over the C9 chord
D9 chord tones over the D9 chord
Bb- instruments use :

A9 chord tones over the A9 chord
D9 chord tones over the D9 chord
E9 chord tones over the E9 chord
Eb- instruments use :

E9 chord tones over the E9 chord
A9 chord tones over the A9 chord
B9 chord tones over the B9 chord
4.
Repeat the above routines (1, 2 and 3) for the basic blues in C and in F.

When improvising with chord tones remember that you can play any chord tone up or down one or more octaves. The 9th chord tone can therefore be played as a 2nd.
This produces very interesting 5-note scales for improvisation.
For each chord : 1 2 3 5 b7 8
| Chord | Scale |
| --- | --- |
| G9 = | G A B D F G |
| C9 = | C D E G Bb C |
| D9 = | D E F# A C D |

Apply this improvisation approach to both