Biographical Log of Michael Furstner - Page 249
10 | 11 || 2012 : Jan | Feb | Mar | Apr | May | Jun | Jul | Aug | Sep | Oct | Nov | Dec || Page : Previous | Next

The Martinshof Story - A Philosophy of Happiness - Life Awareness - Maps, Text & Photo series
---
Most Recent - Next - Previous - Page 1 - Photos - MP3s - Maps & Text series - Jazclass
Wednesday & Thursday, June 13 & 14 2012 (diary)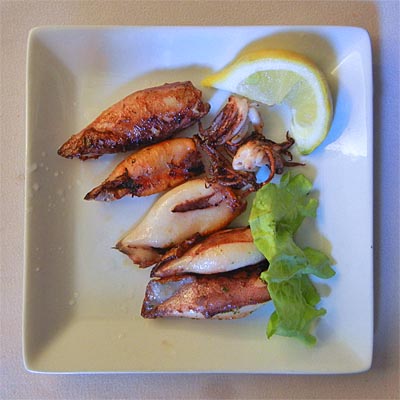 Camino walk - Day 4
Today the only day so far with sun shine and a respectable amount of blue in the sky. The temperature is mild and not too hot.
I walk again through rural country, but with lots of woods. The trees are predominantly oaks, pines and (surprisingly) eucalyptus, many of the "stringy bark" type. This is the most relaxed day walk since we started. The route from Palas de Rei to Lahoreiro is about 8km with several undulations in the walk profile when crossing creeks. Early on I catch up with a couple from Singapore and we have a brief chat.
Our lunch today has a special favourite of mine on the menu : grilled calamaritos. I had these 5 years ago in Southern Portugal. They are, if anything, even better than I can remember.
In the evening I watch the match Germany - Holland. Holland loses 2-1 and is virtually out off the Europa Cup.

Camino walk - Day 5
Today another "tuff day at the office". Everybody in the group is tired after the previous 4 days and the day is dark, overcast, with a constant drizzle. However we get underway and I start my walk at Arzua walking about 5km to Calzada for a short break. Most of the way we walk through forest or tracks densely covered by trees, so that one is fairly sheltered from the wind gusts and drizzle.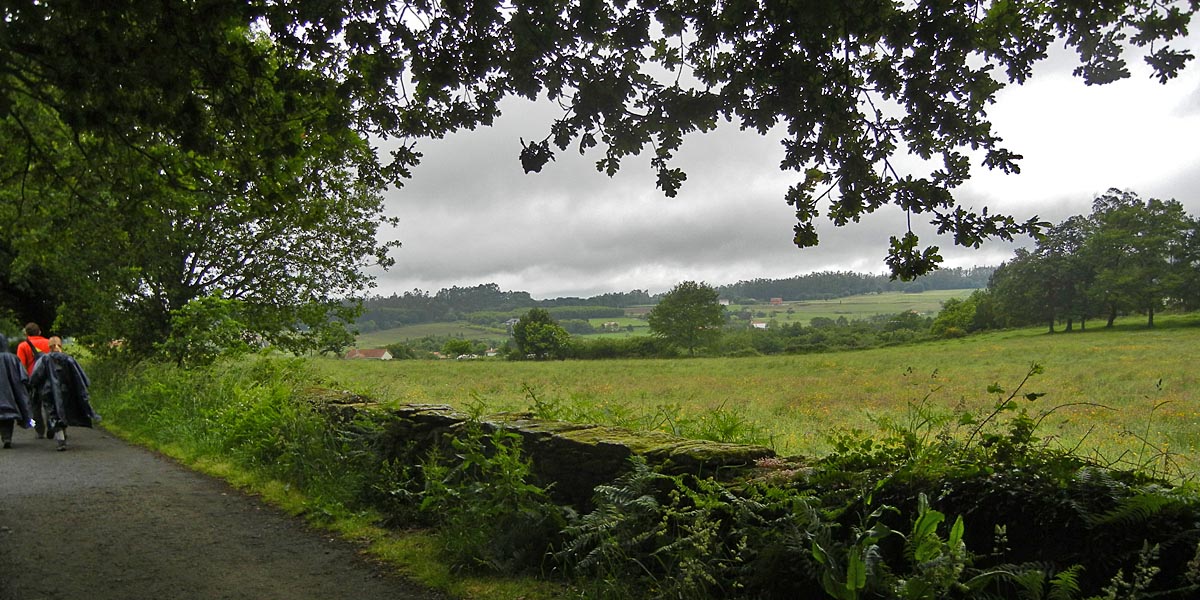 Rural landscape again, and very pleasant, but it take a few of us around 1½ hours to arrive there.
Throughout these walks I have much preferred to walk alone, rather than with a small group, as these tend to chat continuously amongst each other throughout the walk. I find this highly annoying and aural pollution of the worst kind! I much prefer the silence around me, listening only to the sound of the wind throught the trees and the occasional bird. (Stopping now and then to chat with one of the pilgrims on the road is of course another matter and quite fun.)

After a coffee or (in my case) a coke we start off again to our lunch destination Restaurante A Esquina in Salceda, another 5km walk. Halfway through I turn the wrong way however, fortunately a passing car stops and tells me I am on the wrong way and should turn back. An extra 1km or so to walk. As I get nearer to my destination it starts to rain more consistently, but fortunately not too windy and I can walk on under my umbrella, while most other walkers find some shelter somewhere.
Frankly I am totally exhausted when I finally arrive at the lunch spot. But a Cuba Libre (rum and coke) brings me somewhat back to life. Lunch too helps as for main course I have grilled pork ribs which are absolutely delicious, another very memorable dish.
After lunch some walk on, but three of us are driven to our overnight stop Pazo de Xan Xordo in Labacolla, a delightful place to stay.
Tomorrow we will arrive in Santiago!


---
Most Recent - Next - Previous - Page 1 - Photos - MP3s - Maps & Text series - Jazclass
Friday - Sunday, June 15 - 17 2012 (diary)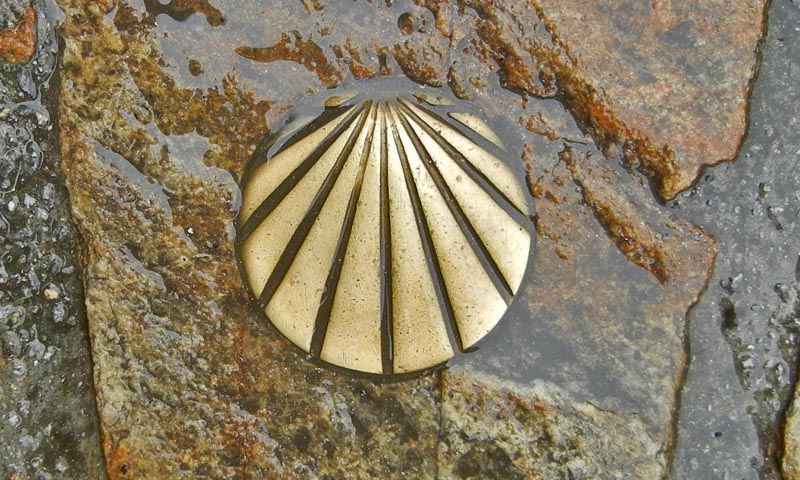 Camino walk : Day 6
The Hotel Pazo de Xan Xordo in Labacolla last night was a sheer delight, so nicely decorated and appointed. Here I am sitting in the courtyard of the hotel.
The last day again overcast and a consistent solid drizzle of rain which eventually gets you wet right through. Only 6km today most of it walking through the outskirts of Santiago until we reach the cathedral in the centre. Within the city the Camino is marked by shells in the pavement every 100 metres or so.
I have been in the cathedral 50 years ago, am an atheist, so have no desire to go in again. I get a picture of the Hostal de los Reies Catholicos, where Antien, Wivica and I drank a very expensive cocktail (Manhattan) 50 years ago.
I am also looking for my favourite Bar from that time, then run by a nice man called Manollo, but can't find it anymore. The streets are full with new bars, souvenir shops etc. Well that was to be expected.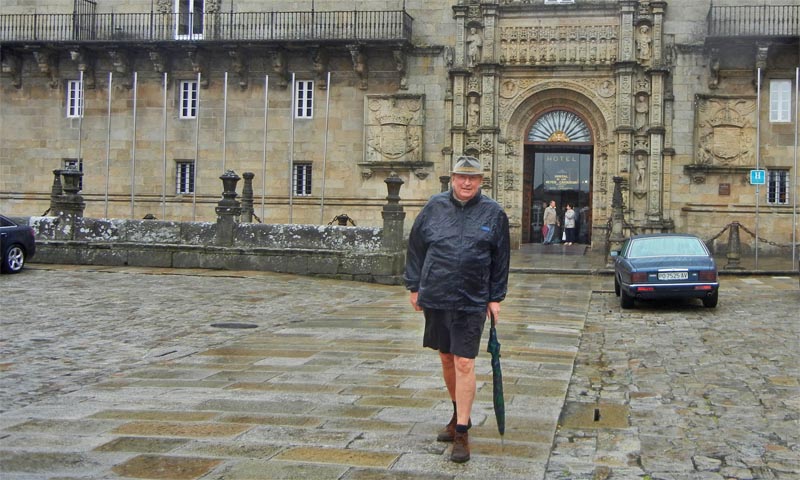 On the way to my hotel Hotel Monumento de San Fransisco I stumble over a small step in the pavement, fall flat on my back and hurt my left arm and one rib.
I rest up in the hotel as good as I can, then have a few drinks in the bar and talk to a group of Canadian pilgrims who have just completed part of the Camino coming from Portugal.
In the evening our final farewell dinner with the group in a magnificent setting which was very pleasant.

Saturday morning Paul Snr. drives me to the railway station and I spend all day sitting quietly in my seat, which is beneficial to my arm and rib. After 11 hours I finally arrive at Pension La Perla in San Sebastian, just before 9pm, in time to watch Greece beat Russia 1-0 in the Europa Cup.

As I wake up this morning and install my laptop I find I have left the Australian connection plug in the Hotel in Santiago, so if I can't find a new one, I am going to run out of power soon for a while.
Therefore if you don't read more on my Blog for a while that will be the reason. The good news is that my arm and rib, although still sore, are starting to feel better and are clearly recovering.
Tomorrow (Monday) on to Bayonne (in South of France) and Wednesday to Holland.

PS
Good news : Rakel, the owner of Pension La Perla, has got an International plug adapter which I have borrowed until tomorrow. She also told me where I can buy a new one when the shops are open again tomorrow.

Pension La Perla is an excellent budget hotel choice, small but clean rooms with shower, toilet, TV and free Wifi in the centre of town and close to both railway stations. (Prices change according to the season, but I paid only €40 per night for my room.)


---
Most Recent - Next - Previous - Page 1 - Photos - MP3s - Maps & Text series - Jazclass
Monday - Tuesday, June 18 & 19 2012 (diary)
Sunday (the 17th) after getting up I went out in the morning and found a good breakfast spot right on the corner of Plaza de Cervantes (part of the beach promenade where the Don Quijote sculpture stands) : La Vaca ("The Cow", pronounce the V as a soft B). Great spot frequented by many young people I noticed.
After breakfast I sat down on a bench watching across the beach and the fatigue from the last week walking suddenly fell over me like a blanket. I realised I had been making an effort very close to my physical ability, so I am glad I was up to the challenge and made it.

There were hundreds of people having their Sunday morning walk along the Paseo de la Concha and after a while I got up and joined them as far as the Terrace La Perla, a good spot to relax, watch the sea and drink a Martini Rosso. Later, walking back to my Hotel, I discovered another trendy modern bar for another Rosso and some great olives (soaked in the bar's own marinade containing capsicums and unions), the Plaza Bar, right opposite the main cathedral (off Rua San Martin) and within 100 metres of Pension La Perla.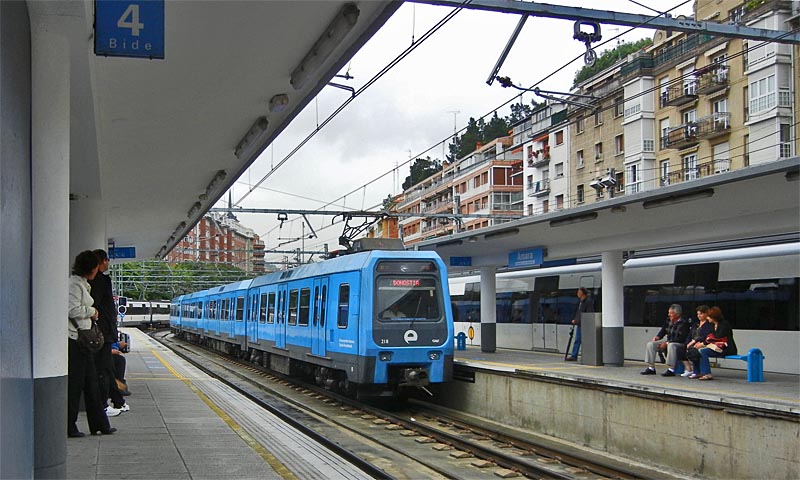 Monday, after buying a new adapter plug in a nearby shop, I got to the Eusko Tren by taxi and traveled to Hendaye by "El Topo", then by train on to Bayonne. The weather is overcast but the Hotel Côte Basques is good.
I find a laundry to finally get my clothes washed (after the week's Camino walk) and find a nearby Bar/restaurant (Bar Monte Carlo), where I enjoy half a dozen escargots and some delicious grilled squids. The remainder of the day I am resting up and watching the soccer (Spain - Czech Republic : 1-0).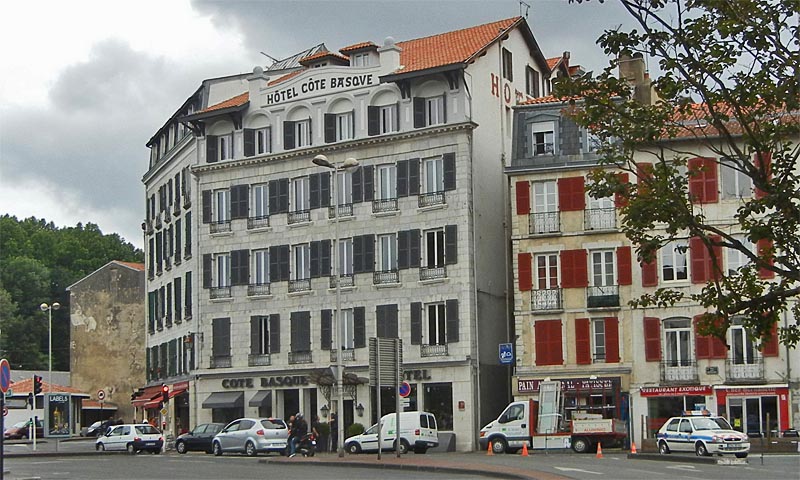 Tuesday I wake up to a steady rain, but by 10am it has dried up. I get breakfast in a nearby bar, then walk across the Adour river bridge into the main part of town. The LPG rates Bayonne as the nicest town in SW France and I must say it is quite lovely indeed. Numerous restaurants, especially alongside the Nive river which divides the old town in two. There are also many trendy shops and a great covered Market place right along the Nive.
I end up having some Moules frites in Bar Victor Hugo, but the mussels are small and the chips are not very good. Their rew wine is excellent though.
So tonight back to the Monte Carlo again for a glass of wine and perhaps something to eat. Tomorrow morning I am on the train to Paris, then Holland.


---
Most Recent - Next - Previous - Page 1 - Photos - MP3s - Maps & Text series - Jazclass
Wednesday, June 20 2012 (diary)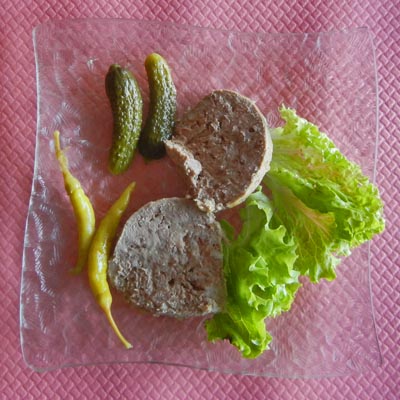 After a good 3-course meal in a small bar in a side street (including a delicious paté Basque) last night and breakfast in Bar Etxe Ona I catch the train to Paris. It is an uneventful 6 hours trip, arriving on time in Gare Montparnasse. I have plenty of time to get to Gare du Nord but just to be sure I arrive on time I take a taxi. The drive takes almost 40 minutes (and €20), but Paris is showing its best side with a sunny afternoon and the place looks truly magnificent. I stay away from large cities these days, but on a future trip I may plan a few days in Paris again as it is a beautiful city.

In due course I get into the super fast Thallys train to Holland, which takes only 2½ hours to reach my destination (Rotterdam).
I must say I am impressed by the Dutch railway stations, they are either brand new in modern designs or kept in their original building but very clean and freshly painted. It is an enormous contrast with many stations in Spain and France.

When I finally arrive in Breda, my friend Jaap van der Goes awaits me at the station to drive me to his home where I will stay for 2 nights. The weather is surprisingly mild and after a lovely dinner with Jaap and his wife Kitty we sit in the garden, talking about old times and drinking wine until midnight.


Comments - Most Recent - Next Page - Previous - Top - Photos - MP3s - Maps & Text series - Jazclass

---

© 2012 Michael Furstner