Biographical Log of Michael Furstner - Page 248
10 | 11 || 2012 : Jan | Feb | Mar | Apr | May | Jun | Jul | Aug | Sep | Oct | Nov | Dec || Page : Previous | Next

The Martinshof Story - A Philosophy of Happiness - Life Awareness - Maps, Text & Photo series
---
Most Recent - Next - Previous - Page 1 - Photos - MP3s - Maps & Text series - Jazclass
Friday, June 1 2012 (diary)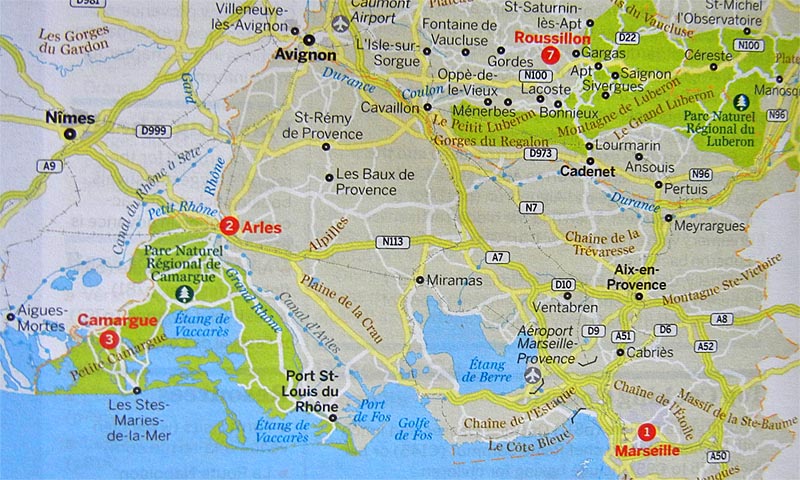 I had hoped to pay a visit to the old town of Aigues-Mortes, but the bus service from Saintes Mairies (which used to run between the two towns according to the LPG) has been terminated.
The two towns belong to different Municipalities which have fallen out over something (the Stes Maries Tourist office told me).
To go to Aigues-Mortes now one has to go first by bus to Arles, then take a train to Nimes in order to get another bus from there to Aigues. How stupid!

On Friday I leave Saintes Maries by bus to Arles where I catch the train to Toulouse. There we will arrive at 16.10 and I have (according to the train schedule) a 26 minutes wait before catching the train to Bayonne. But of course that is only the theory.
There is a derailment of some sorts ahead of us, so we arrive 40 minutes late and the Bayonne train has well and truly left. Fortunately there is one more train to Bayonne, leaving just after 7pm, arriving at Bayonne around 22.30. A long, hot wait at Toulouse Railway station with people scattered everywhere, some sitting on the floor.
Fortunately the Hotel Cote Basque (opposite the Railway Station) is still open when I arrive in Bayonne close to 11pm. A great relief I can tell you ! (Several other hotels had already closed I heard.)
Yet another hotel recommendation by the LPG which I can highly recommend myself. An ancient lift to all floors, clean modernised rooms, free Wifi and an €8 buffet style breakfast which was good.



Eurail Pass travel in France
I have found the Eurail Pass a great way to travel by train through Europe, except in France. France is apparently a reluctant participant of this rail scheme and makes only a very limited number of seats available on crucial travel segments.
Of the four rail journeys I have planned in France only on the segment Strasbourg-Nimes I got a seat reservation without any problem. Perhaps because my sister booked it for me 6 weeks in advance.

From Arles to Toulouse I had to pay €20 extra for the segment Narbonne-Carcassonne, and change to 3 different seat over the journey.

The journey from Bayonne to Paris was also blocked part of the way (just before reaching Paris!), so I have a reserved seat in 2nd Class (although my Pass is for 1st Class).

And from Paris to Rotterdam I had to pay €55 extra to cover the French part of the journey.

So when you plan to travel through France : be aware, book very early, or exclude France from your Eurail Pass altogether! Italy, I am told, is also difficult!!
But in all other countries in Europe travel by Eurail Pass is a breeze.


---
Most Recent - Next - Previous - Page 1 - Photos - MP3s - Maps & Text series - Jazclass
Saturday - Monday, June 2 - 4 2012 (diary)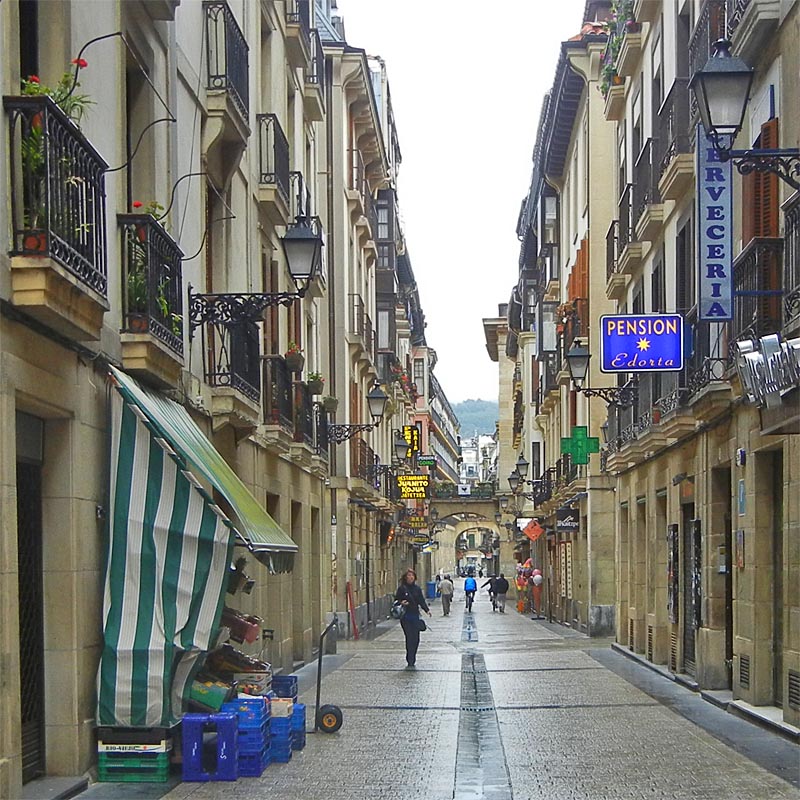 I had planned to take the Spanish PESA bus which runs twice daily between Bayonne, via San Sebastian, to Bilbao, but nobody could tell me where the PESA bus stop in Bayonne was.
So I took the train instead, which proved to be very easy. First by French railways from Bayonne to Hendaye (€7.10), then with the privately owned Euso Tren - nicknamed El Topo - from Hendaye to San Sebastian (€1.70).
It was strange looking out of the window of the moving train and casting my eyes again on the Bay of Biscay. The last time I saw it was exactly 50 years ago.

El Topo is brand new, more like a local Metro than a regular train. It runs between Hendaye and San Sebastian every half hour and is extensively used.

In contrast to some of the cities I traveled through in France, the buildings in Spain looked much more cared for from the outside. San Sebastian is a lovely clean city which managed to hold on to much of its 19th century elegance. The promenade along the city beach especially is a real pleasure to walk along. If you were to ask which of the two countries is in deep financial trouble, I would pick France immediately. Yet, of course the opposite is true.

After waiting at arrival in San Sebastian half an hour for a taxi to appear I decided to walk, and without much trouble found my way to the Parte Vieja (Old town) and to my LPG recommended hotel Pension Edorta. Again a great choice I can recommend to anyone. Right in the middle of the Old town with restaurants, tapas bars, the harbour and the beach all virtually on your doorstep.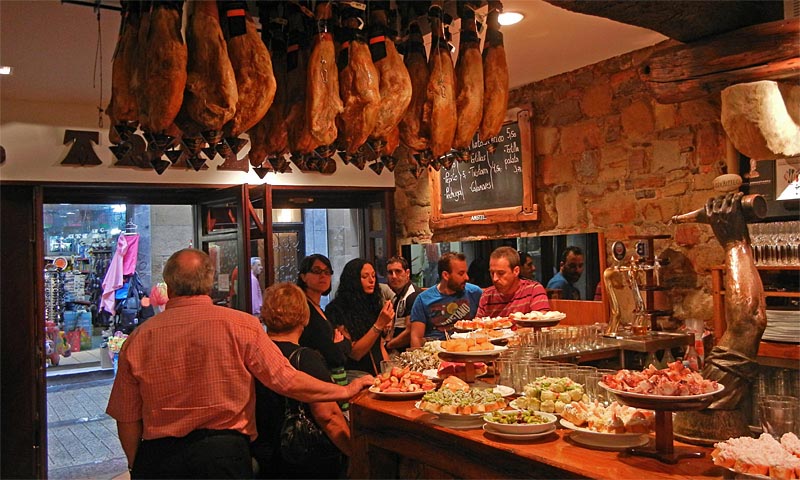 I have been here now for three days and as yet have to have a proper meal! The tapas bars are quite unbelievable here, the colourful choice of delicious snacks are simply irresistible, so all my food has virtually come from these. I still plan to have a regular meal in one of the seafood restaurants on the harbour front, but frankly before I get there, I have eaten too many tapas.
Right next door to my hotel is a small tapas bar which only serves muscles, calamari, potatoes (in a special sauce) and pimientos del padron. I love it!

Besides tapas I really enjoy two rather mundane items to eat here : the orange juice does not come out of a bottle, or a can, or a plastic container, or a carton, but is squeezed from real oranges right in front of your eyes! The taste of course is wonderful. Also the green olives are like you never are able to taste them in Australia, or almost anywhere else for that matter.

But I have been good too. One of my aims coming here was to get (belatedly) into some sort of physical shape for my Camino walk next week. So immediately on Sunday, and again today, I have completed my planned walk along the Paseo de la Concha (promenade along the beach), all the way from the Parte Vieja to Punta Torrepea, and then back on the beach. All up about 5-6 km which I completed in just over an hour. So I am definitely getting a lot better with the walking. I will keep this up for the rest of the week.


---
Most Recent - Next - Previous - Page 1 - Photos - MP3s - Maps & Text series - Jazclass
Tuesday - Friday, June 5 - 8 2012 (diary)
I have been doing my daily exercise, walking all the way up the Paseo de la Concha, then back along the beach. Over the days the temperature has risen from a cold 16° to a very pleasant 24°C. The sea temperature is another matter however : a paltry 17°. As a consequence, although there are hundreds of people walking on the beach, the actual swimmers at any time can be counted on the fingers of one hand! I can't blame them.


I also went to see Rakel, the owner/manager of Pension La Perla in the city Centre. I will stay there upon my return from Santiago for two days. The Reception will be closed when I arrive there in the evening, but Rakel has given me the key to the front door so that I can get in.
A very helpful and also attractive elegant young lady. Her budget pension also features in the LPG. It will be a change of environment staying in the more sophisticated part of town as compared to the Parte Vieja.
Pension La Perla is also close to both railway stations (RENFE and Eusko Tren), which is handy, as I will be arriving at one (RENFE) and departing again from the other (Eusko Tren) after two nights.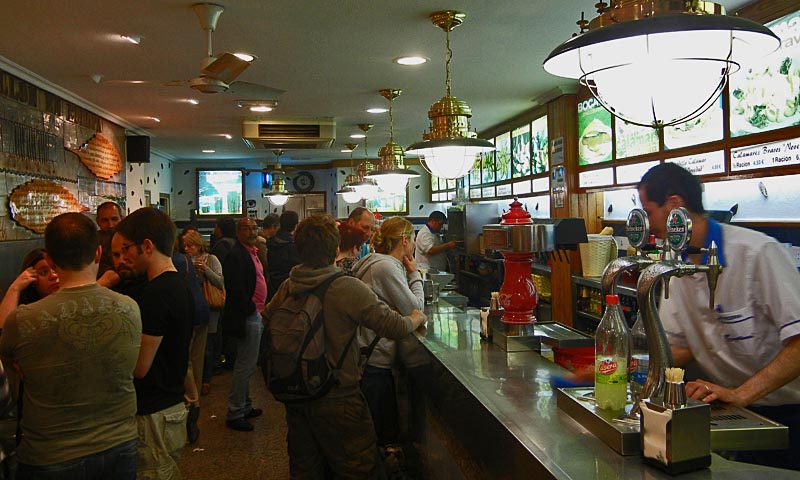 After three days roaming through various tapa bars I have now settled on one in particular. As it happens it is located on the ground floor right underneath my pension : Bar La Mejillonera, I love it.
As I mentioned before it only serves mussels, calamari, boiled potatoes with a special sauce ("Patatas Bravas") and pimientos. There are no chairs and it is standing only at the sink bar. Throughout its opening hours people walk in and out in large numbers continuously.
Three bar tenders yell their orders in loud voices to the kitchen staff in the back room, service is lightning fast.
All menu items are shown on light box displays along the right wall, while the left wall is covered by a huge tile painting depicting the ways muscles have been harvested in Europe through history.

For the rest I have been reading the International Herald Tribune every day, following the financial and political squabbling within the Euro zone, and watching the tennis (French Open). The Australian Samantha Stosur did well, but was knocked out in the Semi-finals.


---
Most Recent - Next - Previous - Page 1 - Photos - MP3s - Maps & Text series - Jazclass
Saturday & Sunday, June 9 & 10 2012 (diary)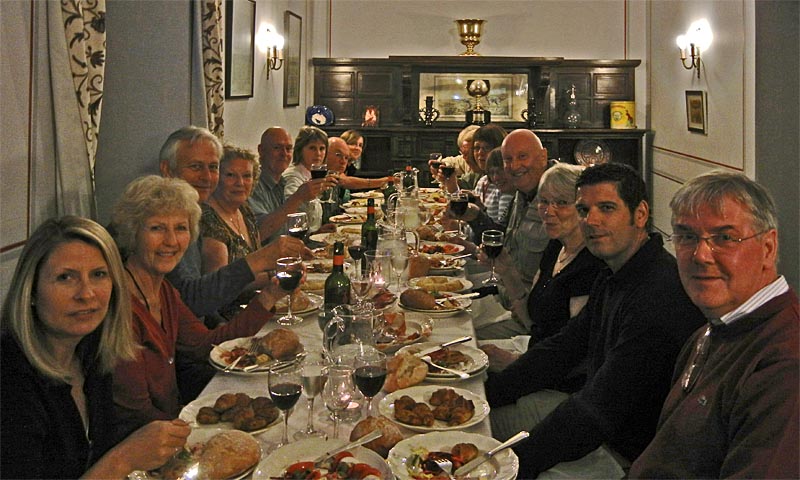 It was rather cold (12°c !!) when I left the Parte Vieja on Saturday morning to catch the train to Astorga, and the train trip was not much warmer either.
Traveling along the general route of the Camino de Santiago I was very glad however that I had decided not to walk this trail all the way.
There is a substantial amount of industrial development at various places all the way to Astorga, and I would have been dissapointed (not to say annoyed) if I had walked this route with all its "visual pollution".

I arrived at the Hotel Casa de Tepa in Astorga at around 3pm and after a snooze, warming myself under some thick blankets, met the rest of the Walks in Spain group for dinner in the evening. There are 16 of us, including the two tour operator/guides, all from the UK, so the language is English which is comfortable.


Camino walk : Day 1
Sunday morning we drive off in two support vehicles for our first day's walk. I am quite apprehensive about it as we are starting off with quite a bit of climbing and a walk of 11 km before lunch.
I am however much relieved to find that I can reasonably well manage the climb, as the gradient is quite gentle and easy to take. And the route, frankly, is quite wonderful.
There are lots of most enchanting wild flowers along the way and the scenery too is breathtaking.

The weather is cool (6°C), with sprinkled rain and fiercely cold and strong wind just at the top of the mountain (1,500 metres asl, the highest point of the Camino route) which I reach after about 2 hours walking, but once past that point the sun comes out, the wind drops and the temperature is just right for walking, and after half hour or so of descent I arrive at our lunch stop in El Acebo.

I am so glad I have taken this option with Walks in Spain, as the two organisers have exactly planned and defined what I am really after : and emotional connection with my early days in Spain (now some 50 years past) when I was working in the Northern mountains of the Pyrenees, Asturias and especially Galicia. They have selected a really fantastic route which was a joy to walk on. Although tired at the end of the 11 km route (from Foncebadon to El Acebo) I was fully satisfied with my multiple experiences this first day.
Arriving in El Acebo around 1.30pm we enjoy an extensive lunch in the village. About 10 of the group are brave enough to walk on another 8 km to our overnight stop in Molinescea, I, with a few others opt to drive there in one of the support vehicles instead. Ovrnight stay here at the lxurious Hotel De Floriana.


---
Most Recent - Next - Previous - Page 1 - Photos - MP3s - Maps & Text series - Jazclass
Monday & Tuesday, June 11 & 12 2012 (diary)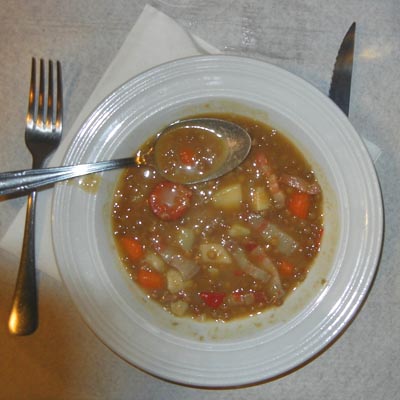 Camino walk : Day 2
A really tuff day today. Only 6km (from La Faba to O Cebreiro), but all uphill at a much steeper gradient than yesterday with intermitted wind and rain gusts and a 7°C temperature near the top (1350 metres asl). Every step I take feels like hell, but when I stop to take a breather and look back the view is truly Heavenly.
The scene is dominated by flowering Broom, appropriately called "Gouden Regen" in Dutch (Golden Rain) as the yellow flowers are spread over the ground everywhere.
Eventually I am the last of the group to reach our "refreshment stop" in O Cebreiro. From here I decide to walk no farther today but take a ride instead in the support vehicle to the lunch spot in Hospital da Condesa.
A great meal awaits us there especially de delicious lentil soup spiced with bacon an chorizo.

After lunch many of the group walk another 11km (al downhill this time), but I and three others take the car to our overnight stop at Hotel Alfonso XI in Sarria. Although I walked less than all the others I am by far the oldest in the group, so I am quite pleased with what I have achieved.

Camino walk : Day 3
After a good night's sleep I feel much refreshed. There is a choice of walk length you can take this morning, 14km or 9 km or 6km and I decide to take the shortest route from Mouzos to Ferreiro where we will have lunch at Casa Cruceiro. A wonderful walk through undulating rural country which appeals to me greatly.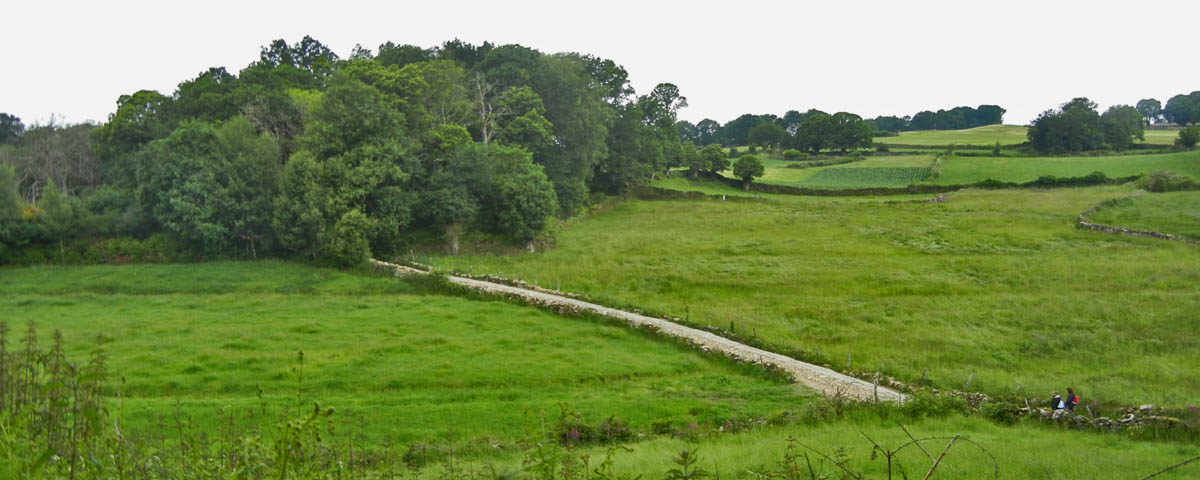 On the way I meet a couple of Dutch ladies, Ria and An, who are walking the entire Camino route from Roncesvales near the French border to Santiago. It has taken them 8 weeks so far, but of course only a few more days to go. They are fund raising for the Pastor Thomas Fund (advertised on their T-shirts), which supports poor children in India.
After an hour and a half I reach our lunch destination Casa Cruseiro in the small hamlet of Ferreiro. Again the soup served over lunch (Sopa Galliego) is magnificent : a Cabbage soup with beans and potatoes.
After lunch I am driven to our overnight stop Pousada de Portomarin in the village of Portomarin.


Comments - Most Recent - Next Page - Previous - Top - Photos - MP3s - Maps & Text series - Jazclass

---

© 2012 Michael Furstner