>
---
Most Recent - Next - Previous - Top - Photos | Stories & Articles - MP3s - Jazclass - Contract Bridge - Happiness
Wednesday December 26, 2007 (diary, sport)
Still overcast and relatively cool. I am wearing a sweater as I drive to Mooloolaba for my regular lunch spot at the Mooloolaba Surf Club, right on the beach. The large floor to ceiling windows are all closed to keep the wind and chill out.
It is Boxing Day, so two major Australian sporting events are on their way. The Sydney to Hobart Yacht race and the first day (of the scheduled 5 day event) of the Cricket Test this year Australia against India.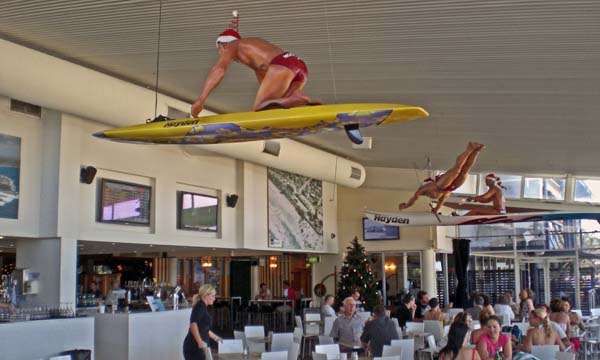 I often watch sporting events on one of the TV screens located all around in the Surf Club. I am too late for the Yacht race which has already left Sydney Harbour, but the Cricket is in full swing. Australia is betting, Hayden makes 124 runs and the Indians have six wickets by the time I leave, a good effort so far.
Matthew Hayden has now more test centuries to his name (19) than any other Australian player. Bradman and Ricky Ponting are next with 18 centuries each. Ponting will surely still improve on that, but not in this innings as he is already out for just 4 runs.
Back home I ring a few friends in Darwin, wishing them Happy Christmas and telling them that I plan to be back in Darwin sometime March, road access (floods) permitting.
I go online and book my Tiger Airlines flights Darwin-Singapore for April 15, to connect up with my already purchased flight with Lufthansa onwards to Basel, and my return to Darwin on July 31. I stuff up somewhere in the process and find out I paid $54 extra for free sports luggage to may take on the plane. What is that going to be, my walking shoes ? Anyway the fare is still good at $440 return (less than a single flight fare with Jetstar!).


Most Recent - Next Page - Previous - Top

---

Copyright © 2007 Michael Furstner