Biographical Log of Michael Furstner - Page 250
10 | 11 || 2012 : Jan | Feb | Mar | Apr | May | Jun | Jul | Aug | Sep | Oct | Nov | Dec || Page : Previous | Next

The Martinshof Story - A Philosophy of Happiness - Life Awareness - Maps, Text & Photo series
---
Most Recent - Next - Previous - Page 1 - Photos - MP3s - Maps & Text series - Jazclass
Thursday & Friday, June 21 & 22 2012 (diary)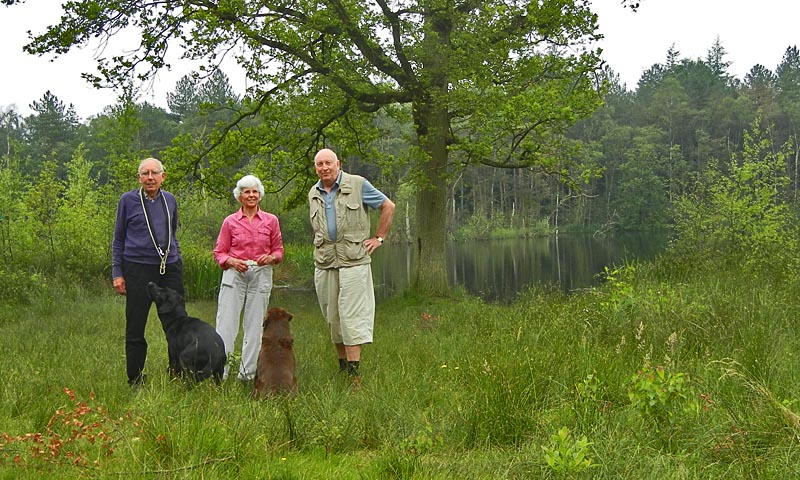 In the bookcase of my bedroom I find a copy of Don Camillo and I reed a few chapters of this iconic book before I fall asleep.
Next morning (Thursday 21), after breakfast, we go for a walk with the two dogs in the woods around Breda. I remember this area well from my army days, when I went through the SROA (School for Reserve Officer of the Royal Dutch Field Artillery - it no longer exists).
Jaap still has a few photographs of a 5-day walk from Leiden to my home Martinshof we did when students in 1958, and I take copies for my Blog.

Then it is off to our Pimpernel reunion. Fifteen of us meet for a pleasant afternoon, visiting the nearby Tilburg Textiel Museum, then a Dutch winery, the Dassemus owned and run by Jaap's son in law.
Surprisingly the wines (white, rose, red and sparkling) all taste quite good. When you have less sun you need more leaf to produce the required amount of sugar. The vines are therefore grown much higher than normal (about 3 metres, 10 ft) with about 10 leaves located above the level of the grapes.
We conclude our reunion with a joint dinner.


---
Most Recent - Next - Previous - Page 1 - Photos - MP3s - Maps & Text series - Jazclass
Saturday - Tuesday, June 23 - 26 2012 (diary)
On Friday I travel by rail to Zutphen and upon arrival proceed to the market square where I order a portion bitterballen at the Stadsbrouwerij. A new brand : "De Woerd" which is very good indeed.

I then continue by bus to Gorssel where I am invited to stay with my old school friend Dick Matthes and his wife Lyde. It is always great to see them again and we have of course always much to talk about.

On Saturday I have a reunion with the old Martinshof staff. Eight of us have a lovely get together and lunch in the IJssel Paviljoen in Zutphen right on the bank of the river IJssel. Afterwards we drink coffee at Harrie Harberts' place and an opportunity to inspect his new goldsmith studio in his house. After the entire Martinshof staff was dismissed by their parent company, Harrie set up privately for himself. He produces now quality diamond rings for the better jewelers (former Martinshof customers) in the Netherlands. I think he will succeed well, and continue, if not the name, then certainly the true spirit of Martinshof.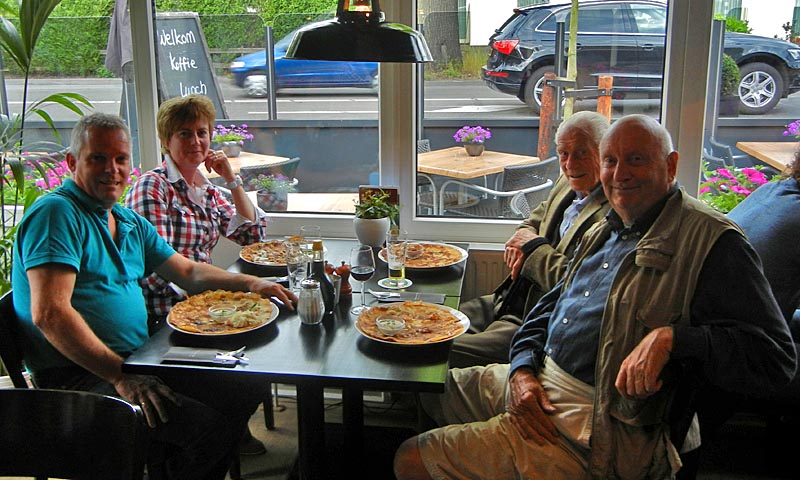 Sunday I take Dick and Lyde out for dinner and on Monday I eat delicious pancakes with Aaldert, Wilma and Bennie Bakker in "Het 11 Uurtje" in Gorssel. The Bakkers are old timers of my former home pub an billiard club Cafe Beuse and I played many a billiard match with Bennie which I usually lost.

Monday is a very special day as Gerrit van der Meij and I have established a custom of having dinner (just the two of us - close friends for many years) in China Town, the former Cafe Beuse. A true nostalgia event where we both recount events of 50-60 years ago.

While we dine, the son of the present owner of our former family home Martinshof enters the restaurant and Gerrit introduces me to him. Very graciously he invites me to inspect the house and grounds while I am here and after dinner Gerrit and I proceed to do just that.



A few alterations and extensions have been added to the house, which is in a well maintained condition. Most of the large oaks had to be cut down over the years, but the undergrowth surrounding the home is dense producing an enclosed, intimate environment. A stark contrast with the past when one could look freely around through the trees, maintaining clear visual contact with the outside world.


---
Most Recent - Next - Previous - Page 1 - Photos - MP3s - Maps & Text series - Jazclass
Wednesday - Saturday, June 27 - 30 2012 (diary)
After leaving Zutphen by train in fog and cold weather I arrive 6 hours later in warm and sunny Baden Baden, my favourite city in Europe. It simply is a city of pure elegance and style and for me every time an absolute joy to visit.



I am staying as usual in Hotel am Markt where I have been given a large room in tasteful modern design. Of course my first steps are towards Wallstreet im Hamilton, a lovel bistro right on the river Oos. One waitress, Nicole (who took a photo of me here 2 years ago), still remembers me and we have a chat. The lunches here are always great, with a couple of innovative Specials (like 2 years ago) still priced at only €5.90
So I have a lovely four days here, soaking in the Caracalla spas and visiting the Festspielhouse and the Frieder Burda Museum which just opened an exhibition of Fernand Leger and Henri Laurens.


Comments - Most Recent - Next Page - Previous - Top - Photos - MP3s - Maps, Text & Photo series - Jazclass

---

© 2012 Michael Furstner