History and Culture
The dolmens in the Netherlands were built during the new Stone-age, the Neolithicum, from 3450 until around 3250 BC by the trechterbekervolk (funnel-beaker people), but they were still used up to around 2850 BC by the klokbekervolk (bell-beaker people) during the early Bronze-age.
Most dolmens in the Dutch province of Drenthe are located on the higher ground of the NW-SE oriented Hondsrug. Many of them contained shards of pottery and in some (like D27 and D30) human bones and ash were also found.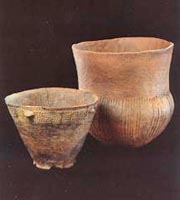 The original height of the grave chambers was 1.5-1.7 meters (5-6ft), standing height for the people of those days. Over the years additional layers of remains in the chambers gradually decreased this height.

The ceramics of the Trechterbekercultuur (funnel-beaker culture) were predominantly made from clay with a number of characteristic shapes. The funnel-beaker people decorated their pottery with motives scratched (or cut) into the clay which they accentuated by filling them in with white paste.

Apart from their 5,000 years old history the activities around the dolmens in Drenthe over the past 100-200 years form also a chapter of considerable interest, as described on the following pages.
Two-day Bicycle Tour
I have prepared the itinerary and route for a two-day Dolmen bicycle tour through Drenthe's lovely countryside with its great variety of landscapes (rural, forests, sands). I plan to do this bicycle tour myself in September 2014 with several of my Dutch friends.
Participants should travel on bicycle or electric bicycle, but with a larger group one or more support vehicles, carrying luggage and drinks would also be advisable.



Definite dates for 2014 have now been been set :
Day 1 - Monday September 1 : Departure from the Railway station in Emmen, at 10am
Day 2 - Tuesday September 2 : Arrival in Anloo in the afternoon
Day 3 - Wednesday September 3 : Return, via Rolde, to Assen Railway station.

The probable route is shown below.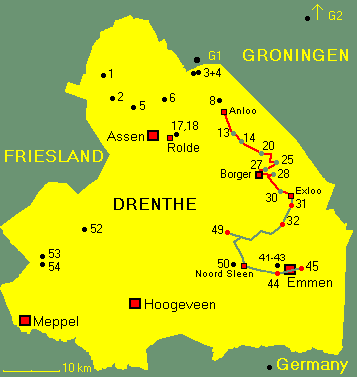 Day 1 (Monday)

D45 - Emmen (1km)
D43 - Emmen Schimmeres (3km)
D50 - Noord Sleen (11km)
D49 - Papeloze Kerk (15km)
D31 - Exloo (28km)
Overnight in Exloo
Day 2 (Tuesday)

Day 3 (Wednesday)

D17 and D18 - Rolde (14km)
Assen (20km)
Route maps

Other considerations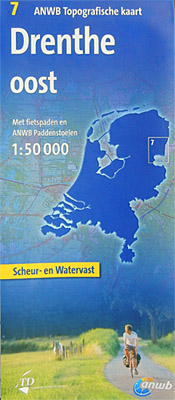 The departure time from Emmen at 10am allows participants to leave home that morning and arrive in Emmen in time for the start.

Likewise the arrival in Anloo in the afternoon on Day 2 enables participants to return home that same evening. But what could be nicer than concluding the trip with a festive dinner in Hotel DE Koningsherberg at the end, returning home on the Wednesday instead.

Participant who hire their bicycle in Emmen return their bike on the Wednesday in Emmen or perhaps in Assen.
There is a pleasant direct bicycle route from Rolde, via Borger (12km) and Odoorn (21km) to Emmen (28km). That would be an ideal solution.
Hotels
Emmen : Stads Hotel Boerland Westerstraat 88
Exloo : HR De Schoap'ndrift Hoofdstraat 96
Exloo : HCR De Meulenhoek Hoofdstraat 61
Exloo : HCR Bussenmaker Zuiderhoofdstraat 1
Borger : Hampshire Hotel Bieze Hoofdstraat 21
Anloo : Hotel De Koningsherberg
Rolde : Hotel Erkelens
Hire : bicycles, electric bicycle, tandems
Rijwielshop, Station Emmen
Theo Büning, Emmen


Acknowledgement
All dolmen photographs, location sketches and descriptions (in Dutch) are derived from the very informative website Hunebedden in Nederland. I have translated the descriptions into English and organised and rearranged the illustrations to suit the two-day bicycle tour.

I photographed the 4 rout maps from the ANWB Fietskaart 5 (Drenthe Oost - Hondsrug).

Also available from the ANWB is the ANWB Topografische kaart 7 (Drenthe Oost, schaal 1 : 50.000 see above photo) with bicycle paths, ANWB signposts and dolmen locations. This map is tear- and water-proof, and therefore a good investment for participants.
Other Outdoor activities | Walks in the Black Forest | Camino Francés |
---

© 2012 Michael Furstner