---
(Down - Top - Links)
Intro 1. Welcome
Hello and Welcome to the Improvisation 2 Course.
We all know that practising chords and scales is "good for you", but getting around to actually doing this is often a different matter. Jamming on a song is so much more fun. The Improvisation 2 Course combines the fun with the useful.
Each Improvisation 2 session contains :

One aspect of Jazz Theory to broaden or reinforce your musical knowledge.
One song for easy improvisation.
One aspects of phrasing to focus on in your improvisation that week.
One exercise (of a scale, chords, or chord progression) to practise in all keys.

This helps you to do a little bit of practice each week and ensures that you cover a wide range of useful skills you should learn.
There are twenty songs in the Course, most of them are written by me. They cover typical Jazz and Blues chord progressions. Some chord progressions are taken directly from famous Jazz standards, like I Got Rhythm, Blue Bossa, All of Me and Straight No Chaser. Together the twenty sessions cover all essential aspects you should focus on to become a good improviser.
None of the songs in the Improvisation 2 series is included in either the Blues Basics Email Course or the Improvisation Email Course, so that they form an ideal extension to those two Courses.


---
(Down - Up - Top - Links)

Intro 2. About Phrasing
A good knowledge of chords and scales in all keys is essential for good improvisation. They represent the musical alphabet.
But, as we all know from our first few years at primary school, there is much more to learning to read and write than just knowing the alphabet. You need to learn to combine letters into words and sentences that make sense.
Many musicians develop their improvisation skills by ear, by simply listening to and copying other players. This is an important part of the development of every Jazz musician.

However by gaining an understanding of the various ingredients that make musical phrases interesting, you will become a more versatile and self- sufficient improviser. In the process you will also become a much more intelligent listener.

This aspect of improvisation is dealt with in the Phrasing section of each Jam Factory Session.
It provides you with a range of tools to make interesting musical sentences and stories, and to analyse in a more concrete sense the musical creations of your favourite performers.
---
(Down - Up - Top - Links)
Intro 3. How to Approach this Course
Rome was not built in one day !
The Improvisation 2 will introduce you to a great variety of skills related to good improvisation, but initially you will not be able to apply all these skills at the same time.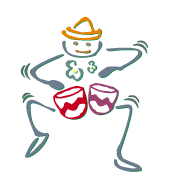 Simply focus each week on the one phrasing skill outlined in one Lesson.
You don't need to get on top of it the first time around, just work on it for one week.
The following week you focus your attention on the skill discussed in the next lesson, and so on.
This way you cover a wide range of practice approaches over a period of time. Later on you can go back to a lesson as many times as you like.
You can also apply the phrasing aspect covered in one session to any other songs.
Do not worry on how good or bad you sound, the objective is to get full control over each phrasing skill just by itself.
Keep all subjects on the boil, one at a time and be patient. Eventually you will find that all skills are coming together naturally, and from that point on your improvisation will really start to improve dramatically.


---
(Down - Up - Top - Links)

Intro 4. About the Midi files
The Improvisation 2 Course is supported by a wide selection of Play- a-Long midi file tracks. If you have a computer music program that generates midi files, you will be able to open the Course midi files and make adjustments to your own taste, such as changing the tempo, the instrumentation and transposition to another key.
Band in a Box Program
All Play-a-Long files are created with a simple music program called Band in a Box.
This is an inexpensive and very useful tool every serious student in improvisation should consider buying. You simply type in the chord progression of the song or exercise you wish to play, and the program will generate a suitable backing track for bass, drums and a chordal instrument.
Well, that sums up what I wanted to say as general introduction.
If you have further questions just ask me. But for now, let us begin.
Michael.



(Up - Top - Links)
---

© 2003 Michael Furstner (Jazclass)