---
(Down - Up - Top - Links)
S 4.5 - Practice : Triad Chord Qualities
Practice the four triad qualities in arpeggios as shown on the examples below.
4 bars for each triad quality

1 bar for each triad quality
Audio 4.6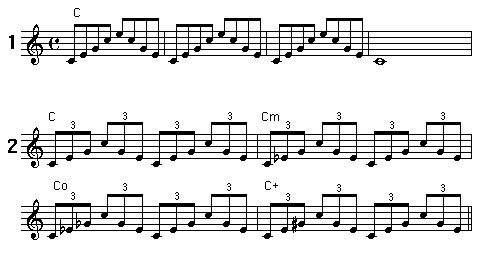 You can also do a routine of 1 bar per chord around the Circle of Fifths.
There is one play- along track for the twelve major triads, and another one for the twelve minor triads.
Start using crotchets as shown in the example below. Once comfortable with that try also single bars in quavers (Example 1 above) and in triplets (Example 2 above).
Audio 4.7

When doing these type of exercises around the Circle of Fifths play the first note of each chord (or scale or pattern) as shown below.
The sequence alternates : a 4th up, then a 5th down, a 4th up, again a 5th down.
This way you play in a well organised manner, and flutes, saxes, etc. stay comfortably within their playing range.
Audio 4.8