In the broader context of the whole melody (or improvisation) this may be a perfectly good phrase. However taken on its own it lacks a degree of excitement and energy.
Why ?
There is no variation in articulation.
All notes of the 4 bar phrase are articulated in smooth legato.

Audio 16.6


By simply altering the articulation of a single note into a short aggressive staccato (like in 1b and 1c below) the whole phrase takes on a new life.
Audio 16.7
You can vary the articulation anywhere in a phrase, but the beginning and end of a phrase or a phrase segment are especially good places to do this. Below some examples (1d, 1e, 1f).
Audio 16.8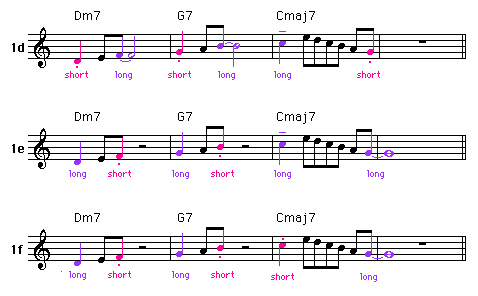 Note that the articulation of each repeated 2nd bar is in each case the same as the articulation in the 1st bar.
The articulation in the last phrase segment (bars 3 and 4) is different however, providing extra contrast between the 'calls' and the 'response'.
Experiment with various articulations in your improvisations and also on IIm7-V7-Imaj7 phrases.


---
(Down - Up - Top - Links)

S 16.4 - Articulation P-a-L Exercise

Play-a-Long track jf16st1 (of swapping twos) consists entirely of a succession of 4 bar long progressions of :
Dm7 (1 bar) - G7 (1 bar) - Cmaj7 (2 bars)
Each odd numbered 4 bar phrase : I play the first 2 bars, you play the second 2 bars with complementing or contrasting articulation.

Each following even numbered 4 bar phrase is a repeat of the previous 4 bars.
A second Play-a-Long jf16st2 (of swapping fours) is the same as the first track, but :
Each odd numbered 4 bar phrase : I play the complete 4-bar phrase.

Each following even numbered 4 bar phrase is left blank for you to repeat the previous 4 bar phrase or play your own phrase.
The main objective is to create interest through your articulation.

You can use track jf16st2 also as an alternative exercise on starting and ending notes.
In the Table below each number indicates the chord tone (1 = root, 3 = 3rd, etc.) used as my starting and ending note for each phrase on track jf16st2.
The corresponding Concert key notes are shown in black.
The corresponding Bb instruments notes are shown in red.
The corresponding Eb instruments notes are shown in blue.
| Phrase No. | Starting note (of Dm7) | | Ending note (of Cmaj7) |
| --- | --- | --- | --- |
| Phrase 1 | 1 = D -- E -- B | | 3 = E -- F# -- C# |
| Phrase 3 | 1 = D -- E -- B | | 7 = B -- C# -- G# |
| Phrase 5 | 1 = D -- E -- B | | 3 = E -- F# -- C# |
| Phrase 7 | 3 = F -- G -- D | | 3 = E -- F# -- C# |
| Phrase 9 | 3 = F -- G -- D | | 5 = G -- A -- E |
| Phrase 11 | 3 = F -- G -- D | | 3 = E -- F# -- C# |
| Phrase 13 | 3 = F -- G -- D | | 7 = B -- C# -- G# |
| Phrase 15 | 5 = A -- B -- F# | | 5 = G -- A -- E |
| Phrase 17 | 5 = A -- B -- F# | | 5 = G -- A -- E |
| Phrase 19 | 5 = A -- B -- F# | | 3 = E -- F# -- C# |
| Phrase 21 | 5 = A -- B -- F# | | 7 = B -- C# -- G# |
| Phrase 23 | 7 = C -- D -- A | | 7 = B -- C# -- G# |
| Phrase 25 | 7 = C -- D -- A | | 9 = D -- E -- B |
| Phrase 27 | 7 = C -- D -- A | | 3 = E -- F# -- C# |
| Phrase 29 | 9 = E -- F# -- C# | | 5 = G -- A -- E |
| Phrase 31 | 9 = E -- F# -- C# | | 5 = G -- A -- E |