---
(Down - Up - Top - Links)
S 3.4 - Keyboard Left Hand
I have written a walking bass line, spelling out the three dominant 7th chords of the blues, for the keyboard left hand of Bab's Jam.
This left hand is also very effective accompaniment ('comping') while someone else is taking a solo. Simply play chords with the right hand (voicings straddling Middle C on the keyboard) on each off beat, or in a contrapuntal rhythm.
Audio 3.2

Here some alternative keyboard left hand ideas you can use with the melody or while you are improvising.
Audio 3.7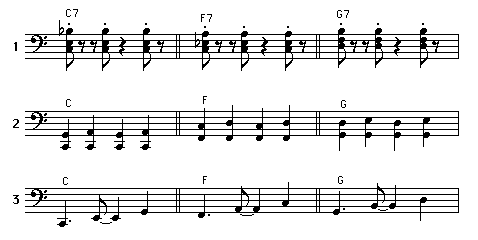 ---
(Down - Up - Top - Links)
S 3.5 - Phrasing : Call & Response
Musical phrases in Jazz standards and Popular music are typically 4 bars long.
Often a phrase contains a musical 'comma' in the middle, which sub- divides it into two 2 bar segments.
In Jazz improvisation a phrase can of course have any length, this adds very much to the interest and 'surprise' element of a good solo. We will come to that aspect a bit later in the Course. But to develop good phrasing skills you should first work on 2 bar segments and 4 bar phrases until you are rock solid on that.
The 12 bar blues is an ideal and easy to use vehicle to hone you phrasing skills on.
The melody of Bab's Jam uses the typical phrase development of the traditional blues.
It consists of three 4 bar phrases :
the 1st phrase consists of a call (2 bars) and response (2 bars)

the 2nd phrase repeats the first phrase (again with the same call and response)

the 3rd phrase introduces new material, resolving the statements of the first two phrases
Melody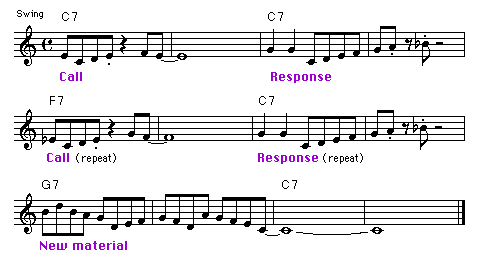 In Session 1 we started on 2 bar segments. As Bab's Jam shows, making a 4 bar phrase is very simple : just put two 2 bar segments together and a new phrase is born.
Bab's Jam combines 4 different rhythm patterns, one each for the call and the response, and two for the final phrase.
Note the different locations of high activity areas in Rhythm Patterns 1 and 2, and the stark contrast between Rhythm Patterns 3 and 4.
Melody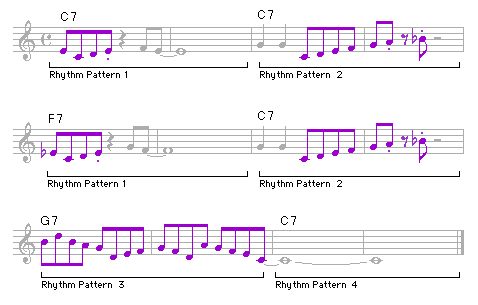 Before combining patterns first start using one 2 bar pattern only over the Blues for a few choruses, then do the same exercise with a second pattern. Finally combine the two together in a complete 4 bar phrase.
This is a great way to develop good phrase control and come up with the must surprising new ideas.


---
(Down - Up - Top - Links)

S 3.6 - Practice : Mixolydian mode

You can transform a major scale into a Mixolydian mode with the same tonic note in two different ways.
Add 1 flat or subtract 1 sharp to the major scale key signature.
D major scale (2 sharps) -----> D Mixolydian mode (1 sharp)
F major scale (1 flat) ---------> F Mixolydian mode (2 flats)
G major scale (1 sharp) ------> G Mixolydian mode (no sharp or flat)

Lower the 7th note of the major scale each one semitone.
D major scale (7=C#) -----> D Mixolydian mode (b7=C)
F major scale (7=E) -------> F Mixolydian mode (b7=Eb)
G major scale (7=F#) -----> G Mixolydian mode (b7=F)
Below examples show the first type of conversion.
Audio 3.8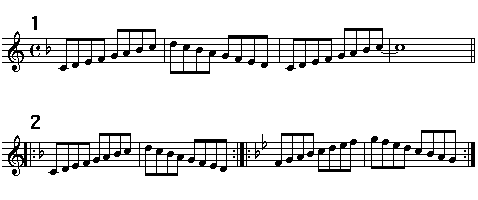 On the Mode Practice sheet music pages the 3rd and 7th are indicated by pink square note heads. Just lower each 7th a semitone to produce the Mixolydian mode in each key.
Practise the Mixolydian mode in all keys in Circle of 5ths order as shown in Examples No.1 and No.2 above.


---
(Down - Up - Top - Links)

S 3.7 - Session Materials








(Up - Top - Links)
---

© 2003 Michael Furstner (Jazclass)